3 Quick Ways To Destress While At Work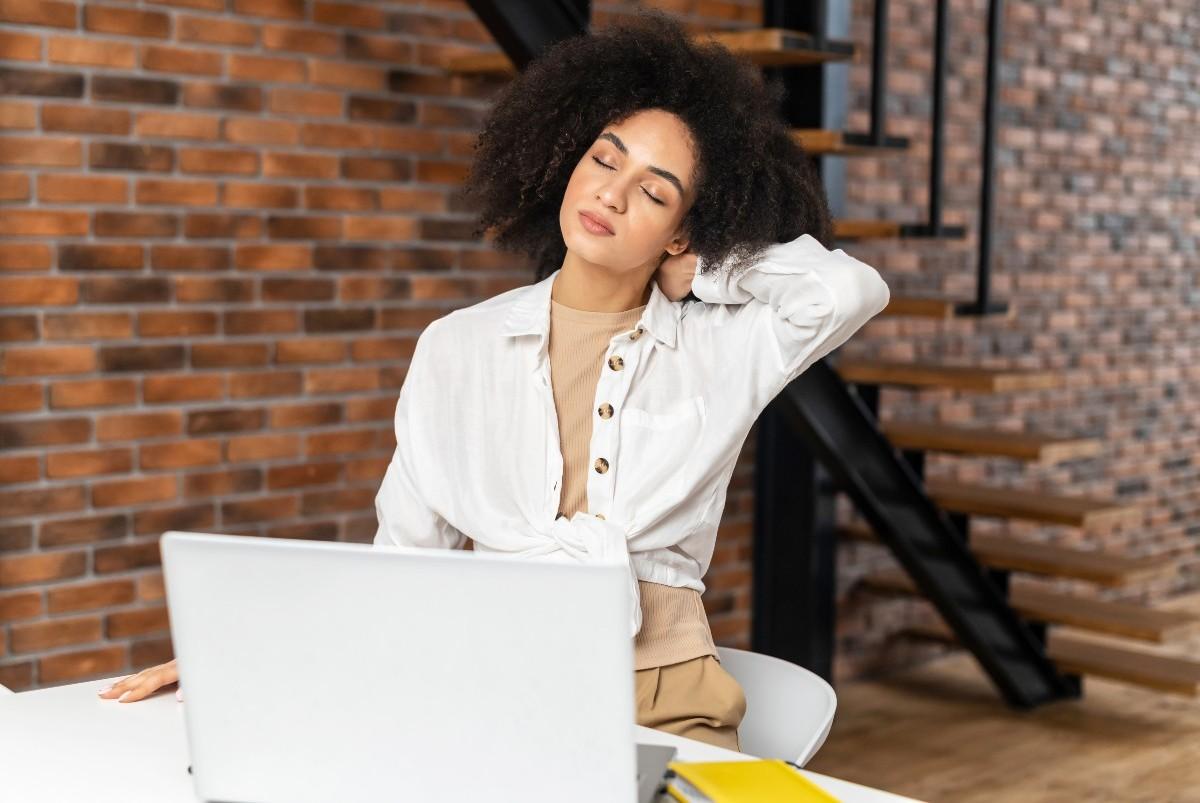 By
Rita Pike
Sep. 2 2022, Published 8:00 a.m. ET
The job, whether you work in a huge office with dozens or cubicles or at home with just your cat begging for cuddles at the worst time of your workday, can be stressful. And it's pretty much guaranteed that the work day will produce at least three or four stress triggers.
Speaking from experience as a full-time grad student, full-time writer, editor, home manager, and caregiver for an elderly parent, those triggers come often and can throw off my day completely, if I don't take control.
So, what can we do to deal with those triggers without having to leave work or get to the gym midday?
Three Small Actions to Destress During Work Hours
Since you can't hit the gym or change up your diet every single time stress triggers permeate the workspace, small, actionable items are needed. And these three do the trick for me and for others as they face the anxiety and stress of a crazy schedule.
Do some toe touches.
When I say toe touches, I don't necessarily mean the bend and stretch and get your palms flat on the floor kind of touches. You can, of course, do those if that serves you better! But getting your head down with your shoulders and arms loose is a proven way to help your body's restorative work when you get hit with stress.
Article continues below advertisement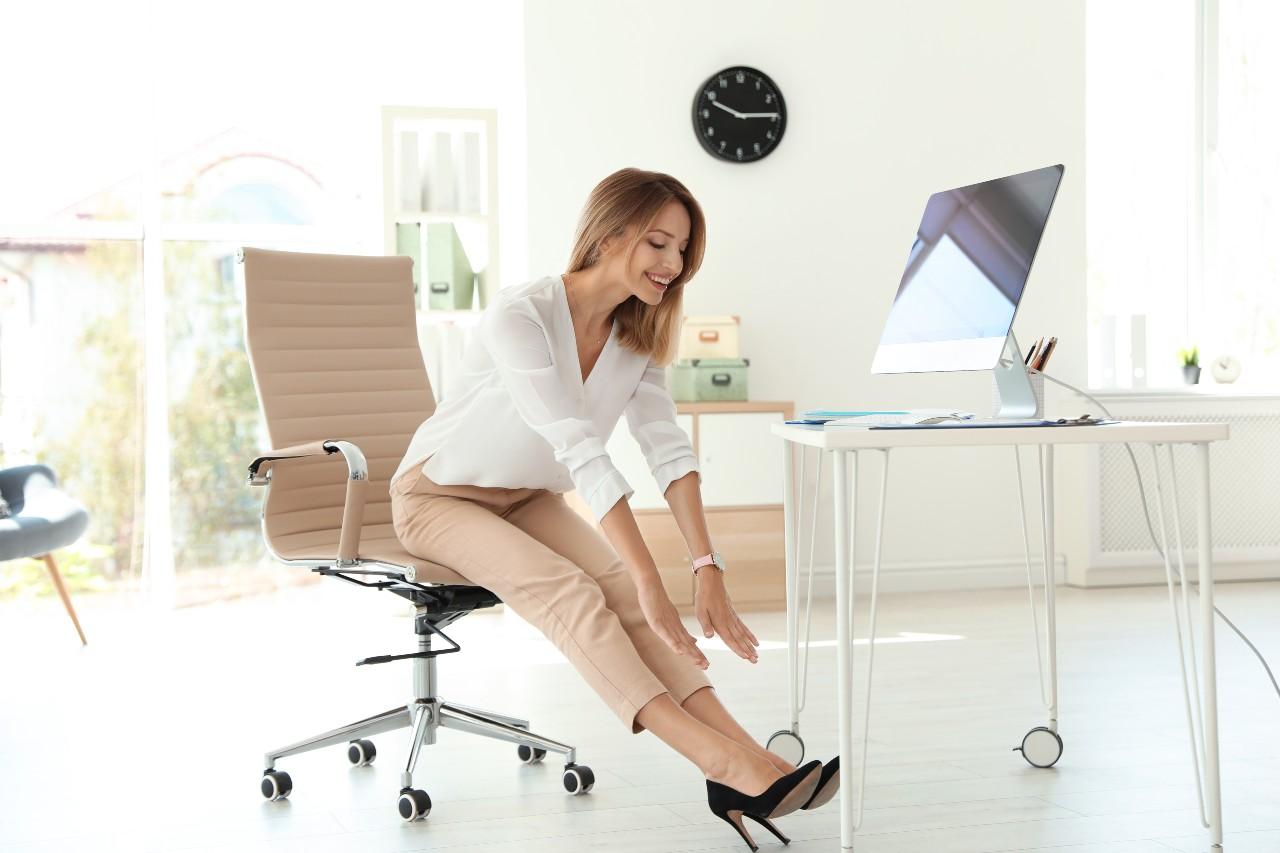 This is a mild version of Inversion Therapy, a practice used to help reduce stress and recovery for various systems in the body. When I do this, stress almost immediately evaporates. The blood flows to the head, the body relaxes, and suddenly, the stress triggers are gone.
To do this exercise, stand with your feet hip-width apart and bend at the waist. Roll your shoulders, arms, and head toward the floor, with your arms hanging loosely in front of you. Do not lock your knees, but rather stand with them "soft" and bouncy. Feel free to bend your knees as needed.
Article continues below advertisement
Try progressive relaxation.
Also known as Jacobson's Relaxation Technique, progressive relaxation focuses on tenses and releases certain muscle groups as you go along. For example, you might start with your shoulders, tensing them as hard as you can, then releasing quickly. You might follow that with tensing your elbows, then releasing, and then wrists, and then hands.
This might sound a little silly but give it a try. The tension draws emotional and mental tension into those muscles and then releases them, helping you release the stress.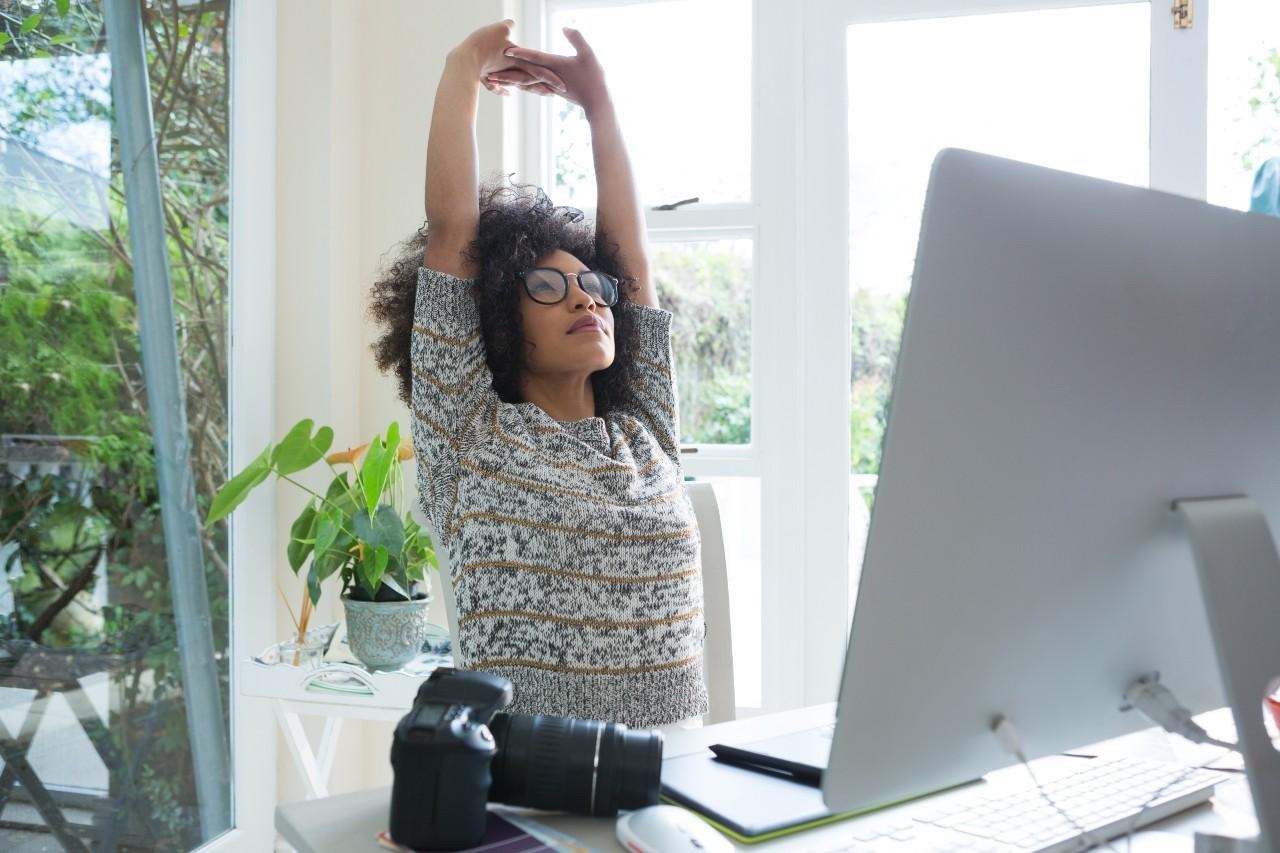 Article continues below advertisement
I've used this technique on many occasions, especially when in frequently stressful work situations. I dash off to the bathroom and hide in a stall, doing each section of the body, as best I can, and release. Amazingly, it helps reduce my stress levels by half.
To do this exercise, sit where you can stretch out legs and arms. Starting at your head and shoulders, focus on the one section of your body and tense the muscles as tightly as you can without causing pain. Hold for 5 to 10 seconds and then release. Move progressively down your body, repeating this tense and release pattern.
Head/shoulders
Elbows/arms
Wrists with hands out flat
Fists
Torso/back
Hips/glutes
Knees/thighs/calves
Ankles/feet
Use the Raisin Meditation Technique.
Okay, it might sound a little silly, but doing this meditation technique is actually a fast stress reliever you can do anywhere. You can choose some other food to imagine instead, if you hate raisins, too.
To do this raisin meditation exercise, sit comfortably in your chair – or stand if need be – and imagine holding a raisin in your hand. Imagine the texture, the weight, the sensation of holding this tiny, dried fruit in your hand. Then, imagine every detail of the raisin's form, the creases, the lines, the wrinkles.
Remember what raisins smell like and then imagine putting the raisin in your mouth and eating it. Think of the nuance of flavor of your raisin, whether red or golden, as you imagine chewing this single fruit piece. Then imagine the movement of the raisin as you swallow and as it glides down your throat.
You'll find yourself taken out of the stressful moment and put into this unique space.