Adobe + Girls Who Code Team Up To Combat The Gender Gap In STEM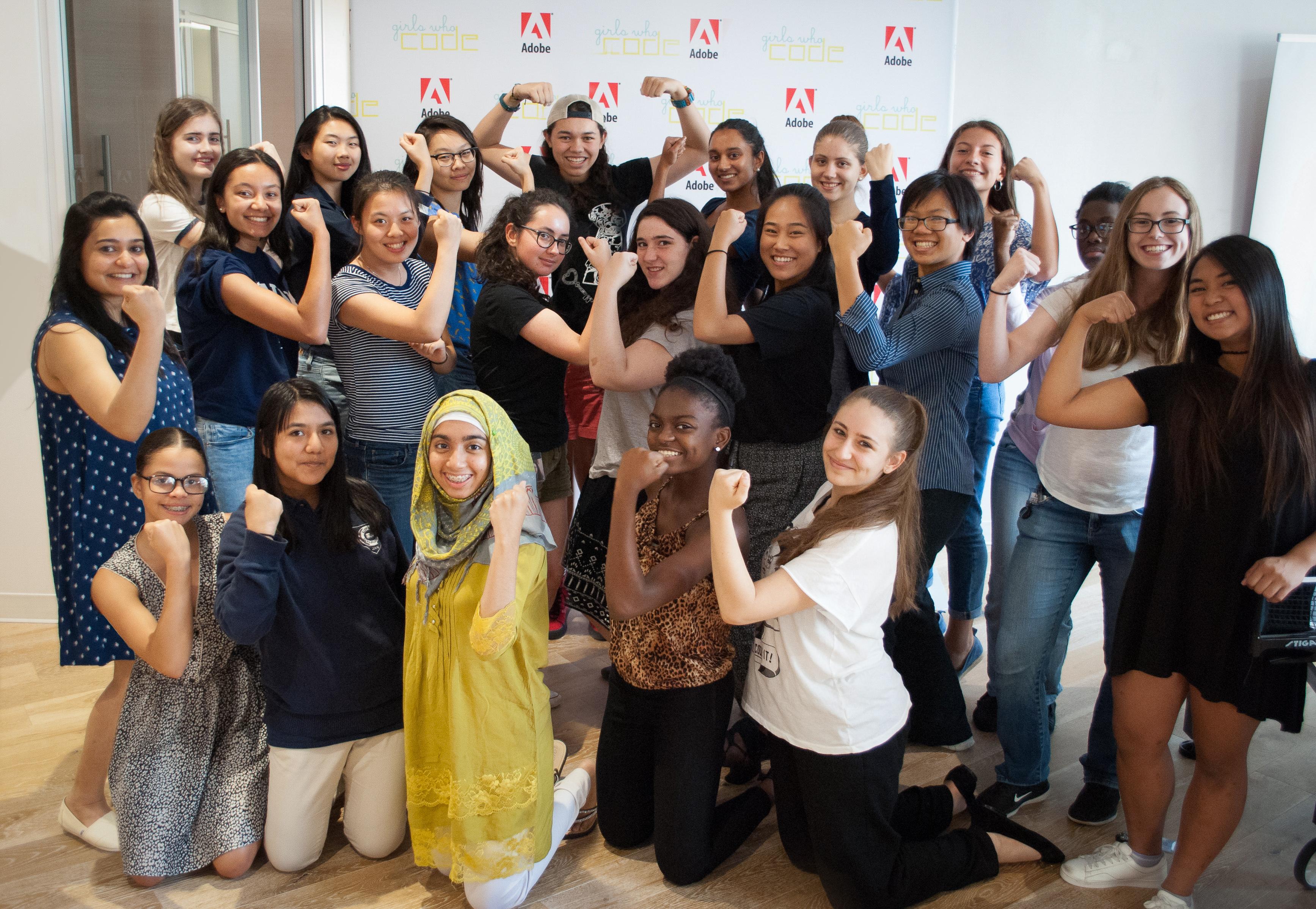 Walking into a computer science class, you are likely to find the same scene: a room full of boys typing rapidly at their keyboards, with a few young ladies scattered across the room. Recent statistics show that only 17% of undergraduates pursuing computer science are women. Only a few more are pursing engineering while women pursuing mathematics and physical science still make up less than half of the undergrads in their major.
The tech industry is growing. By 2020, there will be 1.4 million jobs available in computing related fields, but women are on track to fill a mere 3% of these jobs. This raises a concern for many organizations seeking to introduce more women into the tech industry. Addressing this concern, Adobe has teamed up with Girls Who Code for the past five years, and has welcomed 100 girls into their sites this summer for a seven-week immersion into the world of coding.
The partnership exists across five offices in San Jose, San Francisco, Emeryville, New York and Seattle, each hosting twenty girls. The coding classes are headed by five female Adobe employees, who stepped away from their usual jobs to teach the girls full time.
Sapna Gathani, a software developer who volunteered to teach at the New York site, spoke to Her Agenda about her decision to partake in the program. "I strongly believe we need more women in tech" she said. "When I first discussed my interest in this opportunity with my manager, he was incredibly supportive and encouraged me to take this up."
Article continues below advertisement

Adobe supports its instructors by granting them seven weeks off from their usual duties. The company also lends office space as classrooms as well as additional employees to help plan workshops, field trips, mentoring, and other activities. "I feel really lucky to be working with a team and company that wholeheartedly supports such endeavors," Gathani added.
The program targets girls with little to no knowledge of computer science. They start by learning the basics of coding using Scratch, a website that introduces students to the logic behind coding. They continue to learn Python and JavaScript for the next two weeks, translating those skills to programming robots on week four. The final week of instruction is spent learning about algorithms and databases.
Article continues below advertisement
Gathani commented on the progress the students have made, explaining, "Since the day this program started, these girls have brought enthusiasm and an infectious energy to the classroom. From practically not knowing [anything about] programming, they now have fully functional portfolio websites and blogs. It has been immensely satisfying to see their progress." During the last two weeks of the immersion, the girls showcase the skills they have learned through individual projects.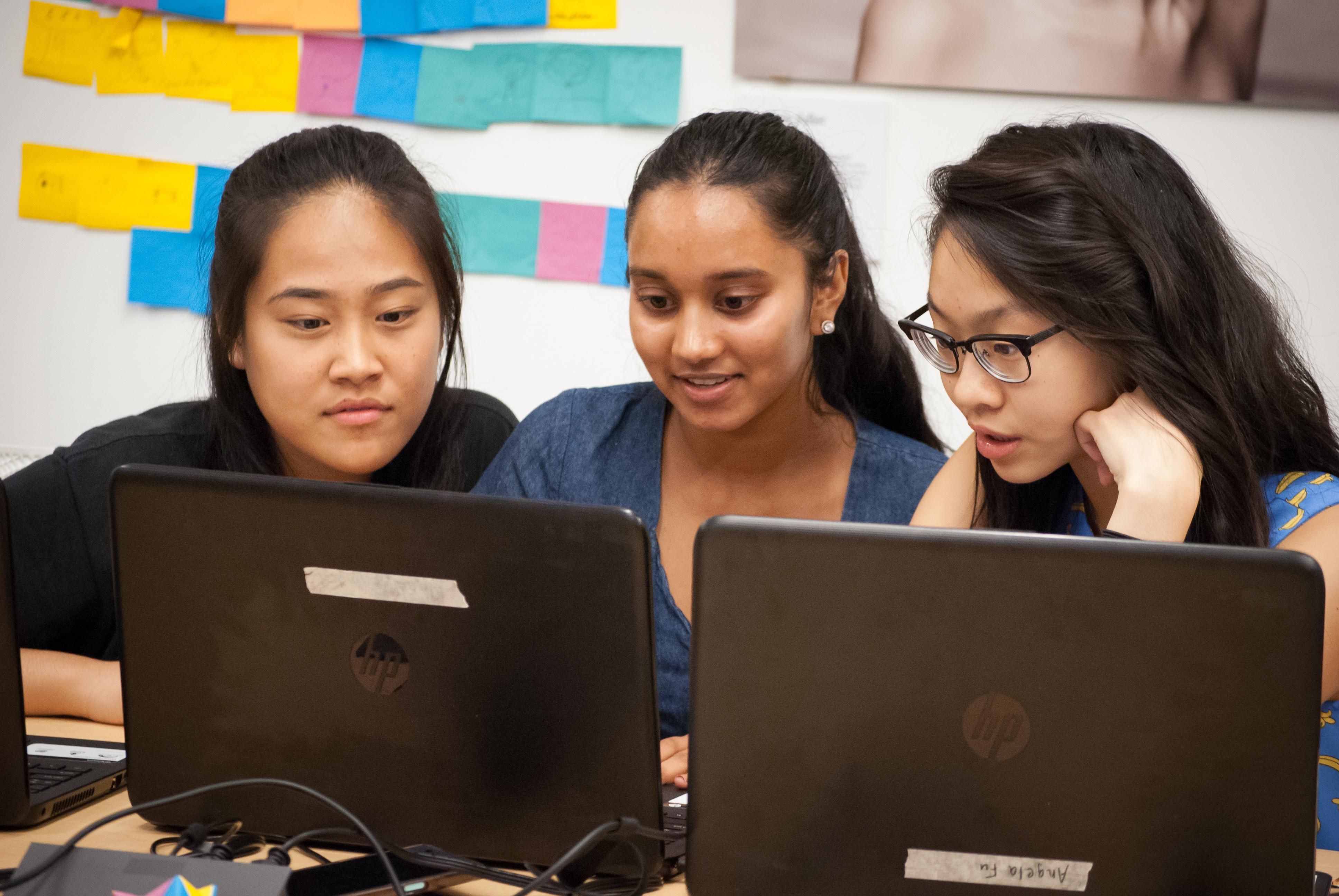 Article continues below advertisement
The dynamic of the program is particularly empowering because, unlike a typical Intro to Computer Science classroom, the girls are not the minority; They're the majority. Grace, a participant who waited two years to apply, reflected on how impactful it was to be surrounded by other girls during this experience. "My favorite part about the program is that we truly have formed a sisterhood," she began. "All of the girls here are incredibly supportive [they will even] move with their laptops across the room to sit on their knees beside someone's table as they work line by line through code trying to debug it."
Another student, Jacqueline, spoke to the same effect, expressing, "[We're in a] safe environment where we support one another and encourage one another to succeed. This community aspect is also very valuable because we will have these friends through the rest of our lives, and will be able to support each other as we face similar obstacles in the future."
Article continues below advertisement
Arguably, what's ineffective about the typical Computer Science classroom is that it can be incredibly isolating. Young girls pursuing STEM need role models and peers to support them; That's what Adobe and GWC have come together to provide them with. The students are being taught by successful women working in a tech company. They're surrounded by other girls with the same interests. Whereas the typical male-dominated classroom implies that a woman in STEM is rare and out of place, the atmosphere GWC creates reinforces the idea that it's not unusual to pursue STEM as a girl.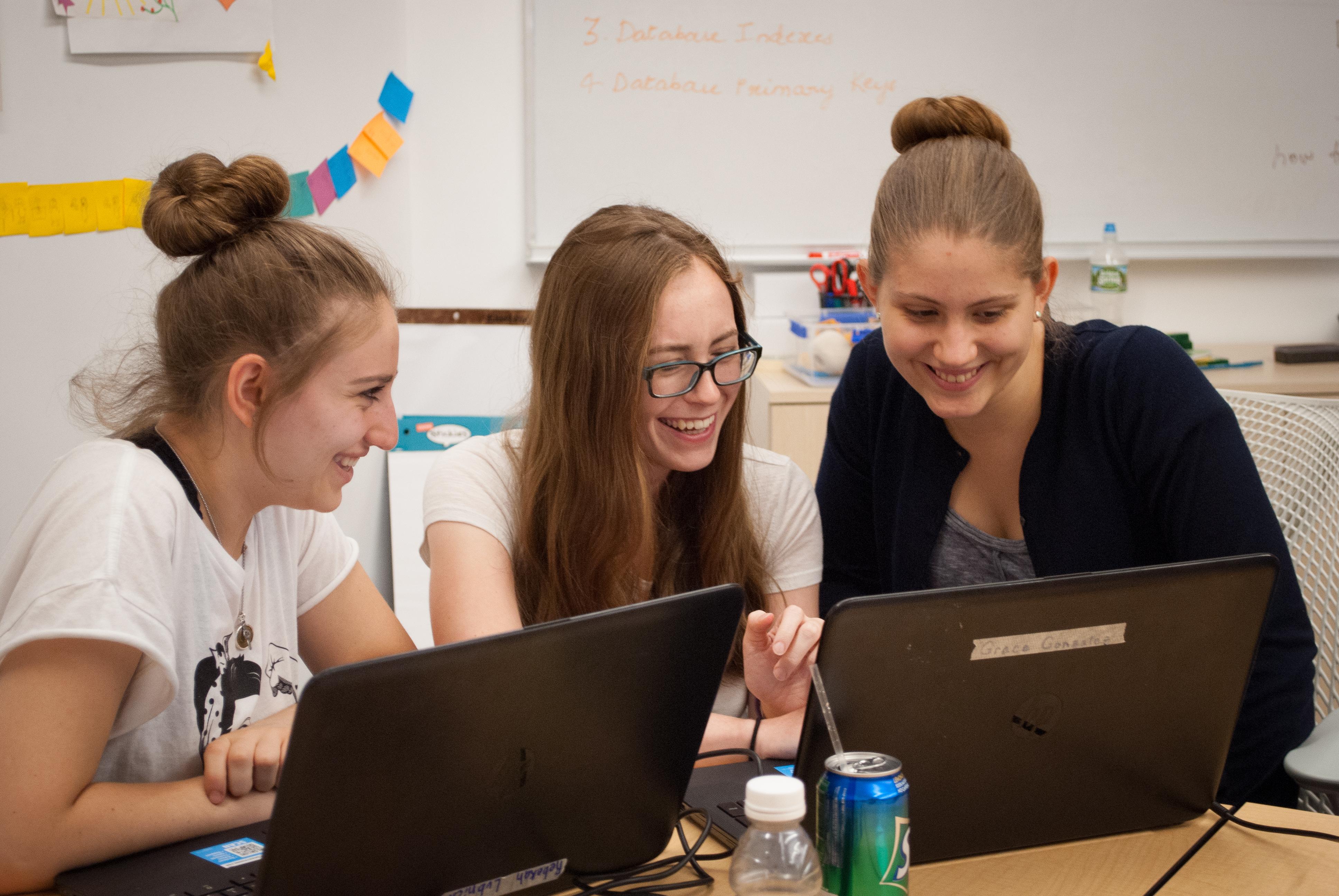 Article continues below advertisement
It is when these girls establish this bond and form a positive environment that they grow. "Before this Girls Who Code program, I hadn't seriously considered studying computer science in college. I knew that I wanted to learn how to program, but I hadn't thought of it as something I would pursue seriously." Grace told Her Agenda, "This Girls Who Code summer program at Adobe has helped me realize that studying computer science is something I can actually do."
These girls are beating the odds and changing the game. They're not letting the statistics define or intimidate them, and they hope that others will do the same. "Be brave and bold!" Grace exclaimed when asked what advice she had for other girls interested in computer science. "You can do amazing things with technology. You can create things that no one else would think to design. Find something that you are interested in creating and learn as you create it."
With the support of Adobe and Girls Who Code, these young ladies don't see pursuing Computer Science as a matter of being a girl or boy. They see it as a matter of being dedicated and passionate, willing to put in work and grow regardless of your gender; They see it as it should be.