Aliah Davis-McHenry is a dot-connector and changemaker, period. But what is clear through conversation is that Aliah shows up to all of the demanding roles in her life as an entrepreneur, marketing director, mother, wife, and community leader, with an equal sense of agency and commitment. It doesn't matter to her if she's at work with the team she's built at home, with her husband and sons, or even online with the community she's organically cultivated, Aliah is showing up 100% herself.
Currently, she is the Director of Consumer Engagement for US Consumer Healthcare Marketing at GlaxosSmithKline (GSK), where she works with a variety of brands such as Emergen-C and Sensodyne. She previously owned her own consultancy, The Fervency, specializing in AI-driven digital marketing, and worked in-house for CPGs and nonprofits leading social and digital transformation. She inspires and connects women through her digital platform and podcast Fervent Wellness while revolutionizing brand engagement at GSK. She is an award-winning marketing and digital leader who is driven by the need to impact in waves, not ripples.
Featured in Essence Magazine, O Magazine, and CNN, Aliah was named one of The Top 100 PR Influencers to Follow in 2021. Her Agenda recently met with Aliah to talk about digital trends, wellness, and entrepreneurship versus intrapreneurship.
Her Agenda: How did you get started in your field and what initially interested you about it?
Article continues below advertisement
Aliah Davis-McHenry: My career journey actually started in nonprofit management and fundraising. I always wanted to save the world and I still do. But I was always drawn to social and digital projects and found myself becoming more and more passionate about emerging technologies. I loved that we could connect with consumers on our owned, earned, and paid platforms. I have worked extensively in public relations, digital marketing, influencer marketing, social media marketing, and brand development. I liken myself to Aliah of All Trades because the world of digital is so mesmerizing and impactful that I have been able to lead, strategize, and execute (often from soup to nuts) on exciting campaigns, initiatives, and always-on programs. I left many legacy projects at my previous organizations—many still operating successfully today. I am excited that I am still working in the purpose-driven space—with brands that demonstrate better everyday health with humanity.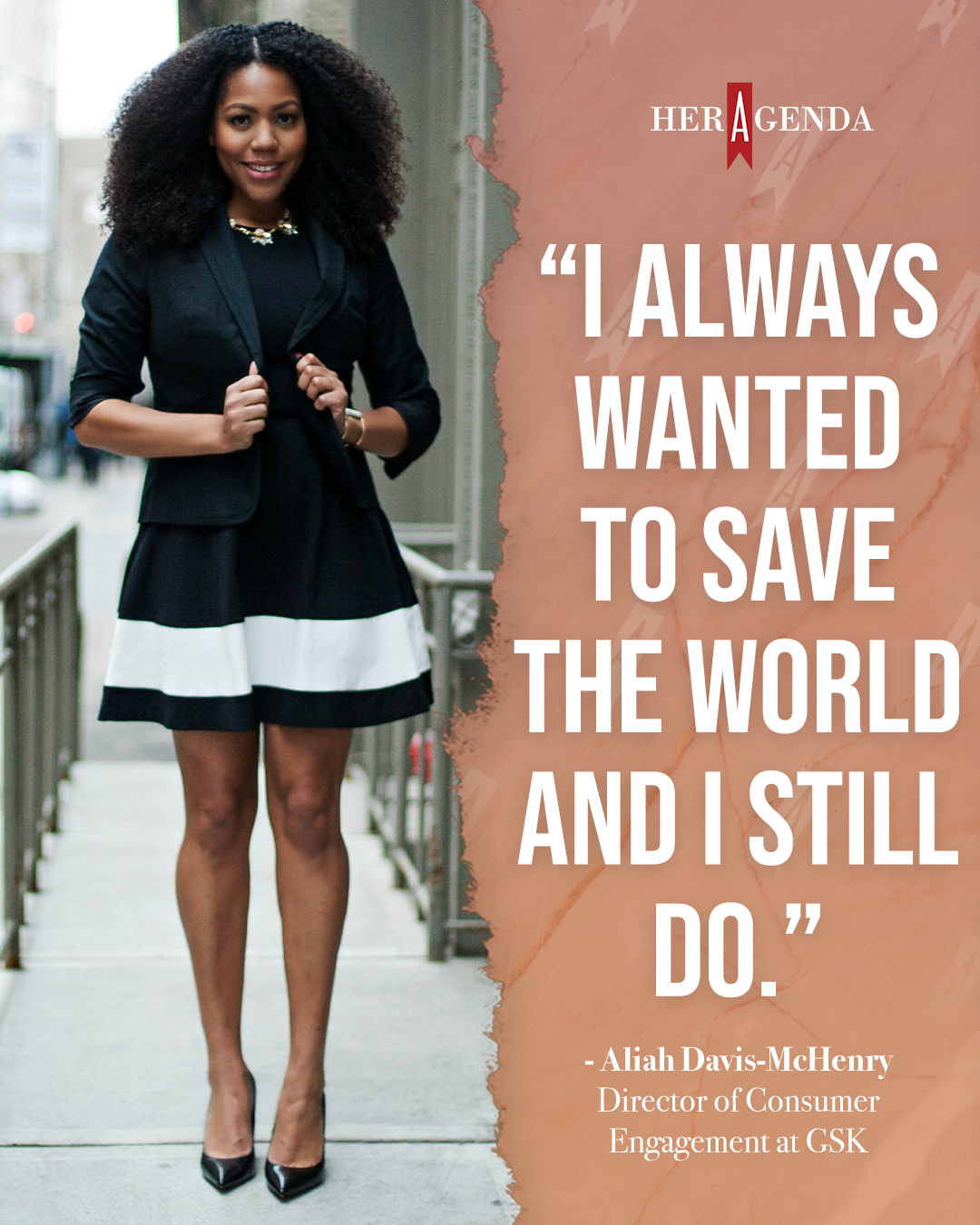 Article continues below advertisement
Her Agenda:Talk to us more about influencer marketing and why you're so excited about it.
Aliah Davis-McHenry: Early on in my career, influencer marketing was all about the mom blogger. Now it's every type of influencer on so many different platforms to play and experiment with. Every brand is different but you need to engage with influencers to see if they're a right fit.There are different niches of influencers. It's all about where your consumers or customers find support and empowerment. For our brands, we use influencers to educate and make people aware of our different products so they can make them a part of their healthy lifestyle. Even though it's hard to prove the ROI, it's impactful in other ways. Whether it's brand awareness or it's connecting an influencer to your site so it translates into sales or even if it's just working with an influencer that's giving more social awareness to a cause that your brand is aligning with.
Article continues below advertisement
Her Agenda: How do you remain current in an ever-changing industry?
Aliah Davis-McHenry: I always have and always will have a learning mentality. I don't know what I don't know but I know I need to research it or learn more about it. I read voraciously and I subscribe to industry and expert newsletters on digital and social. I carve out at least 15 minutes in the morning to read headlines. My go-to's are definitely Twitter, Linkedin, and TikTok to see what's happening, what's becoming part of the conversation. Then we take this to our brands so they can be a part of this cultural moment and not just an afterthought. During this pandemic, learning about things like the metaverse, consumer insights, and DEI issues is important in a time of change or uncertainty.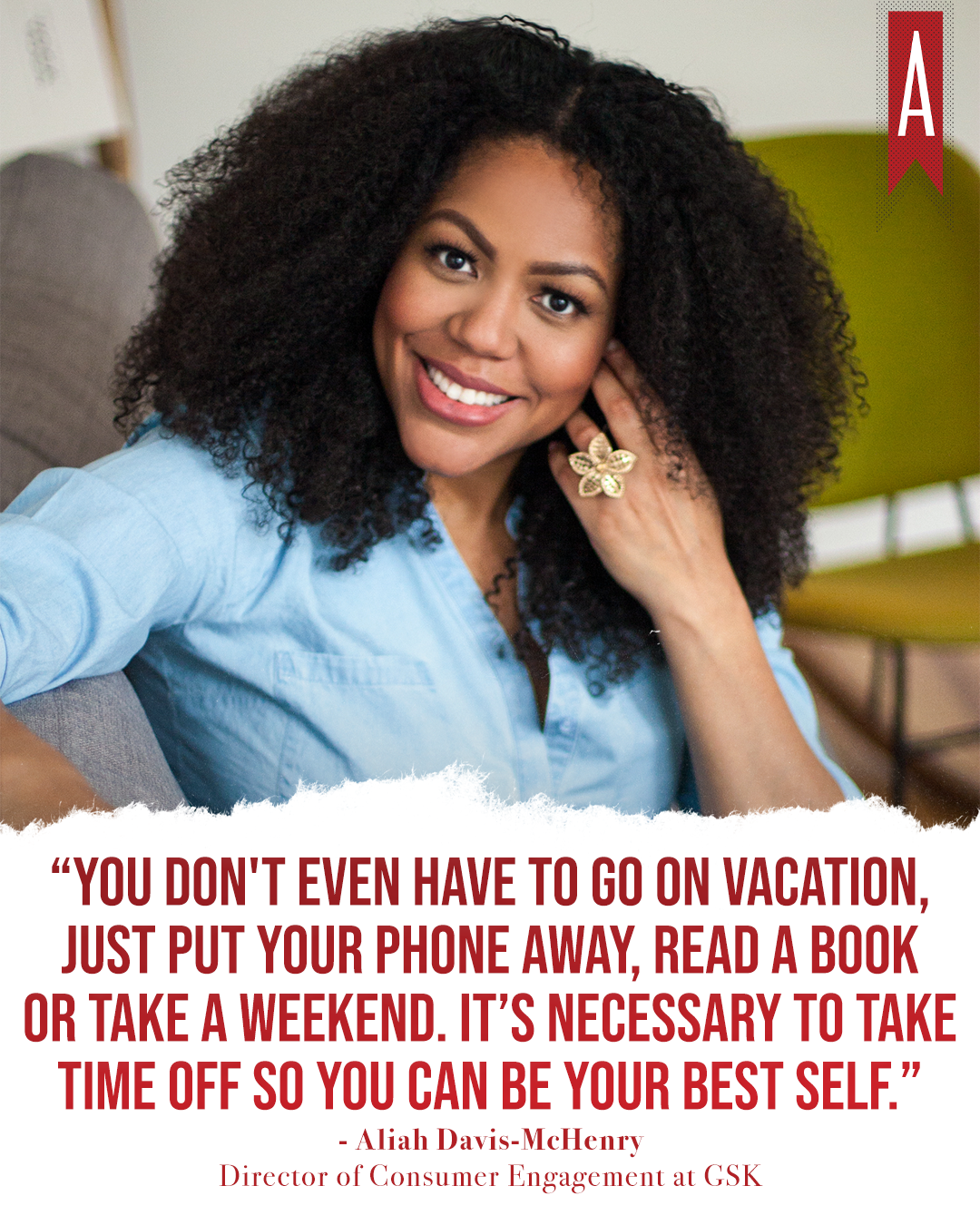 Article continues below advertisement
Her Agenda:How do you take a break from the digital world when it's part of your job?
Aliah Davis-McHenry: It's hard. People bring up balance but that has always been a unicorn for me. It's hard to obtain. For me, it's setting timers on my apps or going on a social detox. You need time away because that constant connection is digital overload. You don't even have to go on vacation, just put your phone away, read a book or take a weekend. It's necessary to take time off so you can be your best self.
Her Agenda: I read in one of your recent interviews that you have a personal board of directors. Do they know?
Aliah Davis-McHenry: Some people know and others don't need a name because they're giving that same advice and knowledge. It's always a two-way street. If I'm taking their expertise then I always make sure I'm giving something back so that time is mutual. My personal board is varied and dynamic. Some of them have fallen back as my career has grown but they're still there. Some of them I have to lean on more heavily because I need their expertise. Or if they're one of my sponsors then I need them to be raising their hand a little higher for me. Black women and women of color are not given sponsors early in our careers and we need that advocacy, we need our names spoken into rooms that we're not in yet.
Article continues below advertisement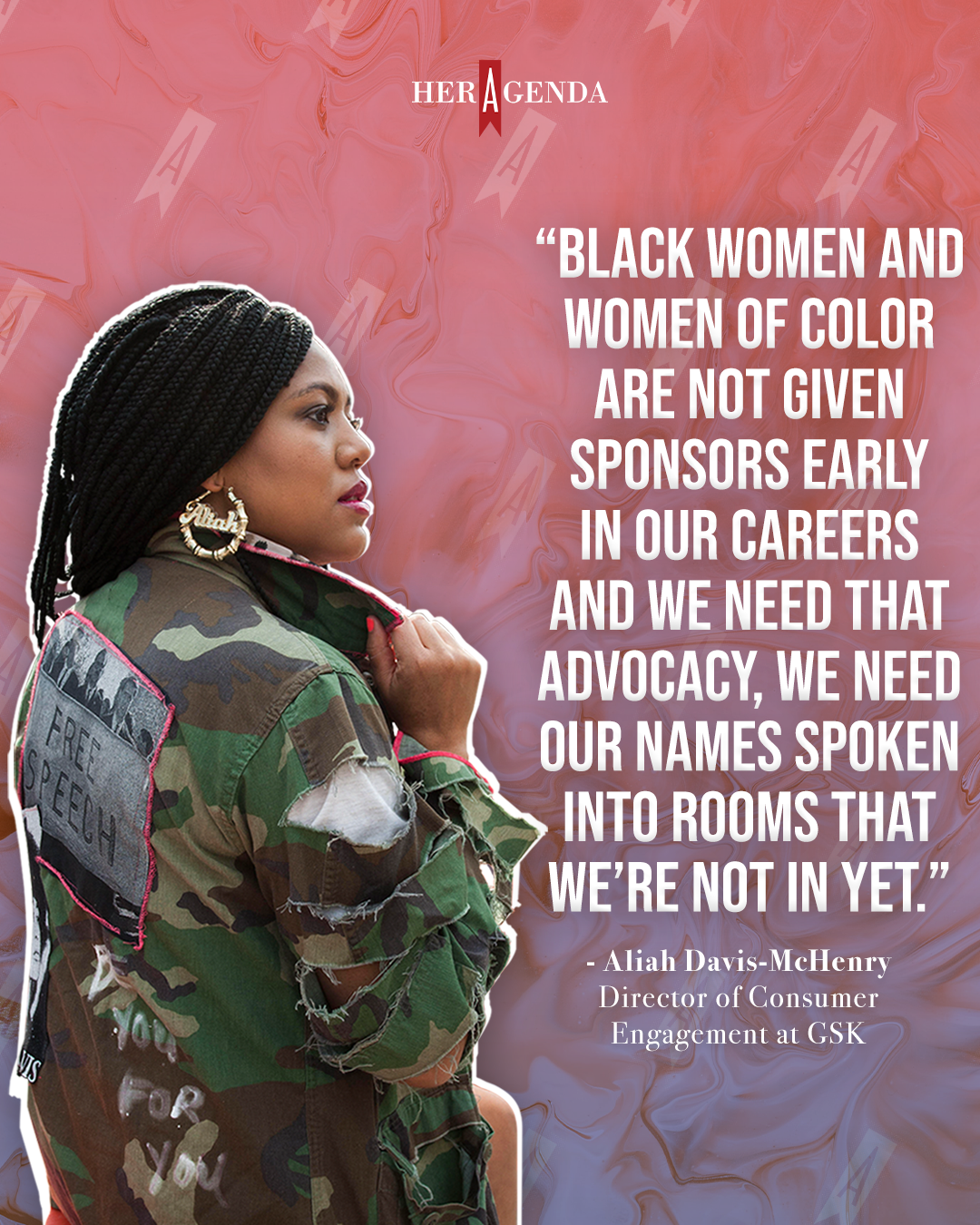 Her Agenda:You have a website and podcast, Fervent Wellness, dedicated to wellness. Why is wellness so important to you?
Article continues below advertisement
Aliah Davis-McHenry: I think wellness should be ingrained in everything you do. How you approach wellness really trickles down all other aspects of your life. When people think of wellness, they think of the gym and eating healthy but it's also the people you surround yourself with, the products that you use, the thoughts you feed yourself. Wellness is definitely not one size fits all. If I'm not well, what my definition of well is, then I'm not going to be my authentic self. I'll be on level one when they're used to seeing me on level ten. I'm very passionate about women's wellness because we usually put ourselves on the backburner. Women are often taking care of someone else and being tasked with everything that we need to carve out time for wellness.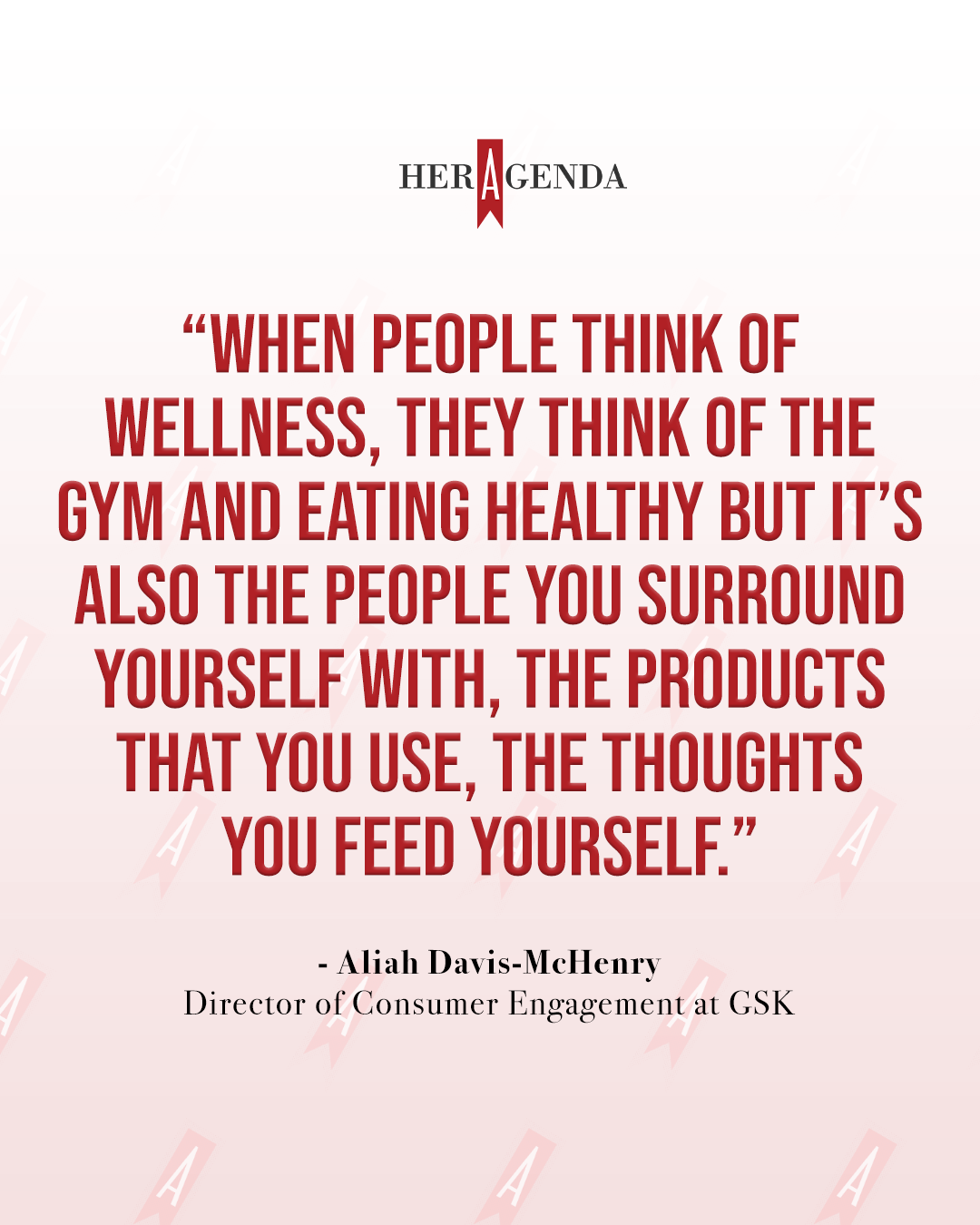 Article continues below advertisement
Her Agenda: What are the main differences between being an entrepreneur and working for an organization?
Aliah Davis-McHenry: I think I'll always have that entrepreneurial mindset. I want to own, lead and strategize. Right now what I'm doing at GSK is intrapreneurship. That's when you own products and projects and you're still able to make changes. You can change processes and find efficiencies. You can be impactful as both but not everyone can be an entrepreneur. In my current role, I am doing just that—working across brands in wellness, pain, and oral health. No two days are alike and I like the versatility. When I founded The Fervency, I was consulting for a variety of clients so I feel like my work with GSK is very similar. I feel like an intrapreneur and my natural entrepreneur [spirit] is satisfied.
[Editor's note: This interview has been edited for length and clarity.]