We all experience that inner joy when we see our favorite Black-owned brand on shelves in our favorite department store. Since 2020, major retailers like Target, Walmart, and Sephora have pledged 15% of their shelf space to add more Black-owned labels. In fact, according to the Black representation in the beauty industry study by McKinsey & Company, "Black brands make up only 2.5 percent of revenue in the beauty industry. Yet Black consumers are responsible for 11.1 percent of total beauty spending."
Beauty advocates like Crystal Peters, the founder of Beauty Brand Camp play a crucial role in advocating for brands catered to Black women that can conveniently be found in large retailers and purchased. Her Agenda had the opportunity to chat with Crystal about her niche expertise within the beauty industry and how through her company, Beauty Brand Camp, she is increasing retail sales for multicultural cosmetic, haircare, and skincare brands.
Her Agenda: When we initially connected, I remember you shared you started your company in 2021, during a pivotal time in America due to many current events happening. What inspired you to begin Beauty Brand Camp and why did you find it necessary to do this full-time?
Crystal Peters: 2020 was such a stressful time for me and working in beauty is really important to me. I felt that multicultural brands needed a voice and I had a seat at Sephora's, Ulta's, Target's, and Walmart's table on behalf of the culture so I was able to advocate for the brands that I served from a negotiation standpoint. I also validate the message from an authenticity standpoint because I am a Black woman who does lots of things to her hair, wears lots of different makeup styles, wears the nails, wears the weave — all of it. My beauty experiences as a Black woman provide an authentic voice to the retailers.
Article continues below advertisement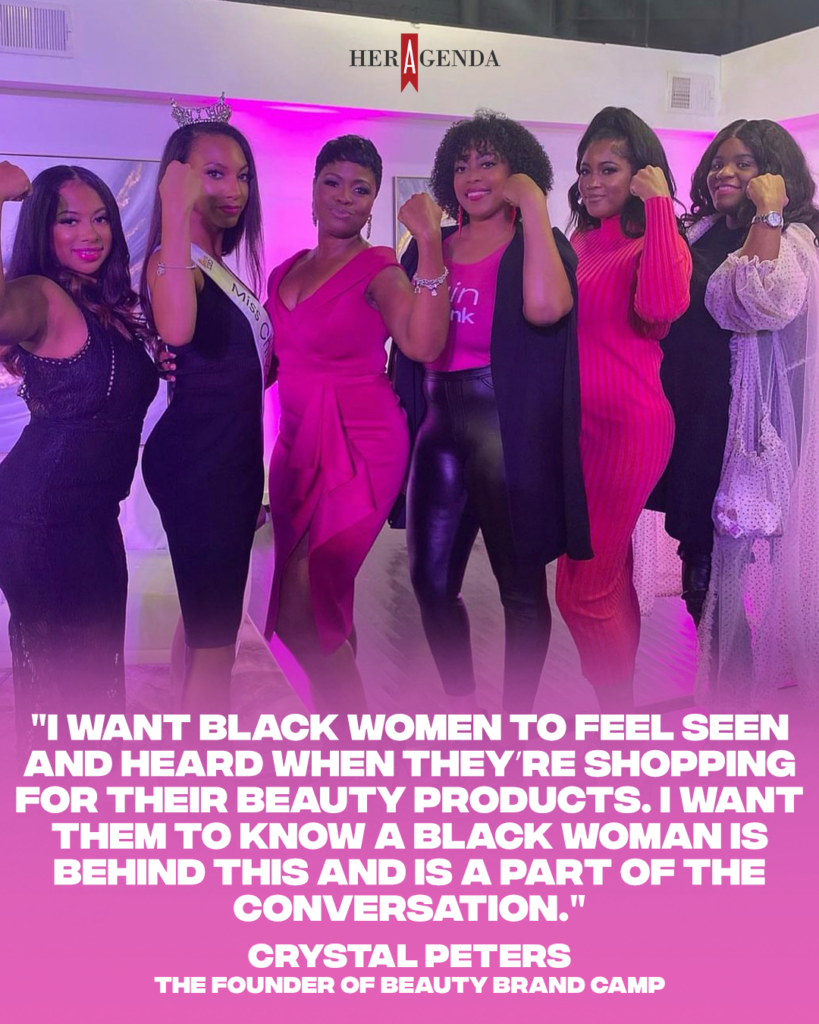 Her Agenda:Many women consider entrepreneurship for several reasons like having no cap on their salary, more time with family, and flexibility in their schedules. What was it like for you to make the pivot from corporate beauty executive to entrepreneurship?
Article continues below advertisement
Crystal Peters: On the last day of my role at Black Opal, Chris-Tia Donaldson, the founder of Thank God It's Natural (tgin) reached out to me. Unfortunately, she passed away two years ago, but she hit me up like 'Hey girl, how are they treating you?.' I had told her it was my last day and she was like, well 'what do you want to do?' and I told her I just wanted to rest because I'm tired. I had planned financially for a sabbatical and I was ready to just rest. She asked me to support her from a sales perspective as she began to scale tgin. So I was like okay, I can come in and do this like a project. What was supposed to be for one month turned out to be two and a half years. So she was my first client! I don't have the traditional path to entrepreneurship because the same day that I left my corporate beauty role was the same day I received my first client. I was having more of the flow moment than the eb. So throughout that year, once I began to share what I was doing I started an LLC because, at this point, it had to be a legitimate business.
I told Desiree Rogers what I was pursuing and she hired Beauty Brand Camp to relaunch Fashion Fair. I had done the pitch the year before to Sephora. We got it in so now we needed to execute. So that's how the year went, it was crazy. I worked so much that year. You mentioned flexibility and spending time with your family. I missed every single thing in my family's lives, my friends' lives like every birthday party, every wedding, and every baby shower. Pretty much, if it wasn't work-related then I wasn't able to go because I was managing TGIN. Then from April 2021 to October 2021, was the launch phase for Fashion Fair | Sephora. We were shooting a documentary on HBOmax called The Beauty of Blackness, we're launching at fashion week with Sergio Hudson and then Sephora wanted us to execute 100 events in the month of October.
Article continues below advertisement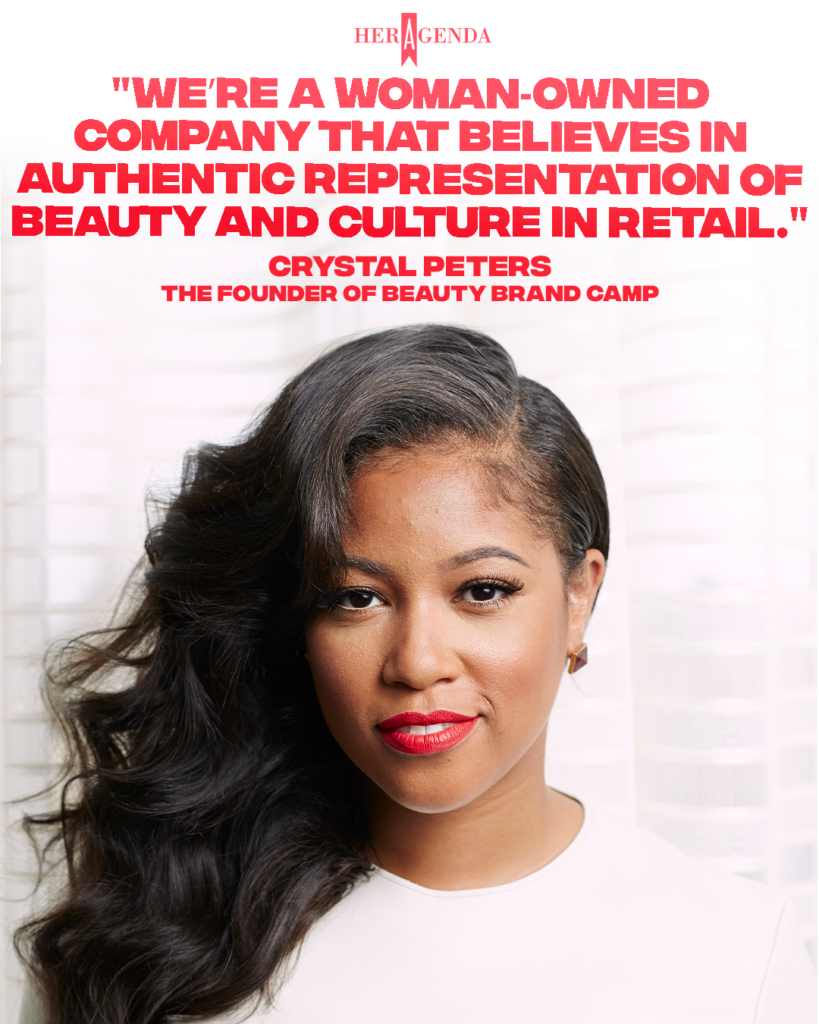 Her Agenda: I'm so sorry and saddened about the death of Chris-tia who was truly a legend in the Black beauty industry. How do you honor her in the work you do today for other multicultural beauty brands?
Article continues below advertisement
Crystal Peters: Unfortunately, Chris-tia passed away from breast cancer. From that experience, it made me question: 'Why are we working this hard as Black women?' 'Are we taking care of ourselves?' She was such a champion for self-care and the way she led was so beautiful. After she passed away, I realized it was one of the worst deaths I ever experienced because she was only 42 and the company was booming. We were doing so much that year to put her in an amazing position. The next year we tripled sales and had amazing penetration within the retailers we worked in. The marketing team and I worked well together while she was battling breast cancer. The fact that she trusted Beauty Brand Camp is something I'll never forget. During that year I also signed Beneath Your Mask, a luxury skincare brand that was started because the founder has lupus. She wanted to create a solution that was healing but didn't feel like medicine. So being surrounded by these powerful women who are creating these products to help other women by also telling their stories and encouraging self-care is something I'm proud to be connected to.
Her Agenda:Black beauty brands experience challenges such as lack of marketing, poor access to stores, and limited availability of products. What are some challenges you faced while advocating for multicultural beauty brands?
Article continues below advertisement
Crystal Peters: I think it's so important that you framed the question that way. I feel that the ecosystem is broken for multicultural beauty brands. Advocating for my client's brands negotiating more shelf space, and new products, and taking off products that may not be performing as well is what I do in the grand scheme of things. I also help with convincing the buyers to buy the products and that we have what it takes to sell. Shelf space is very sacred. So if you take something off the shelves, you have to put something back on. Sometimes, brands want to over-index to have more products on the shelf, and advocating for them to have that shelf space can be a challenge within itself.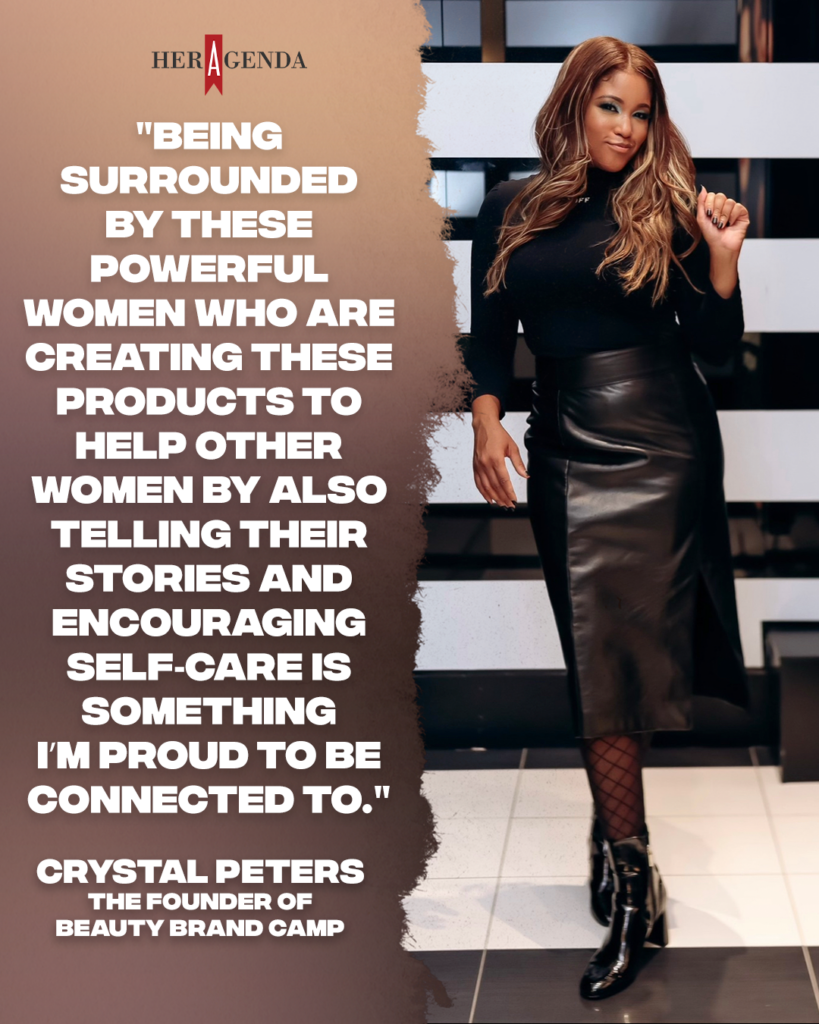 Article continues below advertisement
Her Agenda:During your panel Black Women Pioneering Change in the Entertainment Sector (such a powerful title by the way), during Congressional Black Caucus week, you said 'Black women are completely taken out of the venture capital conversation and in order for us to be successful we need venture capital.' How are you making it your duty to advise these venture capital firms to work with Black-women-owned businesses?
Crystal Peters: I am currently consulting with Cleveland Avenue, a privately-held Chicago-based Venture Capital (VC) firm, that primarily focuses on food but they do have some beauty brands that they are working with. I'm helping to advise one of the brands in their portfolio named Curlmix, with their launch strategy. They recently launched in Ulta. I've had the opportunity to connect with the founder of the brand to provide her advice and consult her. I believe that's step one. We need to let these VC firms know that the beauty industry is financially lucrative and lots of opportunities are available from investing in these companies. If we look at the data points, less than 2% of Black-owned companies receive VC funding, and even less than receive over a million dollars. My goal is to continue to work with VC firms to help impact their decision-making and identify multicultural brands because as we look at the future, complexions and hair types are going to change. We need to think about the products for the future and invest in different skin tones and hair types. That's how the market needs to be thinking and that's how I'm thinking while sharing this information with VC firms and key decision-makers.
Article continues below advertisement
Her Agenda:You're in a very niche area of the beauty industry that I'm sure requires an exquisite skillset. Which skills do you use the most to create outcomes for your clients?
Crystal Peters: Knowing how to leverage my network and negotiating. I've been cultivating my network since I was a makeup artist at MAC Cosmetics, while I was attending Hampton University in 2007. I still have relationships with some of the makeup artists I worked with and continue to build my connections. Adding value to the conversation is important to me too. The brands and retailers know when I'm a part of the conversation, it's going to be a win-win-win situation. It's going to be a win for the customer, a win for the brand, and a win for the retailer because I think about everyone when I'm pitching.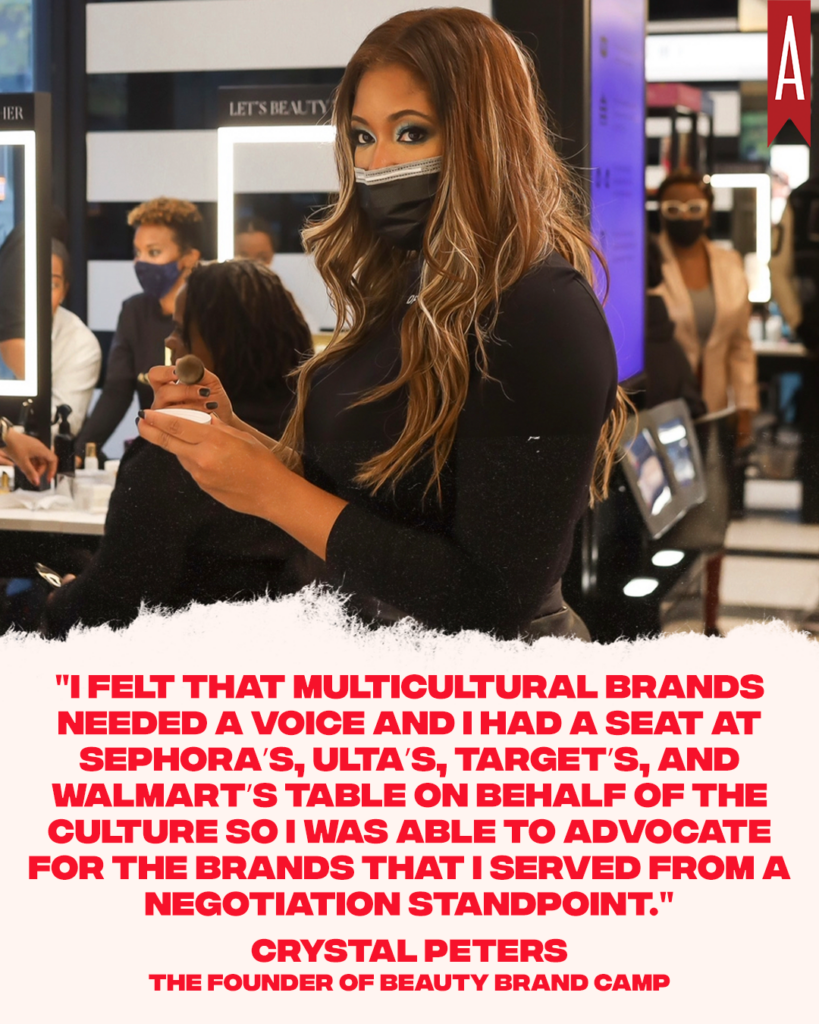 Article continues below advertisement
Her Agenda: What has been the most impactful thing Beauty Brand Camp has done?
Crystal Peters: No one prepares you for the death of a founder. The resiliency that took place that next year to grow the tgin brand, triple the growth and make the products more accessible for women who have textured hair all while keeping her legacy alive has been one of the most beautiful things that I've been a part of although it was very sad. It was beautiful to continue her legacy because it was so important to her. Also, relaunching Fashion Fair was impactful because they're such a staple in the Black community. The Black beauty story is never told without mentioning Eunice Johnson and Fashion Fair. I got to name some of the products with homage to my grandmother like Mellow Mocha because my family's last name is Mellow. It was very exciting and impactful.
Article continues below advertisement
Crystal Peters: Cheryl and Desiree are here in Chicago, they're the co-owners of Fashion Fair and Black Opal and they hired me to help with the launch [of the doc]. I was there to support leadership and liaison between production and leadership. For example, calling the production team in Los Angeles and pitching scenes to highlight milestones in Fashion Fair's relaunch. Also, I was able to speak to the importance of the beauty of Blackness. The documentary was a fabulous part of my career and truly a stamp in time. It was amazing to be a part of this documentary and I was delighted to contribute to it. Just to be able to tell the story of how brands get on the shelf was so important to me.
Article continues below advertisement
Her Agenda: As a self-proclaimed 'beauty product junkie,' which products are you currently obsessed with that other women should get their hands on?
Article continues below advertisement
Her Agenda:What advice would you give to aspiring entrepreneurs interested in getting into the beauty industry?
Crystal Peters: Stay focused. Identify the problem you're solving and find your customer base then talk to them. Don't overanalyze on Gen Z and Tik Tok thinking this may be the best place to sell your products. It might be Facebook ads or Instagram ads. So make sure to identify a problem, how you can solve that problem, find your core base talk to those people, and stay focused. Don't let trends distract you. Also, keep your faith and remember your 'why.' For me, I want Black women to feel seen and heard when they're shopping for their beauty products. I want them to know a Black woman is behind this and is a part of the conversation. I know what I want and I'm working to democratize beauty, Black beauty, and make sure Black brands are celebrated and elevated and are in the spaces we frequent so our shopping experiences are authentic.
[Editor's note: This interview has been edited for length and clarity.]