Egypt Sherrod is a dynamic real estate broker and interior designer. Her husband Mike Jackson is an equally high-powered builder. Both have their respective individual business adventures in real estate, but they also understand the power of making moves as a unit. Egypt has a long-standing history with HGTV, having hosted Property Virgins, Flipping Virgins, and other network specials. However, in 2022, she's getting a lot more personal in Married to Real Estate,where Black love and real estate collide.
Married to Real Estate is a family affair. The series follows Egypt and Mike as they run their family business, which includes brokerage, contracting, design, and more, as well as manage their family, which includes their three daughters plus other relatives who come along for the ride. Here, the power couple helps families find their perfect homes in their ideal neighborhoods in the Metro Atlanta area while balancing entrepreneurship and their personal home lives.
Her Agenda caught up with Egypt to chat about how she and her husband make family and business work, the importance of real estate courses, how to navigate a seller's market, and the Discovery Network's commitment to diversity.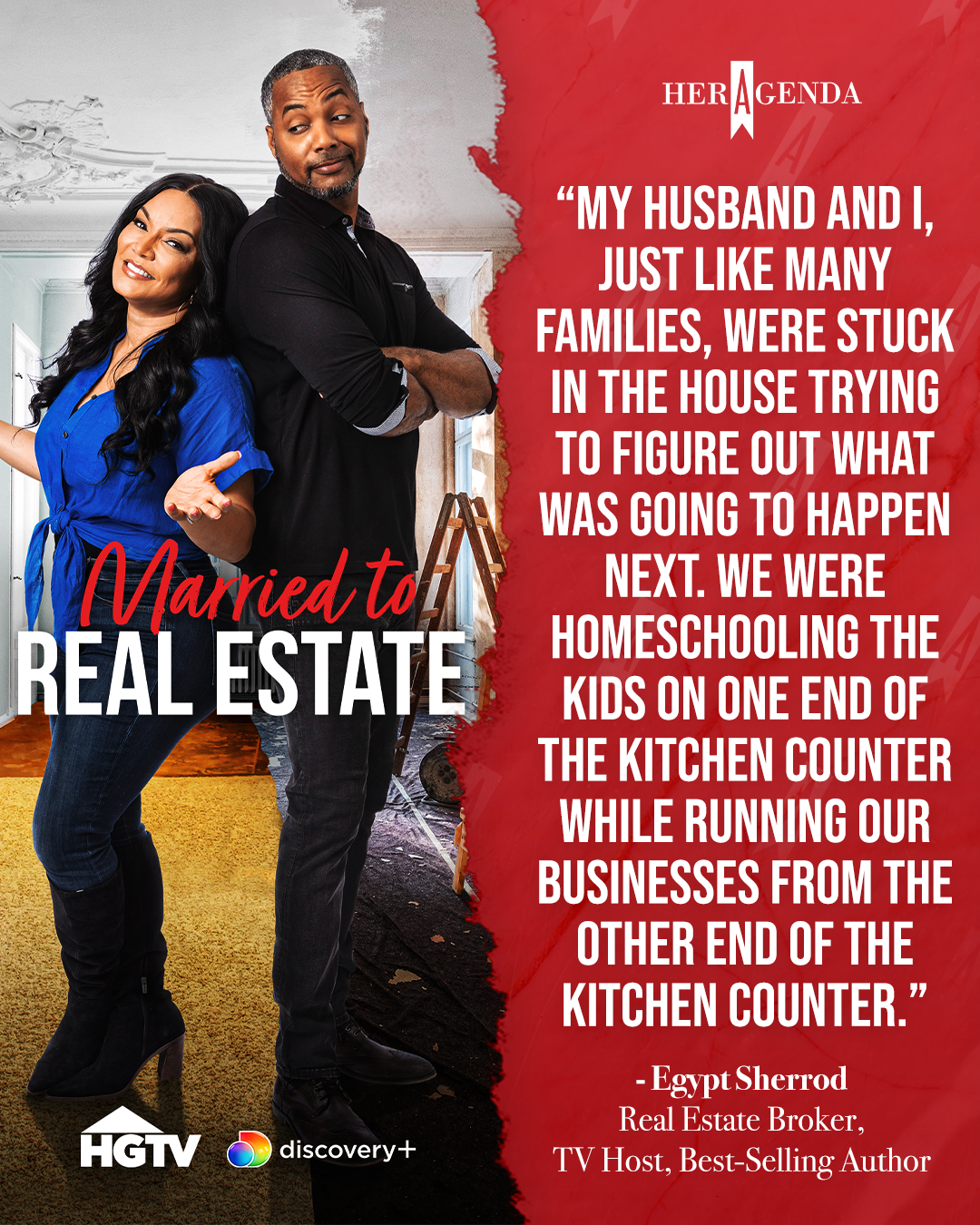 Article continues below advertisement
Her Agenda: Tell me about the new show and what your journey was like from planning it to getting the green light.
Egypt Sherrod: It started about a year and a half ago during the early parts of the pandemic. My husband and I, just like many families, were stuck in the house trying to figure out what was going to happen next. We were homeschooling the kids on one end of the kitchen counter while running our businesses from the other end of the kitchen counter. We could see on social media that people were falling apart and we figured that everybody just wanted to laugh and be entertained so we started "Ask Anything," which was just us as a couple carrying on. We were answering people's questions and being funny about it and talking about how we were getting through the pandemic, and it really caught on and a couple of them went viral. So HGTV loved what they saw. They bought into us as a couple and they wanted to figure out how to do a show. I am a real estate broker and designer and my husband is a contractor. He has his own company and what we were doing during the whole experience of being locked down was figuring out how we can simplify and merge our businesses together. So that is the premise of our show. We're working with our clients, helping them find and/or renovate their dream home in their dream neighborhood. But the difference between this show and my [previous] shows is, my husband, my uncle, and my team were always there in the background. With this show, we actually turn the camera around and you get to see everything — my life, my family, our home, our relationship, our humor, and what it's like for families to actually run a business together and coexist successfully.
Article continues below advertisement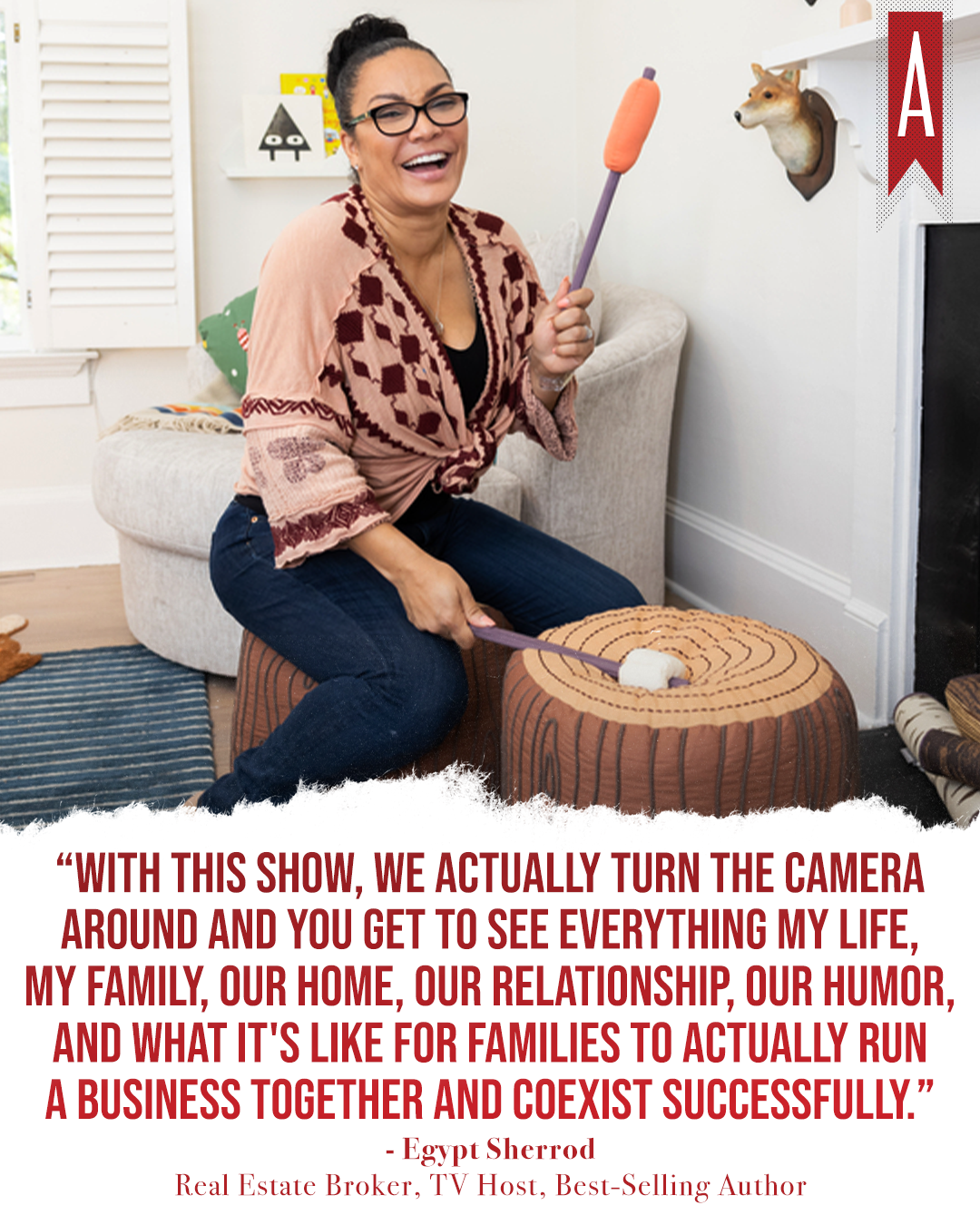 Her Agenda: And it's a positive Black family show on HGTV at that! I mean that's not a network that people might think of when they talk about seeing images of Black people.
Article continues below advertisement
Egypt Sherrod: I've had this relationship with HGTV for years. They're under new management. I'm not sure if everybody knows that they are under the Discovery Network. [Discovery Network] understands that our voice and our dollars count. That has been my experience [with them]. I've never in my whole career seen this much support as I'm getting from them and I'm grateful for it. I'm glad that people will get to watch as we buy houses, renovate and design houses. And I think people will be very pleasantly surprised at the fact that you are going to see a lot of Black faces on HGTV. Anthony Anderson and his mama had a show, Lil Jon has a show, Marsai Martin has a show, and Retta, the comedian from Parks and Recreation has a show. There are a lot of amazing shows with African American Talent on them, and there are some in production that I know of as well. So I'm happy to be a part of this. This is the new face of inclusion. Discovery recognizes that it's important for HGTV.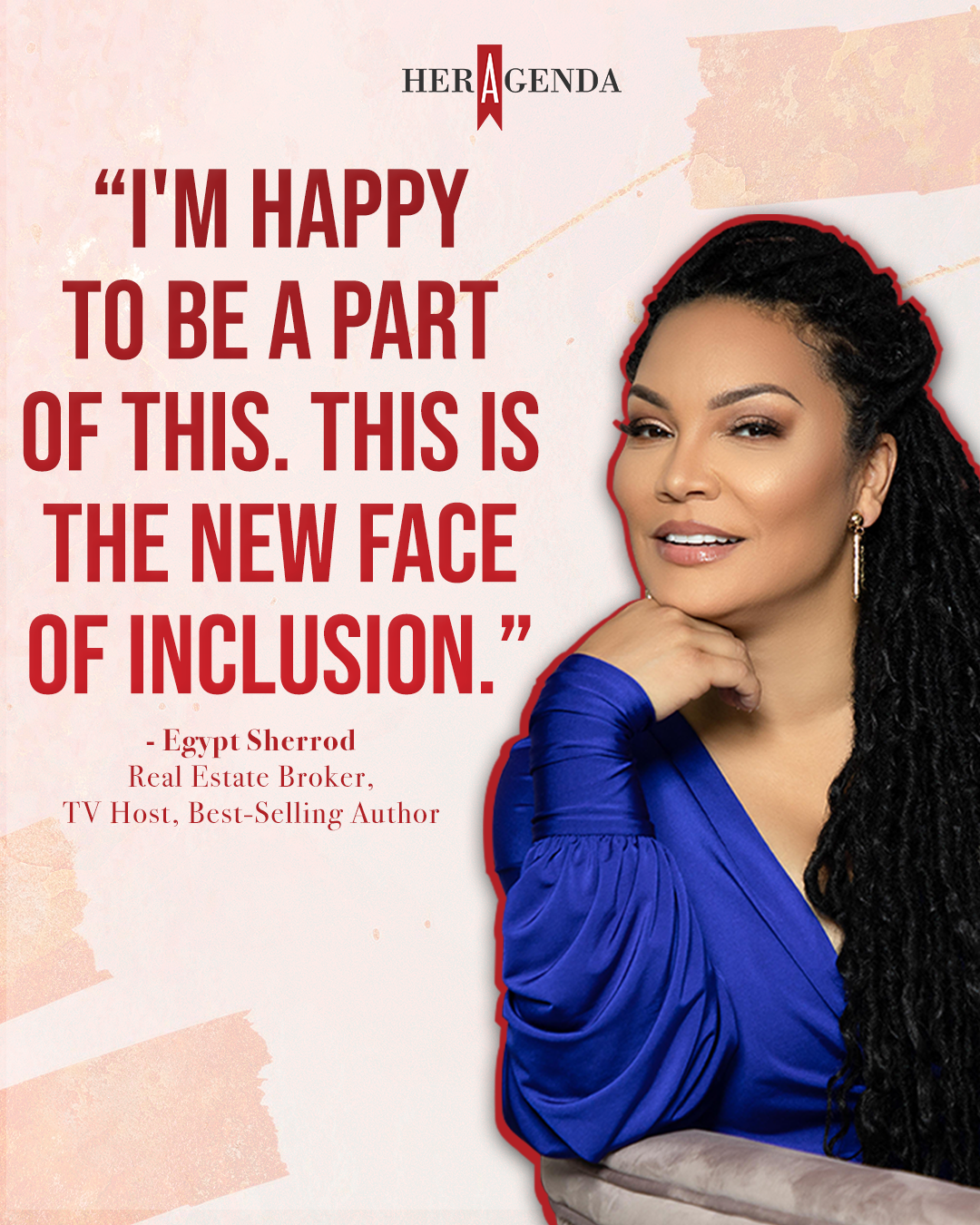 Article continues below advertisement
Her Agenda: And you get to bring together your experience in media with your experience in real estate as well. So that must feel like a dream.
Egypt Sherrod: It's a dream come true. I don't have to leave my family to work anymore. I used to have to travel to do Property Virgins because we took the show nationwide and that was very hard. I remember when I first started Property Virgins. I was pregnant and filming, and then when I had the baby, I had to travel to a few different cities. My mother had to come and help take care of the baby and it was very hard. And then we took her on the road with us. So, this time it's holistic to what we do on a daily basis. I'm based out of Atlanta, my businesses are out of Atlanta and so is my family. So this is the perfect opportunity.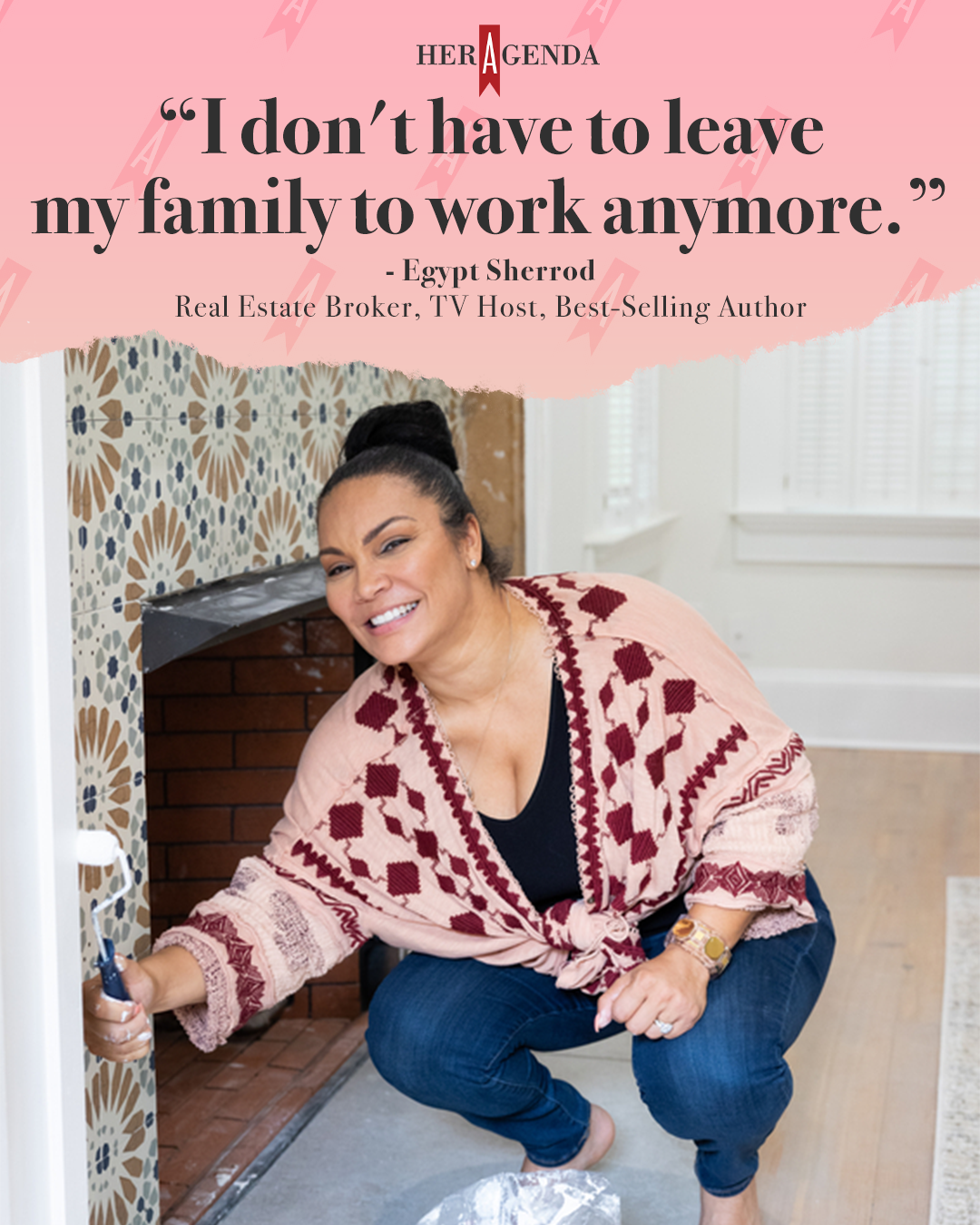 Article continues below advertisement
Her Agenda: I know it can be hard to unplug from your business, but what's that family dynamic like for you and your husband when it comes to knowing when to unplug and just be with family?
Egypt Sherrod: That's the tricky part and we're still honestly trying to figure it out because everything is so integrated. We are always trying to strike that delicate balance instead of a point where we do have to compartmentalize things. Because sometimes when you're in the workspace and you're both perfectionists, things can get tense at times, which is natural because you want to make sure you put out a good product. We've been together for 17 years, and are still happy and still in love and still balancing and are like, listen when we leave work, we leave work. Every now, and again, the conversations start to trickle in at dinner time, or when we're out on our little date nights, but we both end up looking at each other and putting a hard pause on it because everything can't always be about the business otherwise you start to lose the luster for everything else in your relationship.
Article continues below advertisement
Her Agenda: Speaking of needing work, you're also a designer, which is another fascinating part of the process. How did you get into design?
Egypt Sherrod: I tripped and fell into it. I was flipping houses, which people may have seen on Property Virgins, and when you become a house flipper, you start to learn very quickly, what works, and what doesn't work. Also being in real estate helps because seeing so many homes helps you figure out what works for buyers and what doesn't. And so, I am really excited about being able to design floor plans and I enjoy being able to design luxurious yet functional floor plans that make sense where every space is utilized and then, you know, by nature of doing that and then starting to stage homes. I think I just got better and better at it. I didn't go to design school. I didn't study under the tutelage of anyone and my hat is definitely off to those who did to those who put in that kind of work. But, for instance, there are a lot of actors out there who [have] never taken an acting class. They just naturally had it. There are radio personalities who never went to broadcast school. They just naturally had it. So I think I would fall into that category. I just really enjoy it.
Article continues below advertisement
Her Agenda: Real estate is a great way to build wealth but it also seems like an overwhelming undertaking. So what advice do you have for people who might be interested in getting into the business?
Egypt Sherrod: What I'd say is, if you have time, you should take the real estate course because it helps you to understand the business. If ever you have a desire to even own a home, it helps to understand the business and how real estate truly works. That's number one. And then after taking the course, for those who still genuinely have an interest in loving it, just put one foot in front of the other. It's not an automatic industry, meaning you don't just decide one day I want to work in real estate, take a course and start getting paid right away. You really do have to build up your chops. You may have to find a mentor. You may have to work on a team for a little bit until you learn the ropes because you learn one thing in class, which is very textbook about rules and laws and regulations and code, but in the field, you learn a lot more. So, it's the type of business where you'll only get better as you do it.
Article continues below advertisement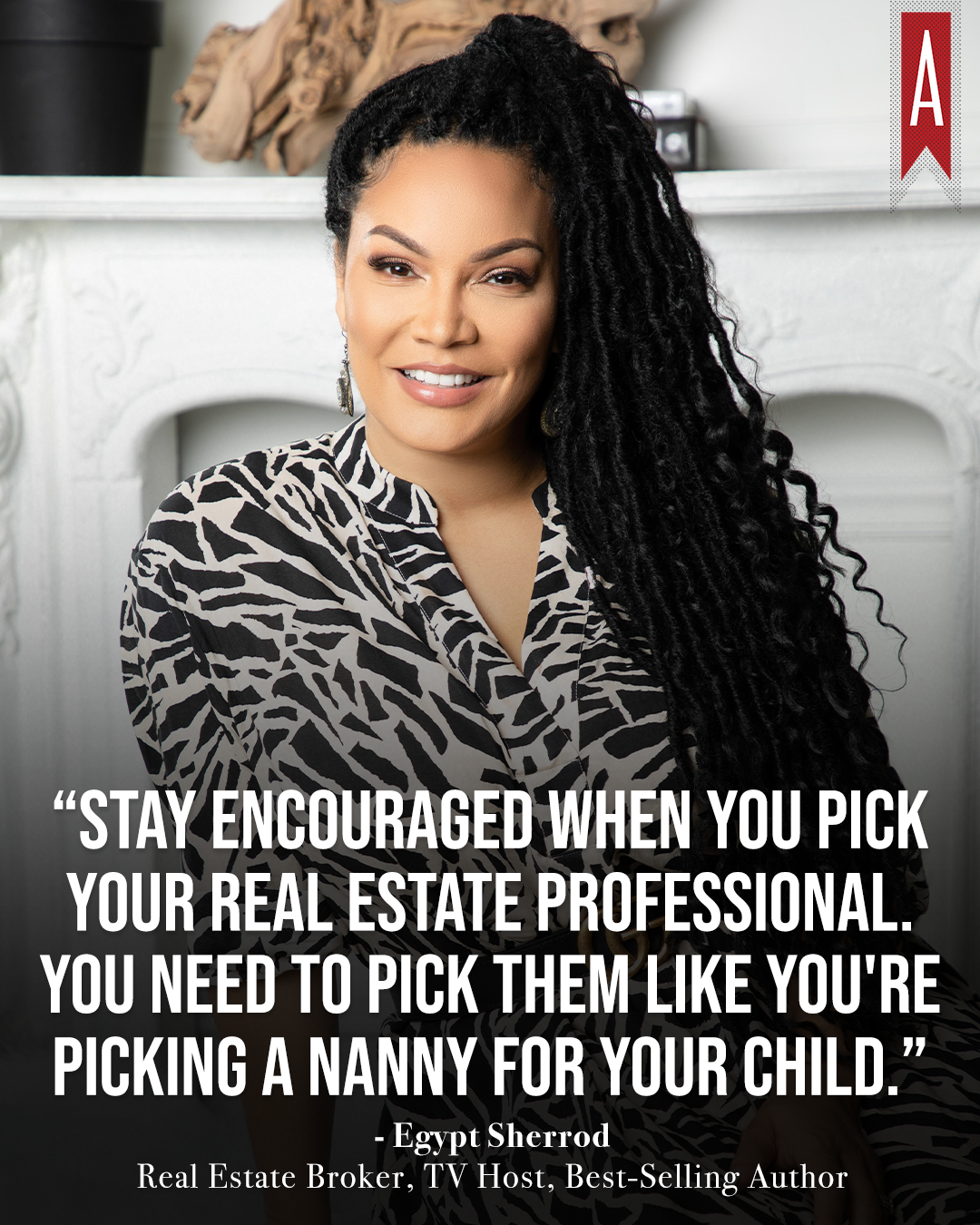 Her Agenda: On the flip side, what advice do you have for people who want to buy a home especially since we were hearing that homes have been in demand through the pandemic?
Article continues below advertisement
Egypt Sherrod: At this moment the real estate market is still a seller's market. Meaning that there are more buyers than there are sellers or inventory. And so it has been very difficult specifically for first-time homebuyers to compete with institutions or to compete with all-cash buyers, but what I would say is stay encouraged when you pick your real estate professional. You need to pick them like you're picking a nanny for your child. Scour them down and be that specific with your questions to make sure you're not hiring someone who does this as a hobby. You want someone who takes real estate very seriously, and they can help you strategize because that's going to make the difference right now.
Married to Real Estate airs on Thursday nights at 9 pm ET, and is also available for streaming on Discovery+ and Philo.
[Editor's note: This interview has been edited for length and clarity.]