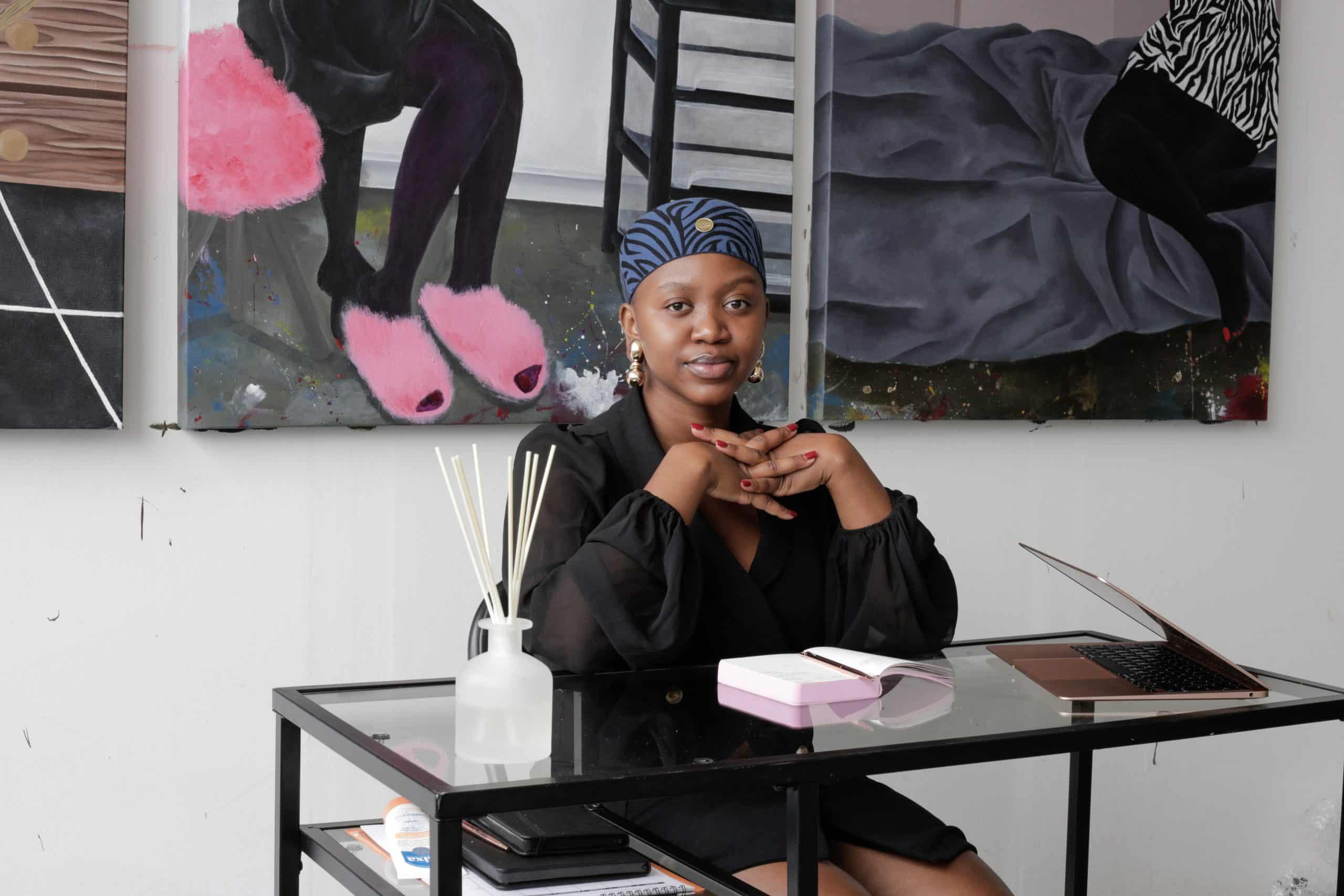 South African Artist Zandile Tshabalala On Depicting Black Women In A State Of Rest
By
Rita Pike
Apr. 6 2021, Published 4:00 a.m. ET
Zandile Tshabalala is a South African fine artist, currently being featured with her first solo exhibit at the ADA/contemporary art gallery in Accra, Ghana. Her remarkable story offers inspiration for artists, women, and POC around the globe, no matter where you are in your journey in life.
Rita Pike: Could you please tell us a bit about the history of your family where you grew up, and some other background to help the readers have some kind of insight into where it is that you are coming from as a person as an artist, etc?
Zandile Tshabalala: In my household, it is myself, my grandmother, my mom, and my little brother. I'm the eldest of two siblings. I'm from Soweto [a township in Metropolitan Johannesburg]. We moved around. We went to the suburbs and then we came back to Soweto, so I pretty much grew up there. And that's where most of my friends are.
RP: How did you discover your interest in and talent for art? Do you have a family member that inspired you?
ZT: It wasn't really a well-known thing in my family or often spoken of. So, I didn't really, I don't have an art background. It's at school where little coloring in projects [that sparked my interest] and I used to make a lot of paper dolls. I thought I was going to get into fashion. That's what I wanted at the time. And just these little things, you know…you really enjoying drawing and coloring in and just making images. So, it just evolved from my primary high school days. And then in high school, I took visual arts classes. That's when I learned about Fine Arts and how there are people – like painters – who [do this] for a career. I just knew that I wanted to do it.
Article continues below advertisement
My first degree was going to be Fine Arts. Maybe after that, I'll follow my parents' wishes but I sort of had to fight for that because we weren't in agreement with that decision. But I sort of rebelled. I secretly applied for Fine Art, got accepted for that and rejected for the courses that my parents wanted me to do – which was civil or mechanical engineering. I was excited. My mom was like… "You're never gonna make a living doing that. She literally sat me down, and she was like, 'Do you think you'll ever drive your dream car doing art?'
I think at the time, those things didn't really matter. 'Cause my biggest thing was I just wanted to do art. I just wanted to study art. It sounded so like something that was so out of reach, you know, so unfamiliar, so foreign to me. So, it made it a bit more exciting to pursue. Because I want to be a Fine Artist. And I guess I'm a Fine Artist now.
Article continues below advertisement
RP: Can you tell us a bit about your current exhibition that's opening in, I think, a day is that right?
Article continues below advertisement
ZT: It's titled 'Enter Paradise.' And the title came from a series that I did that is titled 'Paradise.' And they are these paintings of these figures with a very picturesque landscape of the greens, the sea, the sky. Very Henri Rousseau influenced. For this particular exhibition, I was thinking about the term 'paradise' and [thinking] what does it mean to me? What does it mean when I'm moving away from this image of the foliage – everything's over-exaggerated – the very lushness. Where else do I find my paradises? Especially in the mundane and my actual space because I'm always in my space. I'm always by myself, so I have a lot of those moments that really feel like oh, my God, this is so good, you know, like Netflix and chilling and reading and just taking off my shoes after a long walk.
Those are the paradises that I wanted to focus on for the show – just to shift the perspective from not necessarily the out of reach because I feel like even that constructed paradise is very much reachable, but it's also "find paradise is in your ordinary space."
RP: The description that I received of the exhibition says it will feature self-portraits that explore this representation of the Black female figure. Can you tell us a little more specifically about that?
Article continues below advertisement
ZT: It's an exploration of what the revisioning of the Black female figure is. I like seeing Black women in particular states and doing particular things other than what was initially associated with them. I like seeing them away from the narrative of the strong Black woman. Firstly, I'm not against [that imagery], it's, to a certain extent, true. And I do show the figures in this very confident, very bold in your face manner, which one can read as the strong Black woman. At the same time, I like focusing on seeing them in a state of rest. Serving is something that has strongly related to us. When you say Black woman, we are thought of as natural servers and that's why we consistently see this image of that particular narrative. And, and as much as again, it is true, I think that even the women who are performing these acts, there's more to them than that, and they have other desires. Like my granny – when she's chilling, and she has her feet out on the couch, she's just resting. Those are the moments that I'd like to depict and immortalize and normalize. That it's okay for you crave leisure or luxury or whatever it is [you desire]. It shouldn't feel foreign to you.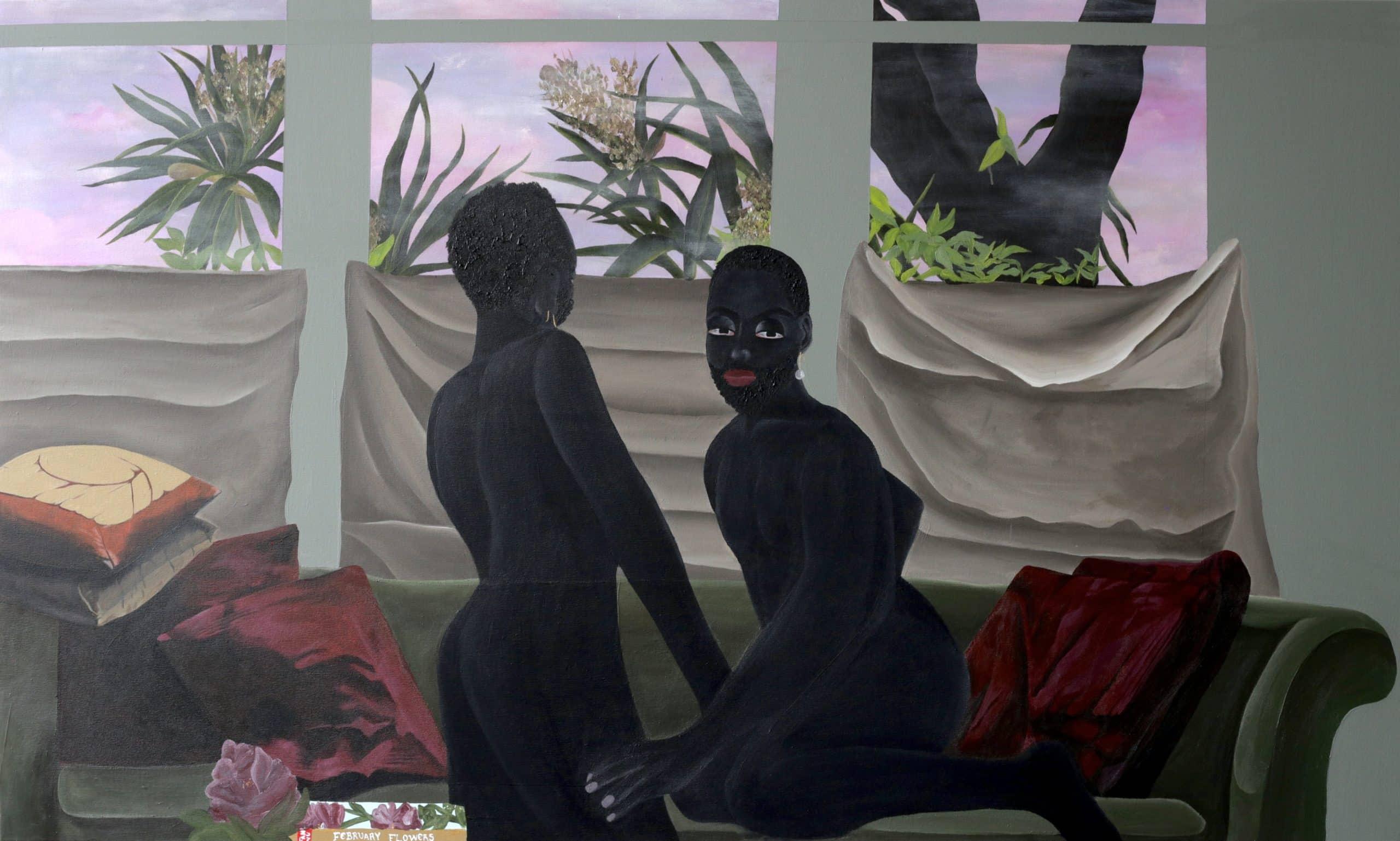 Article continues below advertisement
RP: What would you most want our readers to know about your work and specifically this show?
ZT: It's very much personal – self-portraits. Even though the figures exactly like me, they're self-portraits in the sense that even the little things that are featured in the works are very much reflective of who I am. So, I'd hope that the reader and the audience just find out who is the artist and maybe dive deeper into the research.
Tshabalala's solo exhibition opened on March 4 and remains available for viewing until April 18, 2021.