Why Netflix's 'Harry & Meghan' Is A Black History Necessity And A Must-Watch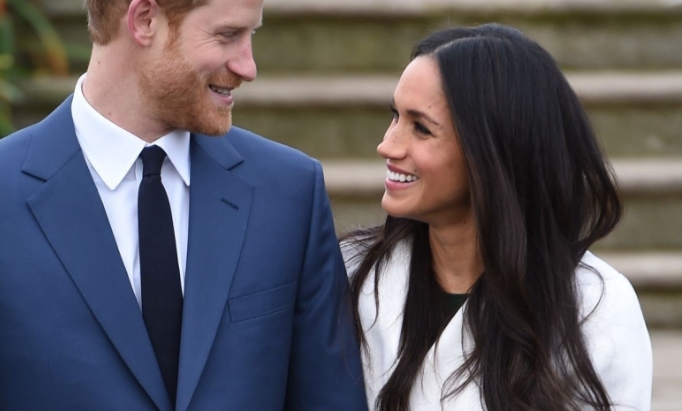 As a Black woman in America, you'd think anything about British royals—including the modern-day generation of Prince Harry and Meghan Markle, Dutchess of Sussex—would seem super irrelevant and a trigger for conflicting feelings of whimsical respect and disappointment. This is especially true when you think about the British colonization of African and Caribbean nations, the historic roots of British sexism, discrimination, and racism in America, and the fact that royalty, as a concept, seems like nothing more than a fairtytale film you'd enjoy as a child.
(I've also always been one to look to our own African royalty for inspiration and awe. Their history of excellence, intelligence, power and beauty dates back centuries and their legacy is one I grew up being taught to be proud of, even as a Black American.)
Article continues below advertisement
But, I'd be lying if I said I'd never been the least bit interested in British royalty. As a matter of fact, a particular member of British royalty has been part of my family's story from birth. Then-Prince Charles and Princess Diana's wedding happened the day my brother was born. The occasion was so profoundly important to my mother that she wrote about it in his baby book, sharing a happy anecdote about watching news about it on the TV in the hospital.
As a child, I'd read through his baby book (and my own) to find more mentions of Charles and Diana. She'd taken her first official royal and first overseas trip abroad a few months after I was born. Years later, I heard the news that she'd tragically died, and I remember my teenaged self bursting into tears, a reaction that was prompted by both her death and my dealing with a major loss in my own life at the time.
Article continues below advertisement
After Princess Diana's death, I'd pretty much mentally blocked out any news about the royals, as, I believe, a trauma response to the connection I had with her story and the memories associating it with my own family trauma.
Fast-forward many years later: Netflix released its drama series about the early life of Queen Elizabeth, "The Crown." My mom texted me and said, "You have to watch this. It's so good!" So I did. It renewed my interest in the royal families of Europe, in general, and it was something special my mom could connect on weekly.
Article continues below advertisement
A couple years later, news broke that Prince Harry was marrying Meghan Markle, and the U.S. press was all over that, not only because, obviously, it's newsworthy, but particularly due to Meghan's ethnic, cultural, and professional background. Among my circle of Black women professionals and business owners, we just loved that he was marrying a biracial woman of African descent (so she's literally one of us, all the same), and a beautiful woman at that. There was also talk about how their children would be royals with Black heritage, something that made us both smile and chuckle in pride and realization of irony.
Article continues below advertisement
Then things turned ugly. As a journalist, we are already expected to constantly be in the middle of news—good, bad, or horrible—but for me, after almost 20 years in the industry, I've learned to build healthy boundaries related to hysteria and sensationalism. The negativity about her "belonging" in the family, the ignorant comments about her race and background, the extreme, bandwagon social media debates—it all became too much.
I'd literally mute, block, and decline. I just didn't want to see or hear anything about the couple good or bad. It sadly resembled what happened to Princess Diana, and it took me back to a dark time in my life. Add the pandemic to the mix, and I clearly had other things to focus on in order to remain sane and balanced.
So, why am I writing this right now? Well, the Netflix documentary 'Harry & Meghan,' for me, took me back to the positive place of my childhood relationship with that early memory of the royals. The series, which premiered December 8, has elevated an understanding of not only Prince Harry— in growing up within that system—but of Meghan, whose story has been told through snippets, jokes, soundbites, morning show opinions, salacious headlines, press releases, and rumors.
Here are three reasons to give the documentary a chance, especially if you're someone who had had enough of all the previous hoopla, hate, and speculation surrounding them:
Article continues below advertisement
1. You get to actually hear from Meghan Markle's mom.
This was a key piece that was missing for me. Everyone seemed to have such strong opinions about Meghan's lineage, her "Blackness" and her cultural upbringing, and it was refreshing to finally hear from her mom on those subjects. It was also good to get a glimpse into her mom's spirit, background, parenting decisions, and personality because for me, it said a lot about who Meghan seems to be and why she might have been previously misunderstood.
2. The telling of their love story is heartwarming, relatable, and endears you to their humanity.
When you see Prince Harry and Dutchess Meghan talk about how the infamous Instagram DM that brought them together and how they felt when they first started dating in secret as a long-distance couple, it brings to mind two close friends recounting how they met. I felt like I was watching one of my favorite films, "When Harry Met Sally," or a good rom-com. It's sweet and you can, dare I say, feel the love through the screen. I'm not one to like cheesy love stories, as I am often a skeptic of sappy romance, but with all that's going on in the world, this aspect of the documentary is a welcome and refreshing break.
Article continues below advertisement
They seem like such a down-to-earth couple who would have been destined to be together whether Harry were a prince or not. Also, the story of the way they met speaks to the fact that oftentimes, your network is where your bae is, and that who you know and hang out with can often positively inform your marital destiny. For Meghan, it turned out to be a bittersweet nightmare with somewhat of a happy ending, but many might relate to the fact love often is complicated and the journey is never linear.
3. They candidly discuss Black culture, racism, and identity, adding a historical narrative direly needed.
Here's where I often gave the couple, in particular Dutchess Meghan, the side-eye. We'd invited her and Harry to the Black family reunion cookout, so to speak, but I felt like any time I did tune in to snippets of things Meagan reportedly said about the subject of race and identity, a familiar triggering feeling that ambiguity brings would usually rear its ugly head. Indeed, it could have been due to the fact that much of the news about her culture and identity was confusing, buried in controversy, and even untrue, something the documentary addresses from the couples' point of view.
Article continues below advertisement
Also, the insights of Black British thought leaders were included. All commented on Britain's history in regard to slavery, race, and the royals, adding credence to the documentary, making it even more of a relevant, necessary historic work to include when exploring the history of Britain. Whenever I watch things about British identity in terms of culture or race, again, either I'm left confused, wondering why historical elements are left out, or triggered, yet again, by the element of ambiguity and apathy related to Blackness and Black culture.
Article continues below advertisement
Prince Harry also acknowledges instances of unconscious bias, the implications of negative depictions of a biracial woman of African descent, and his own struggles and growth related to that. Meghan, too, explores how she grew up raised by a Black single mother and visiting her white father, her issues with identity, her connection with her father's family, striving to be her full self, and the pressures of doing so on a global stage.
Article continues below advertisement
There are still undertones of naivete, privilege, and a few unanswered questions, but that's not a reason not to watch this series. If we think about how history is told, it's important that leaders, especially those of African descent, are able to tell things from their point of view and from an expression of their own truth.
Black people have had their historic and cultural impact, life journeys, and contributions erased, horrifically amended, misrepresented, and disgracefully reworked time and time again—thus, we must be given a chance to tell their own stories, while alive, especially stories that dispel myths, re-examine culture and identity, and spark dialogue to combat ignorance, bigotry, and hate.
While Meghan Markle is indeed biracial, her Blackness is an important part of the story of not only herself and her family, but that of the British monarchy and of American history. It is extremely necessary and brave for she and Harry to boldly and eloquently step away to tell their stories, as it offers a way to do what any session of telling your truth should: shed light in darkness. In her own words, during an episode part of the documentary: "I can't have peace without truth."
Any honest body of historic documentation that can add context to attempt to balance the scales in a troll-accommodating media world filled with dangerously skewed, negative, and fake news—especially against Black and other minority women— is a win in my book.