Dr. Kimberly Clay Is Boosting STEM Education For Girls Through Sports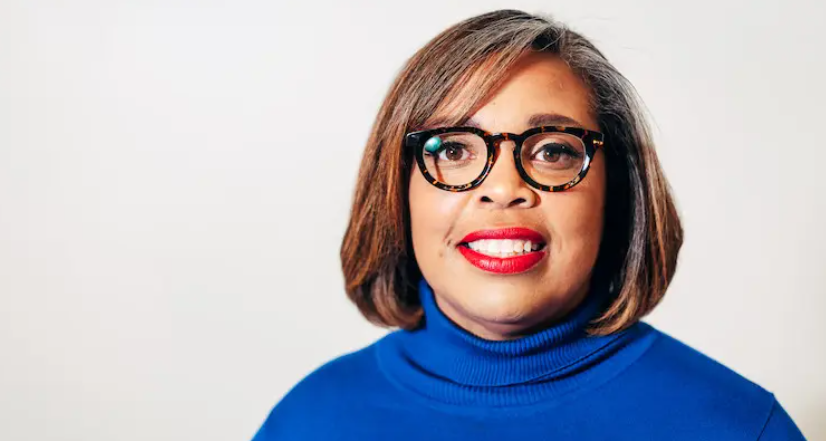 By now we know that STEM stands for science, technology, engineering, and math, but it also encompasses other elements that include arts and workplace preparedness. However, one commonly overlooked element in that equation is sports. The connection is that confidence, team building, problem solving, and leadership skills are necessary for success in any career, especially when it comes to girls who, according to research, begin to feel that they can't be as brilliant as boys at as young as five-years-old. However, participating in sports can have a counter-impact on self-limiting beliefs that lasts for a lifetime.
That is a connection that Dr. Kimberly Clay made while embarking on her life's work in service. Clay is the award-winning founder and chief executive officer of Play Like A Girl, a Nashville-based organization geared toward educating middle-school girls about leadership and careers in STEM through sports.
Another study conducted by ESPN and Ernst and Young has shown that 94% of women in the c-suite played sports when they were young, and 56% of that population played through college. This is something that hit close to home for Clay, who didn't grow up doing sports.
"Learning those statistics was a changing moment for me because I never participated in sports growing up in rural Mississippi," Clay tells Her Agenda. "Still, today, in 2023, we have a Black park and a white Park. The white park has a swimming pool, the Black part does not. The kids that play at the white park have actual uniforms and a real field to play softball. My niece's that play at the Black park, play on dirt and they play in their street clothes. That disparity still exists in my hometown."
Article continues below advertisement
Clay, who currently splits her time between Nashville and Dallas, left her home state for higher education. After obtaining degrees at Xavier University, Tulane University and University of Alabama at Birmingham, Clay had experience studying mass communications, international affairs in Tokyo, and eventually, public health and social work. At one point, she worked at the CDC in Atlanta, under the leadership of former Surgeon General Dr. David Satcher.
She worked on The Reach 2010 Project which was focused on identifying strategies that could prevent and control illnesses such as heart disease, diabetes, and HIV among communities of color through education.
Article continues below advertisement
"My work at the CDC informed my decision to do my dissertation work in cancer prevention and control, which then evolved into cancer survivorship, and that's the first time I considered myself a stemness, but I didn't even know what to call it at that time," she said. "Honestly, it wasn't until years later, running Play Like A Girl, that I truly understood myself as a stemness because I was always told that I wasn't adept at or skilled at math and science and because I wasn't in a core hard science profession, I never considered myself to be in science, technology, engineering, and mathematics [even though] my research was science, and recognized, juried, scholarly research."
Clay's work also immersed her in health education at a community level, with cancer prevention and obesity prevention at its core. After learning about negative outcomes that specifically impacted overweight girls, who are at increased risk of cancer, heart disease, diabetes, and also HIV, Clay expanded educational outreach by launching after school programming for all kids that included physical activity targeted toward middle schoolers. This began setting the foundation of Play Like A Girl when Clay had relocated to Dallas in 2010.
Article continues below advertisement
"Research had shown that child obesity was on the rise and preventative needs increased amongst children of color, so that's when we started to focus more on physical activity as a catalyst to get kids more active with sports, in particular, as the gateway to get them moving to prevent those diseases," says Clay.
Article continues below advertisement
By 2012, Play Like A Girl was born as a rebrand of Clay's previous community work. In 2014, Clay came across that ESPN, Ernst and Young study about the connection between sports and women in the c-suite. That was the turning point for how Play Like A Girl began making the distinction that it would make the connection between confidence and leadership skills that come from participating in sports, with focusing on how those skills could transfer to STEM-related careers.
"Once we added STEM, we really focused on the gender gap in STEM professions. It's recognizing that for a girl of color, a poor girl, a girl who doesn't speak English as their first language, that if she has the right pathway into a STEM career, we can likely change the trajectory of her life and generations to follow," Clay said.
Article continues below advertisement
Play Like a Girl has three core program formats that are free for all participants. There are traditional camps, which run during school breaks in the spring, summer and fall. The camps are usually in partnership with university campuses where college students can donate their time and facilitate educational experiences. There are also traditional sports clinics hosted in partnership with national teams and leagues. Play Like a Girl is the national charity of the NFL Players Association and has long-standing relationships with the San Francisco 49ers, the Tennessee Titans in Nashville, and with Jonathan Jones, cornerback for the New England Patriots.
"I've named a lot of men but we've, of course, primarily partner with women who are former Team USA athletes across every sport," Clay said, citing Serena Williams, Brittney Griner and even Robin Roberts as mentors. "We have everyone you can imagine [including] women who sit in the C-suite but also behind cameras and at desks, on the entertainment side of sports, and the news side of sports."
Article continues below advertisement
Other partners include startups and Fortune 500 companies where the girls are given a behind-the-scenes look at what it's like to work there, and get problem solving activities that require a technological solution related to the industry they are studying. Exemplary ideas and pitches are eligible for awards, scholarships and other prizes.
This year, Play Llike a Girl plans to scale its footprint by expanding to new chapters across five cities including Chicago, New York, LA, Atlanta and back to Dallas.
Over the years, Clay has seen the benefits of Play Like a Girl manifest in real time. There are six alumni attending HBCUS, with one in medical school and another studying pharmacy while others have landed internships at major companies like Toyota.
"We won't necessarily see every single girl into her career because there's a huge gap between middle school and the c-suite," she said. "But because we know that our program works and it has an impact, we already see girls who are coming back to us as college interns."
Clay, who is a wife and mother of two young men who are also pursuing medical degrees, expresses gratitude for her family and extended support system of collaborators who have helped her build along the way.
"I work as if I work unto Christ, and that's who I want to work with. I don't want people who don't share that value system because often it's to the detriment of the experience that we deliver to the girls. That's most important for me," she added. "I've been blessed to really have some great people on my team."