Marilyn Jones lost her mom to breast cancer at five years old. Growing up, the Chicago native relied on stories from her siblings and other relatives about what her mom was like. However, one memory that lingered in her psyche was her mother's scent, which Marilyn believed sparked her love of experimenting with creating unique scents and fragrances.
"I realized that it was therapeutic for me to be in the kitchen coming up with different fragrances and playing around with different notes, trying to find a formula. And then while doing that, I was like, it's not just a fragrance, it's literally a memory in a bottle. Because technically that's all I remembered from my mother," Marilyn tells Her Agenda. "And it's not that my current fragrances smell like her, but that ignited the desire to want to get in this business."
In 2013, while working full time in accounting and juggling the responsibilities of also being a wife and a mom, Marilyn took a leap of faith and launched B Fragranced, acting on her childhood dream to one day create her own perfume and by extension, honor her mother's memory.
B Fragranced has signature scents like "Essence of Me" and "Embellished," as well as lotion, candles, and diffusers that aromatically invoke romance, glam, and luxury. The family-owned and operated company recently landed distribution via Walmart.com and JC Penney, with more major partnerships soon to be announced, and at the core of Marilyn's backstory is perseverance and faith.
Her Agenda caught up with the businesswoman to discuss how she manifested her dream.
Her Agenda:You mentioned that you would be in your kitchen messing around with fragrances and stuff from when you were young. Walk me through your journey to actually getting the real thing made.
Article continues below advertisement
Marilyn Jones: The journey was very interesting because it wasn't that I went to school to be a chemist or had any knowledge or professional background and experience in this type of career path. I went to get my degree in business, accounting, and finance. That's all I've done for over two decades. But as I was sharing early on, I just had a love of fragrances. [Ever since I was] a little girl, I was saying, one day I'm going to make my own perfume, but I didn't really have the acumen of what that was like. And then that goes back to the power of speaking things into existence because I didn't know that that's really what I was going to do when I was younger.
I remember working at my first professional job in accounting. It was a manufacturing company that produced ingredients that go into products. So figured I needed to get connected with a chemist and build a relationship so they can show me what I need to do. But 10 years passed and that never happened. But that desire never left. I masked it because it wasn't a thing that I was taught growing up. No one was saying, 'You should be an entrepreneur.' It was, 'Get a great education, get a great job and retire from it.' But I continued to have that desire to want to do it, and one day after leaving my corporate office, I was really exhausted. I was exhausted, with the mental space of what I was doing for another company and the hours that it took me away from my family. I was contributing to the company and making them very successful.
Article continues below advertisement
And because of that frustration, sometimes you have to get to your broken moments where a flower is birthed and you really don't understand that at that time. But I was really broken and felt like I was over it at that time, and that moment pushed me to get online to search for what to do and how to even start this. I searched for how to take classes, how to understand different notes and buy different oils and come up with my own combinations of what the fragrance could be. And then from there, as I'm mixing around and planning in my kitchen, I came up with a setting that I liked and I was like, 'I think this is it! Now I really need to find that chemist. Now I really need to find that manufacturer that's going to shelf-stabilize this for me and make sure that it has the perfect balance.'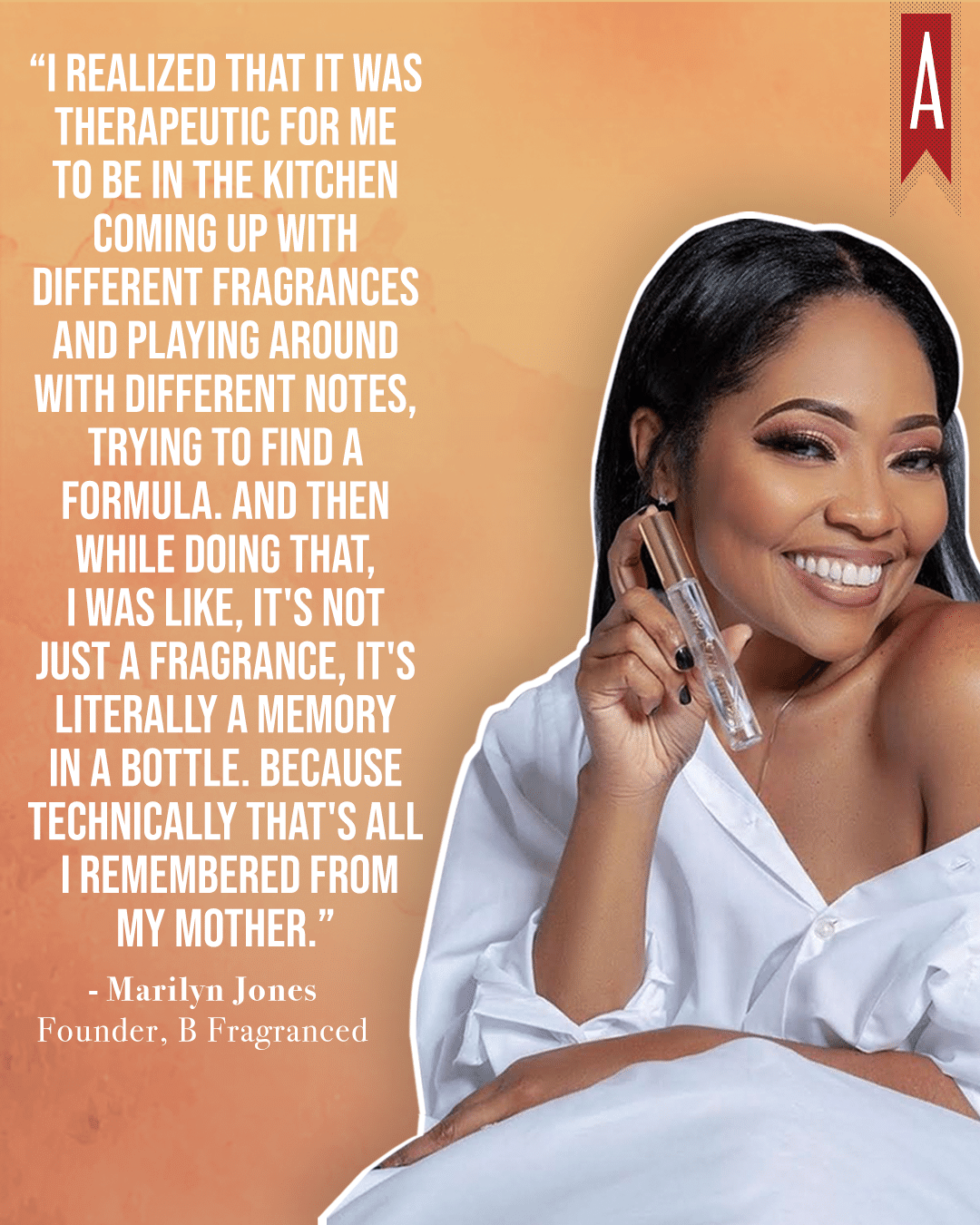 Article continues below advertisement
Her Agenda: And I know none of what you went through was easy, especially when you had to balance passion with your other obligations.
Marilyn Jones: It wasn't a simple process. It was months of hearing no, no thank you. These big fragrance companies really want to connect with companies that are huge, or that you're connected to some degree, or you've attended some of the flavor tech companies, or something like that where they know that you're worth the investment to partner with you. It was months of research and it took thick skin because you have to be willing to take the punches and the bruises that are going to come with this. Those no's and rejections punch hard. It's like, why should I even keep trying to do this when I work at a great company? At that time I was making six figures. But what the rejection back then was preparing me for was the seat that I'm in right now. Because it's not going to always be easy. You're not going to get a yes every time you go for something. And so, that was really building my skin, endurance, and stamina even through adversities and even though there were times when it seemed impossible.
Article continues below advertisement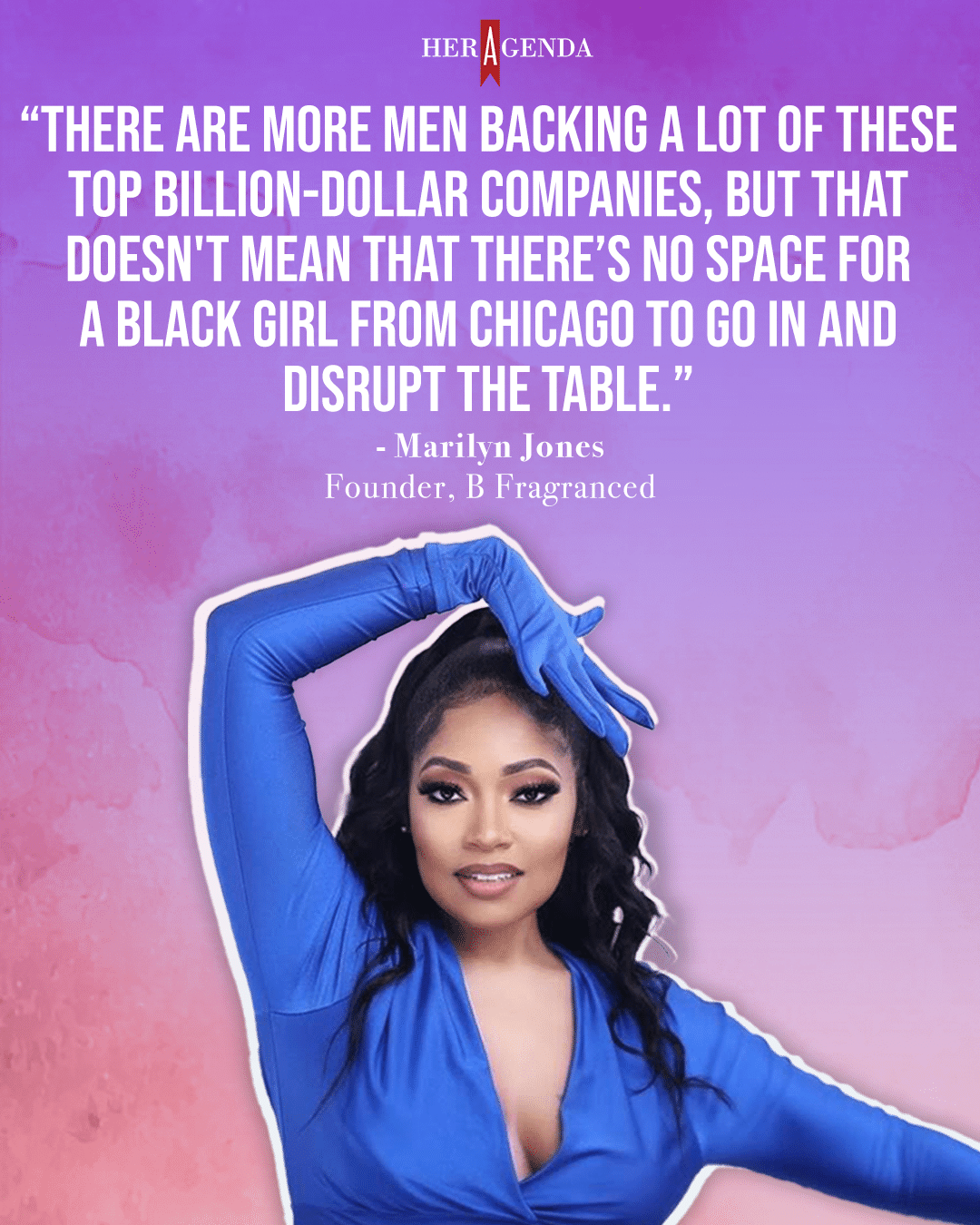 Her Agenda:What have you learned about the industry now that you've broken in, especially as one of the few Black women in it?
Article continues below advertisement
Marilyn Jones: I realized I was in a space of my own because the competition is there, but it isn't as thick as other beauty components. I think in any business there is competition, but the creativity that you need to have to be on top of the competition is important so that's one. Two, I think it's the positioning that you have and what you're trying to do like, what's your purpose? And like I said, I call my fragrance a fragrance because that's what it is, but essentially the carry for it is more of a memory in a bottle because of my own experiences and what's in there. I do know that a lot of noses, if you will, that own and run these big companies, can be cutthroat. It can be a cutthroat type of world. Obviously, there are more men backing a lot of these top billion-dollar companies, but that doesn't mean that there's no space for a Black girl from Chicago to go in and disrupt the table. So that's my position. What I'm here to do is to change the trajectory of what was in the fragrance industry and I'm doing it one day at a time.
Her Agenda: Here you are distributing through Walmart. Where else can we see your products?
Marilyn Jones: We are going to be going into JC Penney. And then we do have a new distributor that's very well connected with other retailers so, we have two new retailers that I'm excited about too, but it's still under wraps until contracts are signed. But when I say this year, 2022, has been such a grand reward in terms of distribution, I had no idea that it was going to happen when it happened, but it's a moment that I prayed for. It's one of those things where they say, be careful what you pray for. I prayed for this.
Article continues below advertisement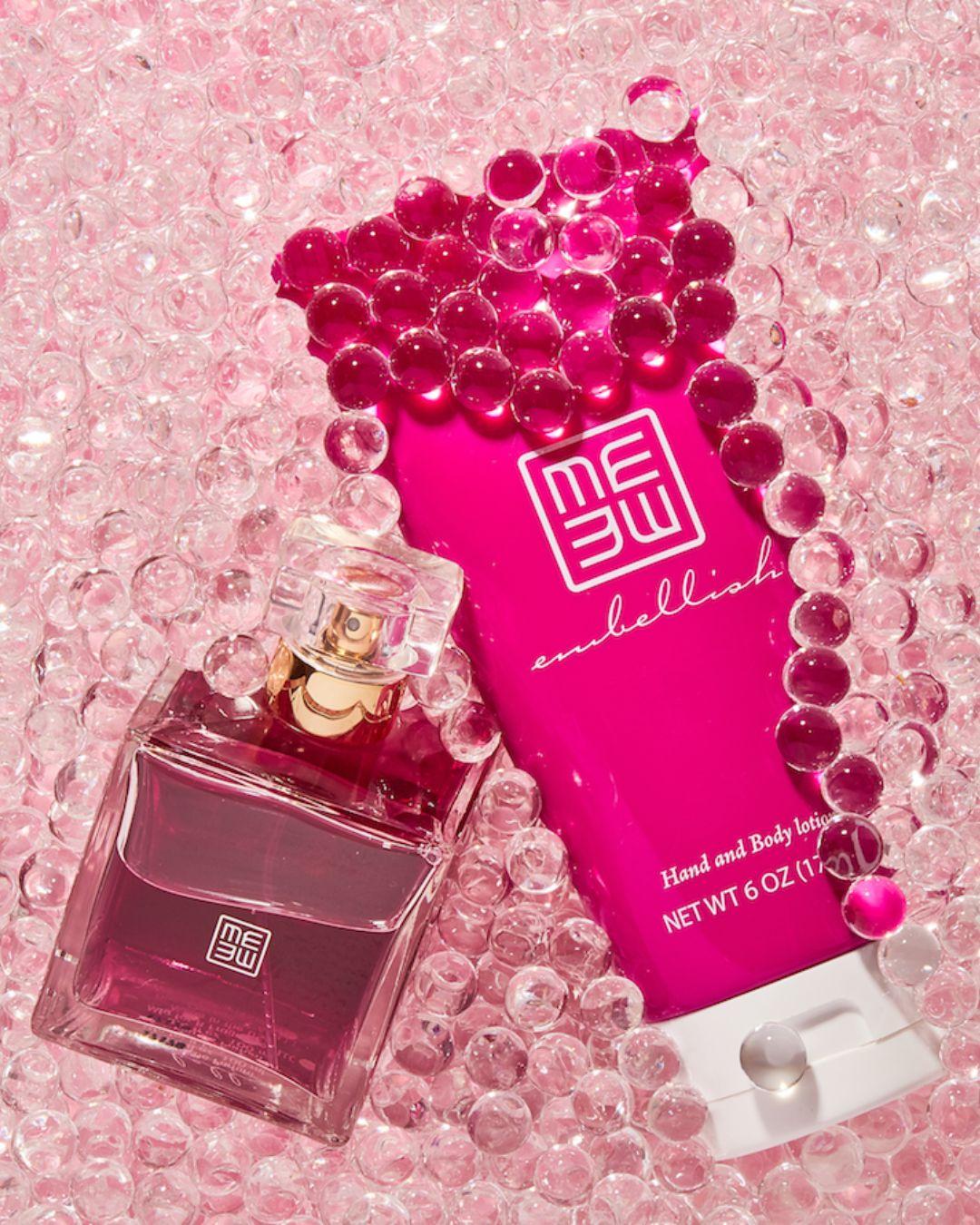 Her Agenda: Who is your core consumer?
Article continues below advertisement
Marilyn Jones: That woman that knows what she wants and she's attracted to what I call a wardrobe of fragrances. Because everybody isn't like that. When you think more of that senior woman, she's just attracted to her one fragrance. That's what she wears all the time and she wears nothing else. That's not my consumer because she's never going to give me a try. But that woman that's that boss lady who doesn't go by the wheel of what the world says. She drives her own car, she runs her own business, she runs her own household, whatever that is for her. She knows what she wants, she has character and she's a little sexy but classy with it because that's the woman that's going to give me a try. She likes to try something new and she dares to take risks. She's someone who's not going to be like 'Oh it's $78 for that bottle? That's okay. I don't want to buy it right now because I don't know if I'm going to like it.' No, she's a risk taker and she's what we call a wardrobe because she has a bountiful list of different purposes that she would try. And so that's my consumer because at least I can get into her home versus that more seasoned woman.
So, I can say seasoned versus restricting an age to it because someone may feel like 55 to 60 is seasoned, but that woman may still feel like she's in her prime 35, and she's doing the exact same thing. Forever 21 doesn't only market to women that are age 21. There are 40-year-olds shopping there, and 45, and 50-year-olds too. So it's that type of woman that I don't really put an age on, because she has character, she's into what's new, what's trending, what's popular. That's who my consumer is. And not just women but men also.
Her Agenda: And what advice do you have for people who might be thinking about turning a passion into a business?
Article continues below advertisement
Marilyn Jones: Pursue what passions you have if that's your purpose. Some people don't even realize that talking to people comes easily to them. Maybe your business is in this season right now of being a therapist and a counselor. Whatever that thing is that gives joy, there could be a business attached to it. But you want to make sure that you are doing it because you love it, not for the money. Because if you do stuff for the money, you will end up alone. The business won't go anywhere. Do it because you love it. I can mix some oils right here in front of you and have fun doing it. I can have fun just sitting here, just mixing up stuff and I'm not doing it for money, I'm doing it because I love it. Now, if money comes as a result of it, that happens to be a beautiful reward. But if you do it for the love of it, not for the monetary part of it, then it'll do well.
[Editor's note: This interview has been edited for length and clarity.]