Pamela Cholankeril hopes to change the baby industry for the better, especially for babies of color. Through her new role at Proudly, a babycare brand uniquely developed for melanated babies and co-founded by Gabrielle Union and Dwyane Wade, she'll be able to do just that.
Prior to joining Proudly, Pamela spent 11 years at the Estee Lauder Companies across several roles starting in M&A, corporate strategy and completing her time at ELC leading online strategy and the global omnichannel team. Before her roles at ELC, Pamela spent a short time as an investment banker and strategy consultant. She has an MBA from NYU Stern School of Business.
Her Agenda had a conversation with Pamela to discuss her new role and how she hopes to shape the brand.
Her Agenda: Your background is in business/banking. Tell us more about that journey.
Pamela Cholankeril: I went to NYU for my undergrad, so I've been in New York for a long time. I won't date myself, but it's been a while. I started in professional services, so I did consulting for a few years. I went back to business school at NYU, then I did banking. So I started my career in professional services, which actually I thought was an interesting place to start. It teaches you a structured way of thinking, but I didn't enjoy it so much. I kind of wanted to do it as a training ground. And then from investment banking, I moved to Estee Lauder about 12 years ago now.
I would say I got most of my training at the Estee Lauder Companies, which is a real privilege, to be honest. I spent my first five years there doing a couple of jobs in corporate, so I did M&A for a while. I actually got to manage a strategy project for India, so I flew to India and all over the country with our GM there, and that helped my boss understand that I was good at strategy. So I ended up moving to the strategy team. It was a great foundation.
Her Agenda: What were some of your biggest takeaways from Estee Lauder?
Pamela Cholankeril: I got to be in a lot of really interesting rooms at Estee Lauder, like in board meetings with our CEO and CFO. As a young person, I was given the opportunity to participate in a lot of these meetings, even though I wasn't always speaking.
Article continues below advertisement
I was really lucky early in my career to have bosses who would bring me to those meetings, just even to be a sponge. I was really, really fortunate in that respect. And then five years later, I decided to move into a business unit within Estee Lauder in the online division, which is the division that effectively owns all of the online sales.
That division is a technology hub. So they create the sites, but then also the sales folks that own Bobbybrown.com in the UK or Malaysia or whatever, you know, we had 450 sites globally. So there, I worked on this strategy team and I also worked on a team that at the time was new called the global omnichannel team. I was actually responsible for creating all of the loyalty programs on our websites that connected to stores.
My time at Estee Lauder was a learning decade for me. I got to work with a lot of amazing leaders who influence a lot of my leadership style now. And I got to be in a lot of interesting conversations because I feel like beauty had such an interesting decade.
Article continues below advertisement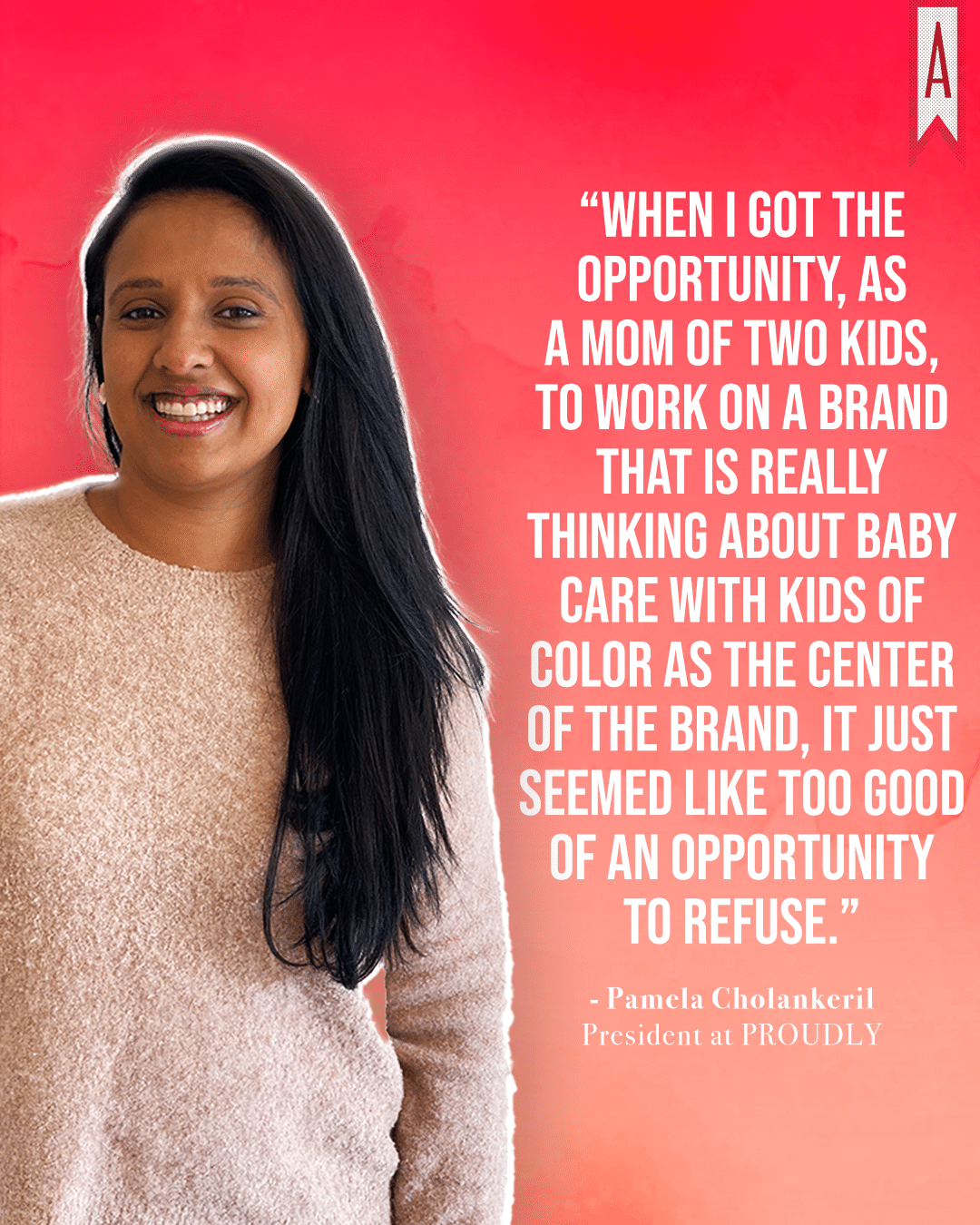 Her Agenda: Why did you decide to pursue the opportunity to take the helm at Proudly?
Pamela Cholankeril: I left a career that I really enjoyed. I loved my team. I loved my job. But part of the reason I left was, you know, I think during COVID we all had our existential crisis. I had two young kids and I was working in the corner of my house. I was used to working in the office, which made me wonder what my purpose was in my career.
When I got the opportunity, as a mom of two kids, to work on a brand that is really thinking about baby care with kids of color as the center of the brand, it just seemed like too good of an opportunity to refuse.
Her Agenda: Proudly is a brand new brand. What's it been like helping build it from the ground up?
Article continues below advertisement
Pamela Cholankeril: I was the first full-time employee at Proudly. Obviously, we have a parent company that has other brands that are celebrity-driven as well, but I was the first full-time employee. Coming from an enormous company like Estee Lauder, which I loved of course, but it's just quite different, to be honest. You don't know what to expect in a small company, but it was actually really invigorating and fun to come and take a fresh look at the brand and the concepts and think about me as a mom of color myself. I can actually apply my own life and my own experiences growing up. I was a kid once a long time ago and now I have kids. So kind of using those two experiences and interviewing a lot of my friends and understanding what might be missing.
Her Agenda: What has growing your team and the brand looked like?
Pamela Cholankeril: The company has a really unique way of recruiting that's not proprietary. It's really about focusing on ensuring that our team actually reflects our consumers. So right now I have a five-person team where everyone is a woman of color, and we welcome men as well.
We really understand a person of color mentality because we are them. So I've been building the team and then meanwhile thinking through getting ready to launch a brand, figuring out what our creative perspective is gonna be, like how does the brand look and feel?
Article continues below advertisement
Then of course working with Gabrielle and Dwayne to understand their mission and vision for the brand. It's really based on their experiences as parents. So it's infusing a lot of their experiences in the products, in our positioning, and then also doing a lot of research into our consumer. There unfortunately isn't a ton of research on just parents of color. So we did a lot of that first-party research ourselves. We also started partnering with a dermatologist of color to help with our product development. I also have a pediatrician of color on board as well. So making sure that we have that medical understanding about melanated skin and that everything we do as we're developing the product really has that in mind.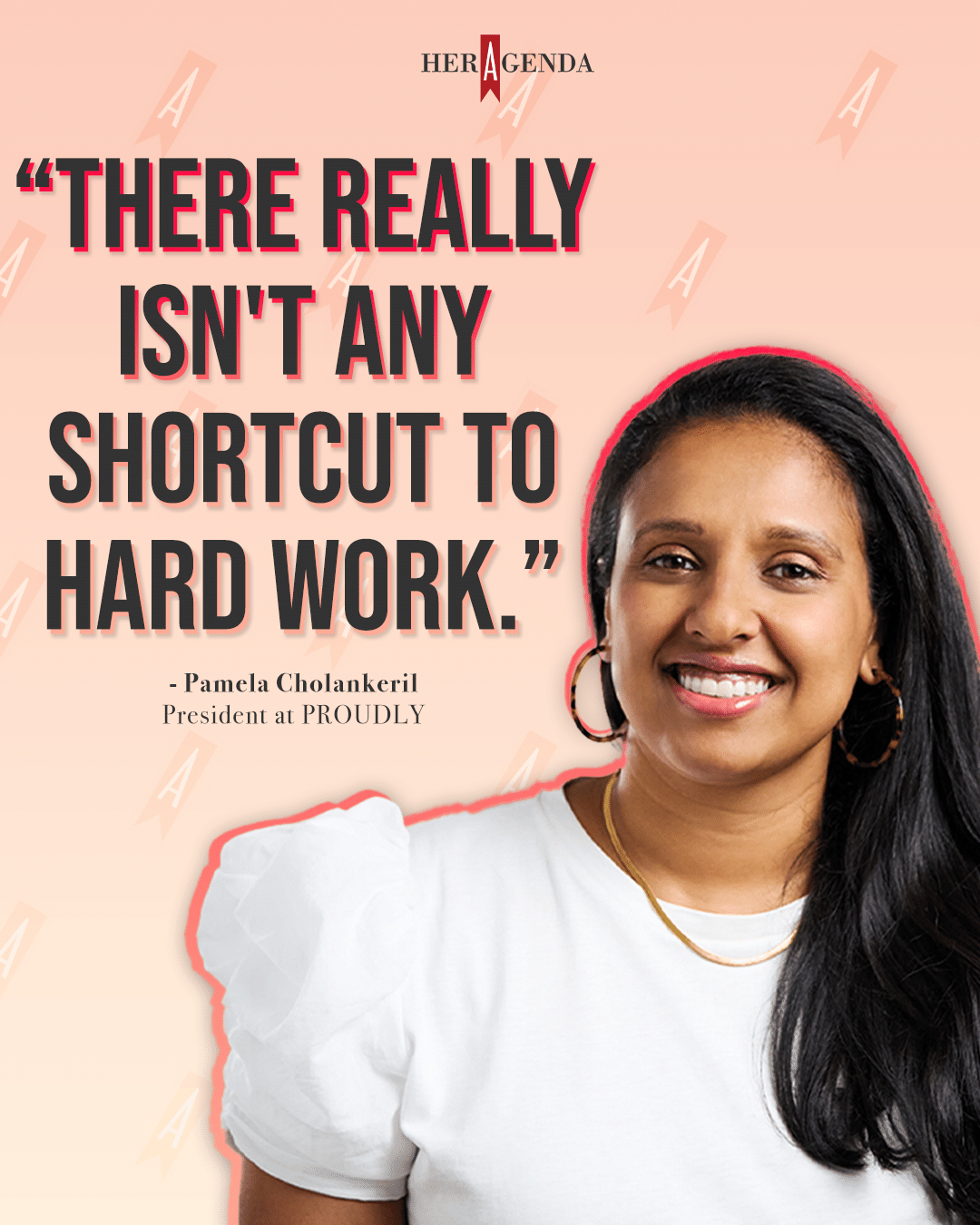 Article continues below advertisement
Her Agenda: How have your past experiences translated into this new role?
Pamela Cholankeril: It's translated in a lot of ways. Estee Lauder Companies is a conglomerate of luxury beauty brands and this is more of a mass baby brand. But at the end of the day, I think the brand building is actually really similar in a lot of ways. It's thinking about the consumer and what is the positioning of the brand going to be and being protective of that positioning and the look and feel of the brand.
Her Agenda: What's your number one piece of career advice?
Pamela Cholankeril: I always tell people that there really isn't any shortcut to hard work. You have to put in the work and you have to be a learner and a listener, which I think is something that you have to be focused on as you're growing in your career – always trying to learn and listen and take advice from the people you're working with.
Article continues below advertisement
As I was coming up in my career in some of the more professional services, I was usually one of few or the only woman in some of the rooms, and that can be intimidating. But I think I tried to use that to my advantage because I had a position that other people may not understand and that could make me unique and help me stand out. And as I moved into other careers, while there were women, there may not have been as many women of color in particular positions. I used that to my advantage as well.
Her Agenda: What excites you most about the future possibilities at Proudly?
Pamela Cholankeril: We're a young, small brand, and I'm excited to see it grow. But for me, I think what I'm most excited about for the future of the brand is getting to a place where children of color and parents of color will see themselves at the center of a brand.
I think our minds are a little bit wired to not assume that brands and products are created for us because they haven't been for so long. I'm excited for the products to come out, but even more so for the culture around it – the fact that we're creating a brand centered around the needs of kids of color. I think we are doing that now, but as it grows and as it is able to be seen and used by so many different consumers, I think that the goal that I have in mind is to be able to sit back and watch that cultural movement happen.
I feel like I've seen some of that happen in beauty, and I'm excited to see that happen in baby. I think we as a brand are going to be spearheading that. So I'm excited about that.
[Editor's note: This interview has been edited for length and clarity.]