Reactions: Ketanji Brown Jackson Makes History As First Black Woman On The Supreme Court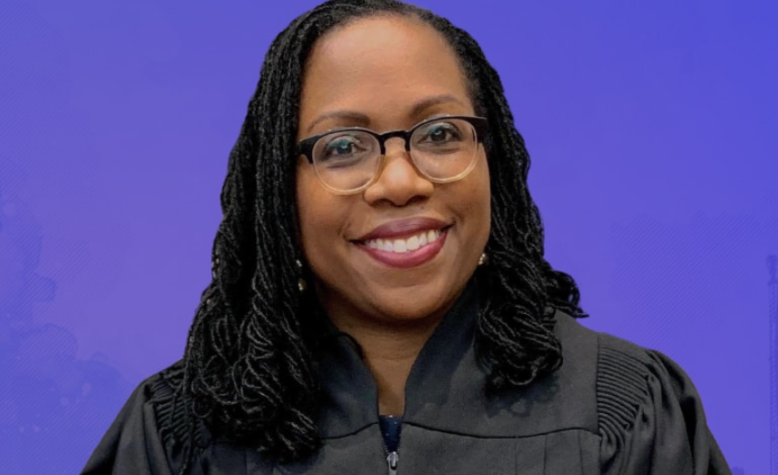 Ketanji Brown Jackson has finally made history. On Thursday, April 7, she became the first Black woman and former public defender to serve on the Supreme Court. The Senate confirmation made it official, in a 53-47 vote, according to reports. Her confirmation was met with cheers and applause from the balcony in the Senate chamber. Some Republicans stormed out in disappointment.
Vice President Kamala Harris told the Senate chamber she is "overjoyed and deeply moved" at Jackson's successful confirmation. "There's so much about what's happening in the world now that is presenting some of the worst of this moment and human behaviors — and then we have a moment like this that, I think, reminds us that there is still so much yet to accomplish and that we can accomplish," she said after presiding over the session. Jackson and President Biden got the news of the confirmation while watching from the White House.
Article continues below advertisement
On Friday, April 8, Jackson talked about her journey to the Supreme Court, addressing a crowd on the White House's South Lawn: "It has taken 232 years and 115 prior appointments for a Black woman to be selected to serve on the Supreme Court of the United States," she said. "But we've made it. We've made it. All of us."
Biden also offered his official sentiments on the landmark moment: "This is going to let so much sun shine on so many young women, so many young Black women, so many minorities." He added, "Today is a good day, a day that history is going to remember. And in the years to come, they're going to be proud of what we did."
Article continues below advertisement
The confirmation hearing wrapped up after four days of questioning that included contentious moments of harsh inquiries from committee Republicans. A notable instance of this was when South Carolina's Sen. Lindsey Graham berated her on her sentencing of child pornography offenders, criticizing her as an "activist," repeatedly interrupting her when she tried to respond, and later, storming out of the hearing.
In a different vein, there was a supportive speech of tear-evoking emotion from Democratic Sen. Cory Booker during the days of questioning. "You got here how every Black woman in America who's gotten anywhere has done, by being like Ginger Rogers: 'I did everything Fred Astaire did but backward, in heels,'" Booker said. "As it says in the Bible, 'Let the work I've done speak for me. Well, you've spoken."
Article continues below advertisement
Jackson offered details about her judicial experience, other aspects of her professional and personal background, including information about her family, and addressed the historic impact of the moment. "I hope to inspire people to try to follow this path because I love this country, because I love the law, because I think it is important that we all invest in our future. And the young people are the future, and so I want them to know that they can do and be anything," she said during a session. "I would tell them to persevere."
Jackson, 51, has served in the U.S. Court of Appeals for the D.C. Circuit and has extensive experience in the legal field. She was also on former President Barack Obama's shortlist for the Supreme Court in 2016. She graduated magna cum laude from Harvard College and then went on to graduate cum laude from Harvard Law School, where was an editor of the Harvard Law Review.
Check out a few reactions on her history-making moment:
Article continues below advertisement
Article continues below advertisement
Article continues below advertisement
This article was updated Sunday, April 10.