It's no secret that the fashion business can be brutal. There's a lot of competition, consumer interests and moods are fickle, getting people to believe in what you're selling and getting access to capital are often astronomically difficult.
When you're an independent business owner, it's even harder, but that did not deter Sharufa Rashied-Walker from launching JINAKI, a contemporary womenswear line centered around color and textiles. JINAKI's Ankara print pieces, particularly its staple "Lily" skirt, were among the first in that style to be sold via e-commerce back when Boxing Kitten and Demestik by Reuben Reuel were among the only brands to editorialize African-inspired prints online in a way that was chic but also attainable.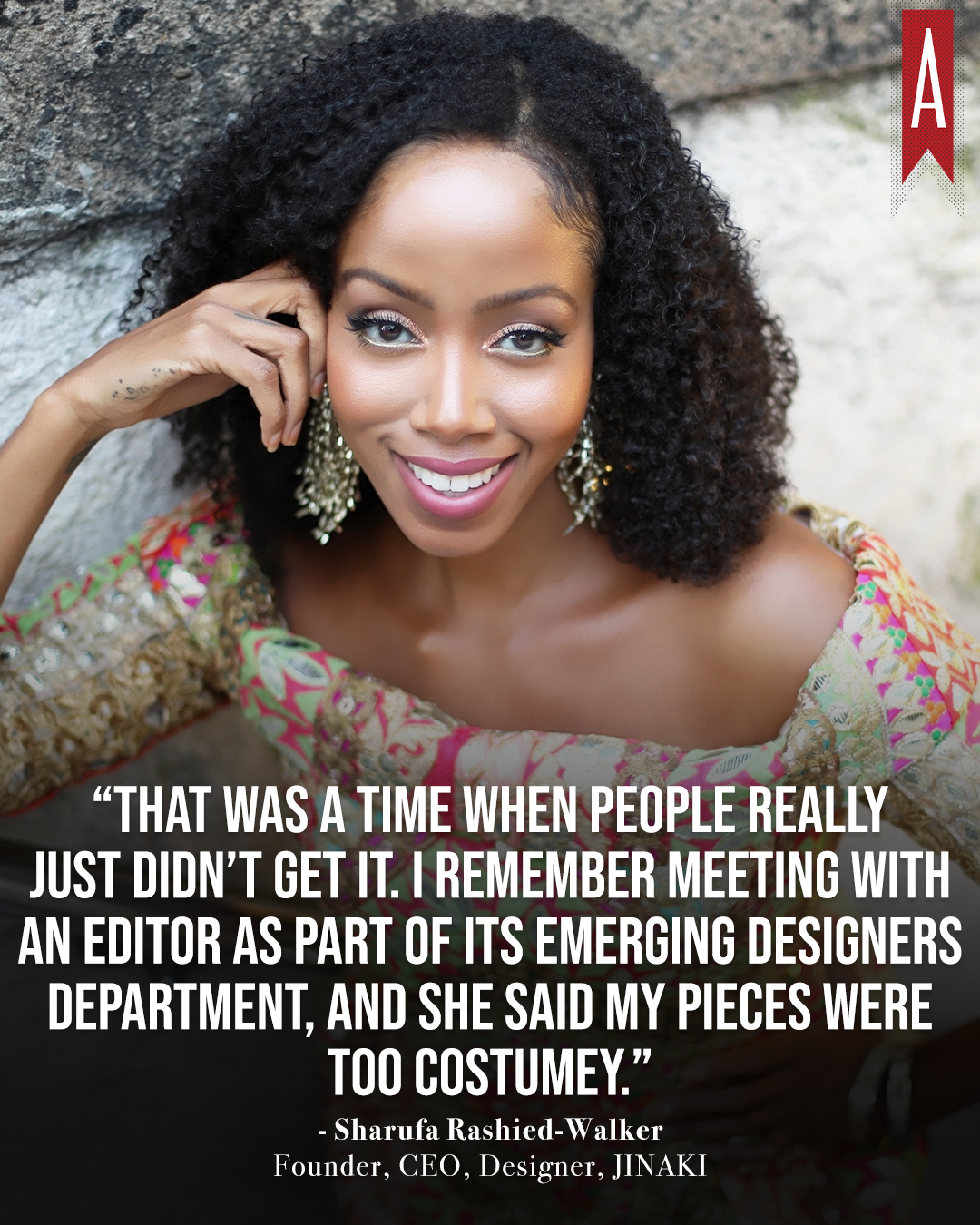 "That was a time when people really just didn't get it. I remember meeting with an editor at WWD as part of its emerging designers department, and she said my pieces were too costumey," Sharufa tells Her Agenda. "And of course at that point, that's when someone tells you, 'Why don't you take this silhouette and do it in a black.' I got that a lot, but that was against the point."
Sharufa's vision of JINAKI was inspired by growing up in Atlanta, attending Howard University, living in New York, Belgium, Nice, and extensive travels around the United States and Europe.
Article continues below advertisement
"Black wasn't a part of the colorway, but that's what I was being asked to give up in order to position myself in a space where people would start to pay attention, and I wasn't willing to do it," says Sharufa, who wasn't always sure that she would pursue fashion as a career.
Sharufa grew up as one of the youngest of seven children, and credits having a big supportive family to keeping her grounded. Her parents were especially encouraging and by the time Sharufa got to college in the early aughts, she planned to follow in her father's footsteps by becoming a doctor but quickly realized that pre-med wasn't for her.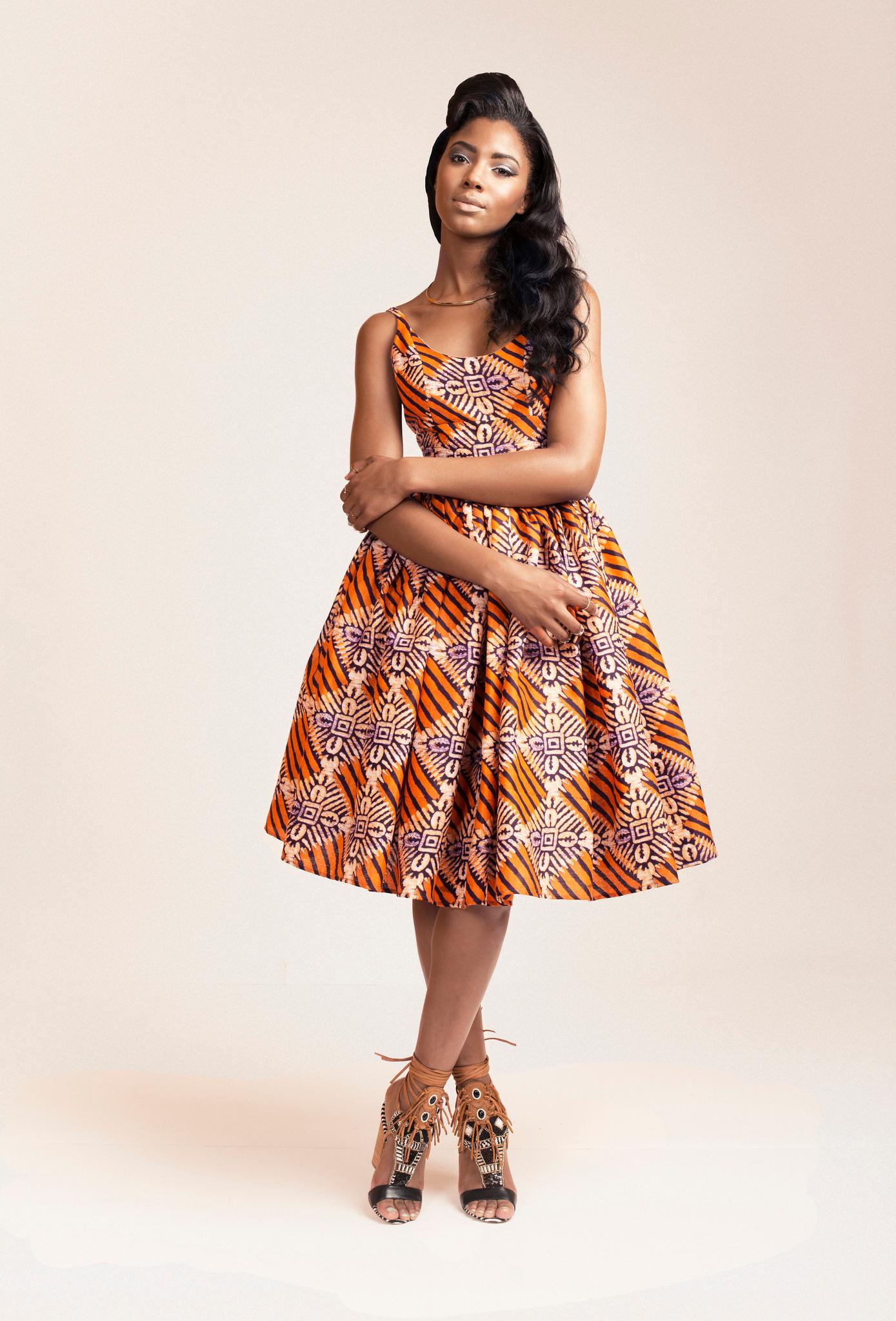 Article continues below advertisement
"I never felt pressure from my father to [become a doctor], he was always super supportive, both my parents were. They were like whatever you want to do, just do that," says Sharufa. "I explored by taking different classes, including a fashion class, which I enjoyed but wasn't 100% connected to at that time. I landed on sociology and anthropology. That's what ended up being my major and [I loved it]."
Sharufa had plans to move to Paris after graduation, a dream destination she always wanted to visit, but it was too expensive so she compromised by moving to Belgium, where her godmother lived, to an area that was 20 minutes away from France's border.
"People used to ask me all the time. 'What are you doing?' And I always replied that I was living, and they would just be so confused, but the move for me was that I needed to continue to explore and I got to connect to something that's bigger than just the US," says Sharufa. "I had friends that were fluent in five, six languages, and I realized there was so much more. I was so appreciative of that time to forge new relationships and travel. I had a sister that was living in London at the time so that was great."
After living in Belgium and exploring Western Europe for about a year and a half, Sharufa joined another sister in New York City where she began working in finance.
Article continues below advertisement
"I ended up in finance working with all of these investment firms because I figured that was what adults did. I worked in hedge funds [and] any aspect of finance that you can think of," says Sharufa. "It was very white, very corporate. It was the typical Wolf of Wall Street kind of environment."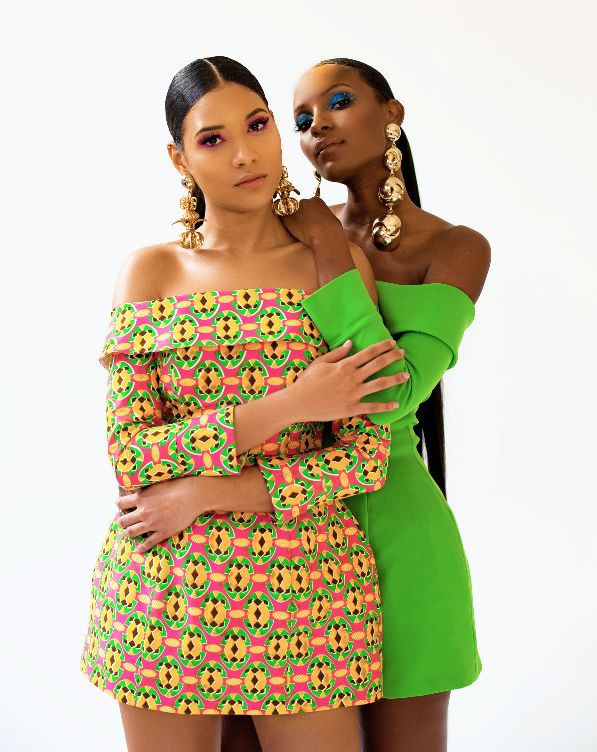 Article continues below advertisement
She knew it wasn't for her and after a few years, in around 2010, she found herself in a situation where she was tired of the toxicity of work and headed back to Europe, but this time to live in Nice, another dream destination she had in mind. She took sewing classes in nearby Monaco taught by an elderly woman named Lily who spoke no English. Those classes were instrumental in what became the beginning stages of JINAKI. It was where Sharufa created her brand's signature circle skirt which she named after her sewing instructor. After spending two years in France, Sharufa returned to New York, where she forged a relationship with a Senegalese tailor in Brooklyn. That tailor helped her refine her sewing style and encouraged her to create more pieces, which became the foundation of her business. Her mentor helped her create about 12 pieces, from jumpsuits to skirts, to dresses, that were then showcased at a premiere JINAKI fashion show in Atlanta in February 2012.
"At that point, I knew that I was going to call it JINAKI because that was a name that had already always resonated with me from high school. And then once I found out the meaning in terms of being self-confident and proud, I knew that was what I wanted people to feel wearing these clothes," says Sharufa.
The event was a success, having attracted bloggers and some people in the fashion industry.
Article continues below advertisement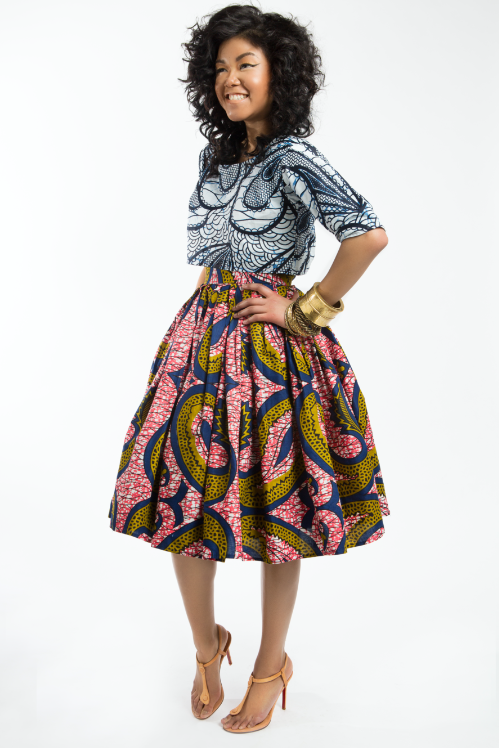 "People just wanted to see what it was because, at that time, they never saw someone presenting Ankara and African prints in that way. The silhouettes were sexy and playful."
When Sharufa returned to New York City, she began networking and exploring accelerator programs for emerging designers. That is how she landed another mentor-turned-investor, a woman who had consulted with fashion giants like Neiman Marcus, Saks, Bloomingdale's, and more.
"I had a meeting with her at a cafe in Harlem and gave her a whole pitch with the deck and everything. She already knew she was going to invest because she liked my brand's presentation. She liked that I had a website with good photos and tangible concepts, but my formal pitch really gave her a deeper sense of what I wanted to do," says Sharufa.
Article continues below advertisement
In the years that followed, Sharufa led a small production team in New York City that helped bring her vision to reality. It wasn't an easy journey, but over the course of 10 years, Sharufa has won awards such as the Gifted and Black Award, Congressional Certificate of Recognition (Congresswoman Yvette D. Clark, 2018), Women in Business Award (2017), and she is an alumna of The Workshop at Macy's. She also invested in a PR and marketing team, which led her designs to be featured in various media including, Essence, Hype Hair, and Good Morning America, and worn by Amanda Seales, Taraji P. Henson, and more. She also got into wholesale, which allowed her clothing to be sold in boutiques around the world in places like New York, Paris, Martinique, Washington DC, and more.
At the end of 2019, Sharufa had plans to launch a new collection in 2020. It was supposed to be the collection that as she described, "shut everything down." She planned to channel an East African aesthetic and switch to an African manufacturer to tell her brand's updated story but the global pandemic forced her, like everyone else, to change her plans. People weren't buying clothes as frequently anymore so at first, she launched a capsule collection of kaftans, which were ideal for loungewear, but eventually, she paused production on new designs, pivoted to PPE, and started making masks to sustain her business.
Article continues below advertisement
"There was just so much unknown. What I started to really recognize was that I didn't want to continue the way that I had been continuing with production. The fashion calendar is unsustainable for a smaller brand if you don't have big amounts of money to produce in large quantities." says Sharufa. "I knew I didn't want to do that anymore. I didn't want to follow the same kind of formula that I had followed up until that point because I didn't want to accrue any more debt and I didn't want to be on the hamster wheel of what's sometimes required in fashion just to be able to stay relevant."
The extra time to think inspired Sharufa to begin exploring the next phase of JINAKI That means producing less clothing, and operating at a slower speed, but also adding an NFT component to her brand.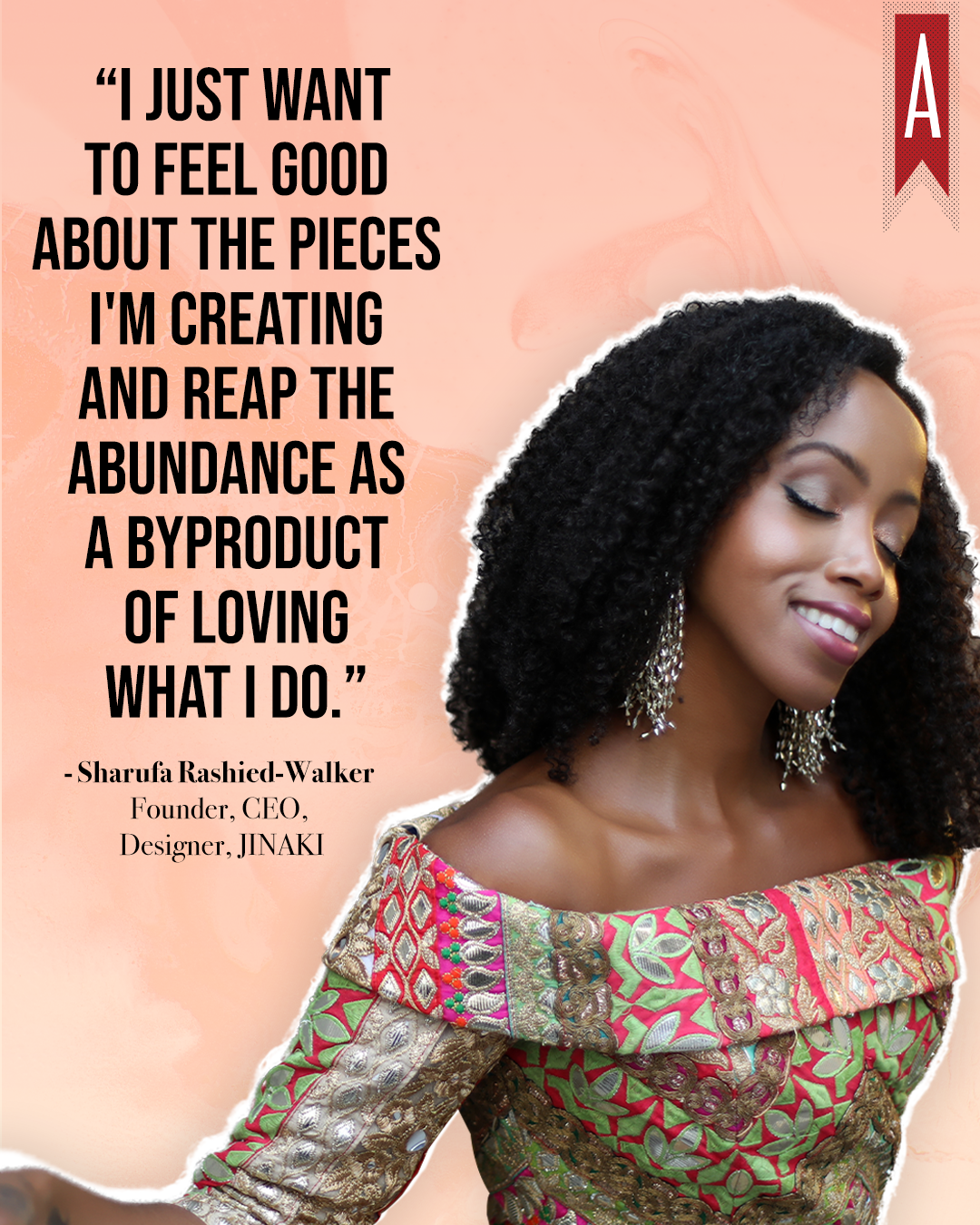 Article continues below advertisement
"NFTs will allow me to honor the past and what I've done up until this moment, and reach a wider audience, or an audience who may have felt like my brand wasn't for them, specifically the plus-sized audience," says Sharufa. "People asked me all the time why I don't go up to a 3X and I'd love to, but you need the money to be able to expand in that way and I didn't have it. So, with NFTs, everyone can get a piece of JINAKI, and the perfect part is that if they purchase it and decide to resell it, they absolutely can, but JINAKI will always profit from the resale of the original."
Sharufa teamed up with a designer and they're learning how to create NFTs together through research and trial and error. Dolce and Gabbana recently set a $6 million fashion record with the sale of an NFT of one of its old dresses, and Sharufa's long-term mentor and first investor has confirmed that some of the fashion juggernauts she has been consulting with are planning to expand into NFTs as well. The great news for smaller brands is that they don't have to have a ton of cash to add NFTs to brand expansion.
"It's endless possibilities and we should all be thinking about it. NFTs are bubbling with these luxury brands, so are we going to continue to fall in line? I don't want to do that anymore. I'd rather be aware of the moves that they're making, but of course, tap in and use my integrity and use the passion that I have for what it is that I'm doing to position myself in a good space," says Sharufa. "I just want to feel good about the pieces I'm creating and reap the abundance as a byproduct of loving what I do."
[Editor's note: This interview has been edited for length and clarity.]