The Simple Guide To Nailing Solo Travel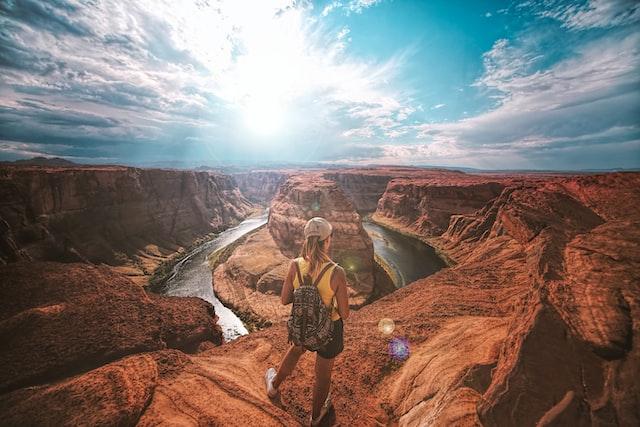 After the global pandemic largely stopped travel in its tracks for the best part of two years, it's safe to say that wanderlust is back, and bigger than ever before. Most of us are itching to get out and explore and discover the parts of the world we've missed out on seeing over the last couple of years.
Life has moved on in other ways too. Plans and relationships change, so your once reliable travel buddies may not be available anymore. But why should that stop you from seeing the world?
Solo travel is increasing, and it's becoming easier to travel by yourself. Travel companies are more accommodating toward solo travelers, which is great news if you're thinking about your next journey.
But even with the growing popularity of solo travel, it's normal to feel nervous or scared about traveling by yourself. Having an idea of what to expect and how you can make the most of it will help you feel more confident ahead of your travels.
Explore some simple tips for nailing solo travel, you'll soon be hooked!
Book through a solo travel specialist
Booking travel by yourself can be overwhelming. If you're used to traveling with a partner or a group, you might be unaware of the choices you have or where you can find the best deal.
The good news is that more and more travel companies are catering to solo travelers. From discounts on room bookings to pre-arranged tours, there are different types of trips on offer that will save you time, and the hassle of booking.
South America

Italy

Singapore

Germany

Australia
If you are going to plan the trip yourself, be sure to ask around for solo traveler discounts – you never know how much you could save!
Article continues below advertisement
Plan the details of your trip to help you stay busy
Planning your days can make a big difference to your trip. If you have a rough schedule to stick to, you'll be more likely to head out and see things, instead of just hanging around your hotel room every day. From the sights you want to see to the restaurants you want to check out, book them in advance to help you stick to your plans.
Keeping busy can distract you from nervousness about being on your own, while also helping you make the most of every minute. But just because there are things to see and do, doesn't mean you can't enjoy a little time to yourself, relaxing or chilling by the pool.
Enjoy tours and excursions to help you feel less lonely
Just because you're traveling solo doesn't mean you have to be on your own the entire time. Joining tours and excursions can be a great way to meet some people, and help make your travels safer too. Having someone else guide you gives you a great opportunity to discover some places you hadn't considered before, and benefit from more detailed knowledge too.
Article continues below advertisement
If you want to connect with others while traveling, check out some friendly networks.
Some people make friends for life while traveling. If you want to get out there and meet people and connect with other travelers, then one of the best ways to do this is through social media networks designed for travelers. You'll also find that there are groups on Facebook for travelers to different destinations, helping you get tips and the opportunity to connect with others.
It's also worth putting a shout-out on your own social media networks to see if any of your friends and family are in your location at the same time who you could meet up with during your trip.
Protect yourself and your belongings
Your safety should always be your top priority when traveling. By taking precautions to protect yourself and your belongings, you can enjoy a stress-free trip. Some top tips for staying safe while traveling include:
Always let loved ones know your plans.

Lock your valuables away in a safe when you leave your hotel.

Don't carry too much cash with you – only take what you need or take advantage of travel credit and debit cards.

Get yourself a good bag that is secure to carry your daily essentials around in.

Use luggage storage facilities to house your luggage during the day.

Stick to places that are well-lit and crowded.

Avoid risky situations or environments that make you uneasy.
Article continues below advertisement
Traveling should be about enjoying yourself, so make sure you take simple precautions to keep yourself safe so that you can make the most of your time.
Indulge in a little luxury
Solo travel doesn't have to be all about looking for good deals and counting the pennies – it could be the perfect way to treat yourself too. There are a lot of ways you can add luxury to your travels that can help you spoil yourself a little.
From staying in a 5-star hotel to booking a table at a fancy restaurant, there are a lot of ways you can bring some luxury to your trip. Even the places you travel can feel more luxurious than others, so keep an eye out for some hidden gems and spectacular views that can make your trip feel a little extra.
Article continues below advertisement
Master the art of taking photos by yourself
We all love to take travel photos, but it can be difficult to take photos of yourself when you're by yourself. But if influencers can do it, so can you. All it takes is a couple of essential tools, a little confidence, and the eye for a good photo. Some top tips for taking photos on your travels include:
Use a tripod. This will make it easier to set up your shot, especially when you have a little more time. There are a lot of cheap and lightweight tripods that are perfect for phone cameras. If you're caught without one, you can always lean your phone against something to keep it steady.

Make the most of timers. Timers can give you the precious seconds needed to get into the shot, and may even take multiple photos at once – giving you a range to choose from.

A Bluetooth remote is another handy tool to take with you. You can take your time to get ready and once you're happy, simply press the button and shoot!

Take time to frame your shot. Think about the features you want to highlight and where you should position yourself.

Selfies are great too! They're also handy for when you want to get a quick snap of something or you don't want to go to the effort of using your tripod.

Get some good photo editing apps and learn how to edit the lighting, contrast, etc. It will help enhance your photos and give them a more professional finish.
Article continues below advertisement
If all else fails, you can always ask someone else to take a photo of you – keep an eye out for people who seem to know their way around a camera. Just be prepared to return the favor!
Be completely selfish
Finally, when it comes to your trip, be completely selfish. The beauty of traveling solo is that you get to choose what to do and when to do it – without making compromises. Who knows how many opportunities you'll get to do this again, so indulge in every minute! This is your chance to enjoy your dream trip and explore new places on your own terms.
[Editor's note: This article was produced by one of our trusted partners.]