The World's Most Famous Doll Will Make Girls Rethink Saying 'Sorry'
The most famous doll in the world is known to have evolved throughout the feminist movement. Now she is tackling a more specific problem – changing the way girls think of the word 'sorry.'
Barbie's vlog episode on the sorry reflex shows that saying sorry is a natural response many girls – and even women – have even when they're not at fault. For example, when someone bumps into us, we say sorry. When we yell out of excitement or anger, we apologize hoping to not make someone else feel uncomfortable.
"Like it's a reflex," says Barbie in the vlog. The sorry reflex shows a lack of confidence and prioritizing other people's feelings over our own, which isn't fair to ourselves.
Hannah Macauley-Gierhart from Huffington Post Australia says, "Women can shape language however they want, but if that language is rooted in submission and subservience, we need to interrogate it."
Apologizing could just be a nervous habit for some like Macauley-Gierhart who says it probably stems from generations of women who were taught to feel inferior and wrong all the time.
Article continues below advertisement
"I think we're worried about offending people, and we shouldn't be," says Barbie. "It's really important to be kind and thoughtful and polite and to offer a sincere apology if we have done something wrong. But 'sorry' is a learned reflex and every time we do it we take away from our self-confidence."
RELATED: Barbie Partners With 'She Should Run' To Inspire Girls With New President, VP Dolls, and Leadership Tools
Barbie ends her vlog with a challenge for her viewers; replacing the word 'sorry' with 'thank you.' Thank someone for acknowledging your feelings, don't apologize for your feelings and instead of starting off an email with 'sorry for the inconvenience' write 'thank you for taking the time to read this email.'
Article continues below advertisement
When Barbie – of all dolls – has to say enough is enough, that should tell us something needs to be fixed. The famous doll has come a long way in her empowerment journey, having previously disempowering stints, such as a book with her quoted as saying 'math is hard,' and even as a computer engineer who didn't write her own code but instead, asked a male engineer to do it for her.
Article continues below advertisement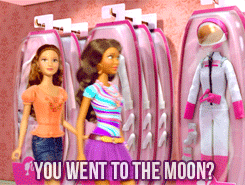 Yet Barbie has evolved along the feminist spectrum, to the point that the 'Career of The Year Barbie' is a robotics engineer – a career in which women are under-represented. According to The Seattle Times, she could become one of the many faces of the modern feminist movement – and not just the face of pretty pink houses. Most important in the Barbie evolution is that girls can look at something like that and know the industry includes smart women who love science.
Article continues below advertisement
Feminism isn't just a celebrity telling us we deserve to be paid equally to men. It's learning from anyone (or any doll) that we should stand up for ourselves when we know we're not wrong. That can go for experiences as small as knowing when to say sorry and when to call someone else out for their wrongdoing.