Top Tips On Empowering People In The Workplace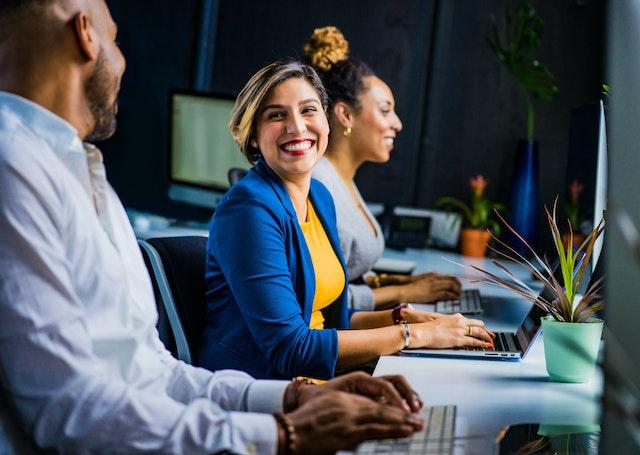 By
Her Agenda
Sep. 29 2022, Published 11:06 a.m. ET
Looking after your workplace employees is extremely important for every business. No matter the type of business you run, whether it's sales, marketing, accounts agency or teaching, your employees are one of the main reasons your business will be a success. Without them, you'll quickly struggle, which is why it's important to look after them.
A workplace where their employees aren't happy will often find their staff turnover is very high. You will struggle to employ the best staff for the roles you are recruiting for – often word goes round – and productivity will be low, reducing the profits you bring.
Let's face it though, a happy workforce makes for a fun, enjoyable place to work. People spend many hours working on a daily basis and want to feel appreciated, loved and know that they are doing a good job. This is why it's important to always put your staff first and try to empower them whenever you can.
Empowering people in the workplace can be done in many ways. You can offer corporate training programs like these from the Corporate Coach Group, alternatively being positive and always appreciating the work they have done can go a long way. Promotion opportunities give staff career progression which can help empower them as well as rewards when targets have been hit. Below are some of our top tips on empowering people in the workplace.
Always be positive
Positivity is infectious and promotes a positive place to work. Whenever communicating to your suppliers, employers or customers, make sure you are positive and try to see the good in everything. The more positive you are, the more your staff will see your positivity and become increasingly positive themselves. Remember it's hard to be negative when someone is telling you how good something is and is being supportive. Plus, the overall morale increases as people will be feeling happier and increasingly likely to want to do a good job to keep up the positive vibes.
Article continues below advertisement
Appreciate the hard work your employees are putting in
Appreciation can go a long way in a workplace. It brings with it a good feel factor and recognition that you are doing a good job. For some employees, appreciation is a big motivational factor that will increase their productivity and output. Whenever someone is doing exceptionally well, take a moment to have a meeting with them to let them know you recognise what they are doing and are impressed with the work that they have done. There is a balancing act to be done when praising people as over-praising can reduce the impact, so make sure you do it enough but not too much.
Delegate to show you trust your employees
To feel empowered is to feel that you are trusted. Try to delegate important tasks in order to show that you trust your employees and then appreciate the work they have done once completed. Good delegation is key to being a successful manager and when done correctly, it can help empower your employees as they get to take on roles that they have worked hard to achieve. When delegating tasks, ensure that they are realistic and achievable, otherwise, it can have the opposite effect as your staff members struggle to achieve the outcome that you would like.
Article continues below advertisement
Encourage Learning
Throughout life, you are always learning so why should you stop when you start working? The more you learn, the better your chances are for promotions as well as achieving better-paid jobs. Your employee's careers are extremely important to them, so why not support them by encouraging learning? Each month, set a budget to help with your staff's development. This budget could be used on corporate sessions, online learning courses or having someone in for a training session. The learnings that happen can then be applied to their day-to-day work, improving the quality of their work.
Listen to your employee's concerns
Perfect doesn't exist in a workplace. Your employees may have concerns that they would like to share with you in order to better themselves or to help the company. It's important you listen to these concerns and are willing to learn from them – even if you don't necessarily agree with them. Being heard is important and compromises may have to be made. This helps empower your staff to speak up when they are not happy, instead of staying quiet and suffering in the corner because they are scared to speak. When change happens like when staff started to work from home more, this can bring up concerns which are good to speak about.
Article continues below advertisement
Be forgiving
Mistakes happen in the workplace and are always going to. If someone makes a mistake, instead of them covering up because they are scared – which can lead to greater mistakes. Try to encourage people to speak up so that others can help and everyone can learn from it. Don't hold a grudge if this mistake costs the business as this will have an effect on other employees. Instead, support the person who made the mistake and show that you do not get angry when mistakes happen. If people are scared to make a mistake they will not work to their full potential, instead playing things safe so that they don't get in trouble if a mistake is made. The risk they want to take could potentially be very successful and something you would want them to do.
We hope the above five tips give you some insight into the ways in which you can empower your employees in the workplace. Start by implementing one or two of our tips before adding the others once you see some progress. The key to success is to be consistent and to stick to your word. Don't just do something for one month and never again, try to do it weekly and regularly to try and make the biggest difference.
What tips on empowering people in the workplace would you recommend? Are there any tips that we haven't included that you think we should be adding? Which of the tips above do you most agree with? Is there anything you would like to share that you think our readers will benefit from? Let us know in the comment box below.