The natural hair movement is about much more than hair. It's redefining the standards of beauty while living a more empowered authentic lifestyle. For decades, the historical contexts of racial discrimination, social oppression, and European standards of beauty have garnered much debate. Black women are steadily ditching chemicals that harm their hair textures and unlearning the meaning of what it means to have "good hair." This movement has revolutionized the way Black women view themselves and their curly, kinky hair textures and leaders like Charisse Higgins are helping pave the way to take back our "hair-itage."
Charisse is the CEO and Co-Founder of Curly Girls Collective (CGC), an experiential marketing group created along with co-founders, Tracey Coleman, Gia Lowe, Melody Henderson, and Simone Mier to make "women with naturally textured hair feel beautiful, celebrated and appreciated."
Higgins's extensive 15-year background as a communications professional led her to work across several industries including Fortune 500 companies developing strategies around advertising, branding, event planning, and public relations. Her passion for community service and curating diverse and inclusive events led to the creation of CURLFEST in 2014, the CGC's largest signature natural beauty festival event. It has attracted 75,000 attendees from around the world and these girl bosses have no intention of stopping yet.
Her Agenda spoke to Higgins about the journey to launching the CGC, her experience building a brand with a squad full of melanated queens, and what lessons she has learned as an entrepreneur as the CGC continues to expand long-term.
Article continues below advertisement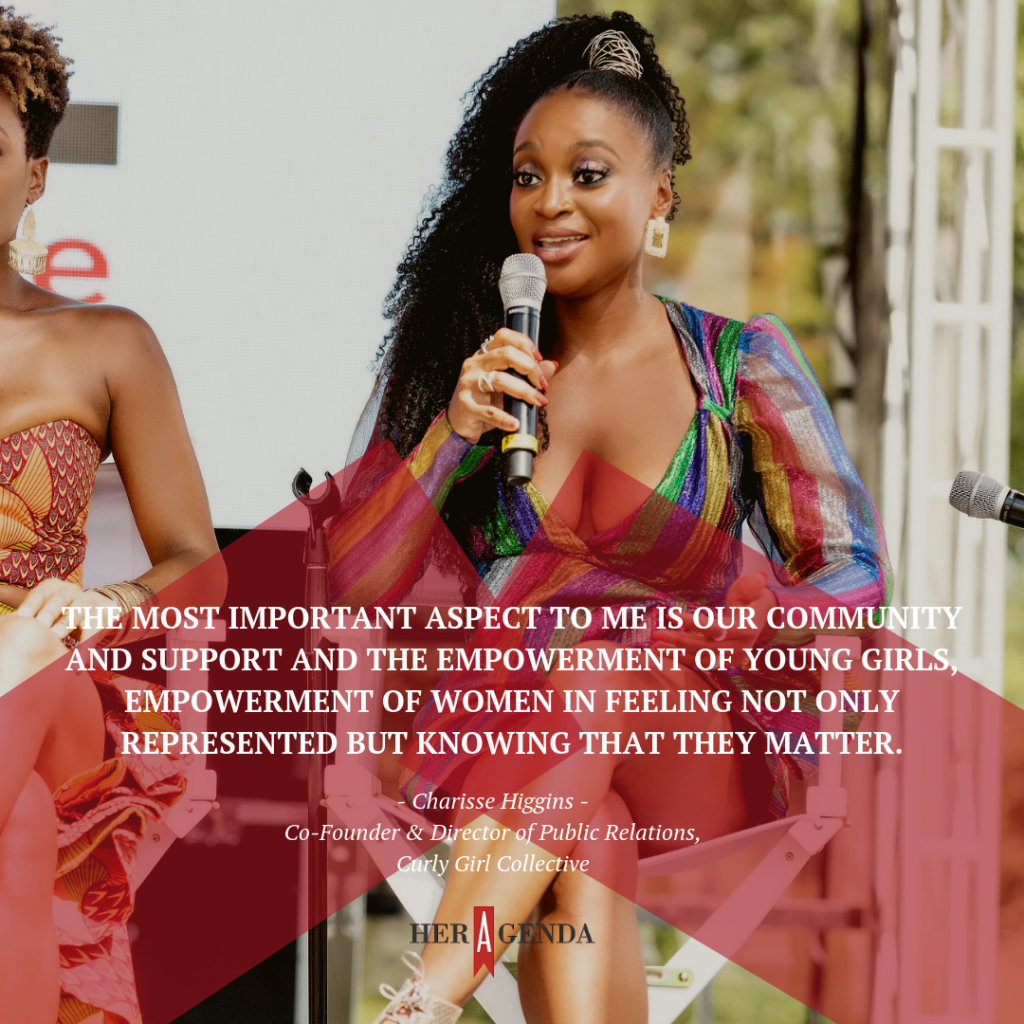 Her Agenda: What led you to begin the Curly Girls Collective? Did it stem from personal experiences of what were you seeing at the time?
Charisse Higgins: Curly Girl Collective is a fun story. One of our very good friends, she cut her hair off. She did her big chop and that was back in 2010. She didn't know what to do with her hair. So she did like any of us would do and she reached out to her network, her community. And in reaching out to her network she started a google group email thread. We grew to be over 70 people and in this community, it was also myself and my partners. We represented cities in the U.S., and different countries. We were in Switzerland, we were in Gaza and we would speak all day, this was before WhatsApp was a thing, this was before GroupMe was a thing.
We would talk all day about various things, what was happening in pop culture, or what as happening at work, what was happening in our bedrooms. From there, my partner decided to have a meeting at her house because there was a thirst for more, but we also wanted to connect in person. Some of us knew each other, but a lot of us didn't. She had the meet up at her house and it turned out to be the first natural hair meetup for us. Her hairdresser was there doing hair demos we had products, we did product swaps. It was the holidays so we brought food, it was like a potluck. And we left so full from this, breaking bread with our friends, and people who needed the support. A few of us got together and decided that we should bring this to other people. And that was when the Curly Girl Collective was formed. Since then we never lost that sense of community, the sense of community is still engrained in Curly Girl Collective and before CURLFEST there used to be smaller events. That's what the beauty of it is because [we're] five Black women, CURLFEST is still for us by us. We understand what our community needs.
Article continues below advertisement
If you have an idea, absolutely do the work and get it to a place where you can present it to the world or you can share it with the world, but it doesn't need to be perfect.
-
Her Agenda: When you and the other girl bosses of the Curly Girl Collective started off, how did you manage to get your first event off the ground?
Charisse Higgins: It was really our experience in what we do in our corporate lives or outside what we've been doing for years. I did PR, I did talent management. My partner Melody, she's a creative director and has been for years, and now she's at Facebook. My other partner, she started her own company doing event production. We have another person that had experience in IT, and another who had experience in non-profits, making connections and building strategic partnerships. It works so well because we all just came together and said you know what? 'I'm really good at this part.' And this is what I can bring to the table. Let's all put our collective experiences and our talents and skillsets together and bring this to the community. Even outside of the five of us, the collective on [the original] email thread [stepped up.] Everyone pitched in just for the sake of helping others. And then it became what it was.
Article continues below advertisement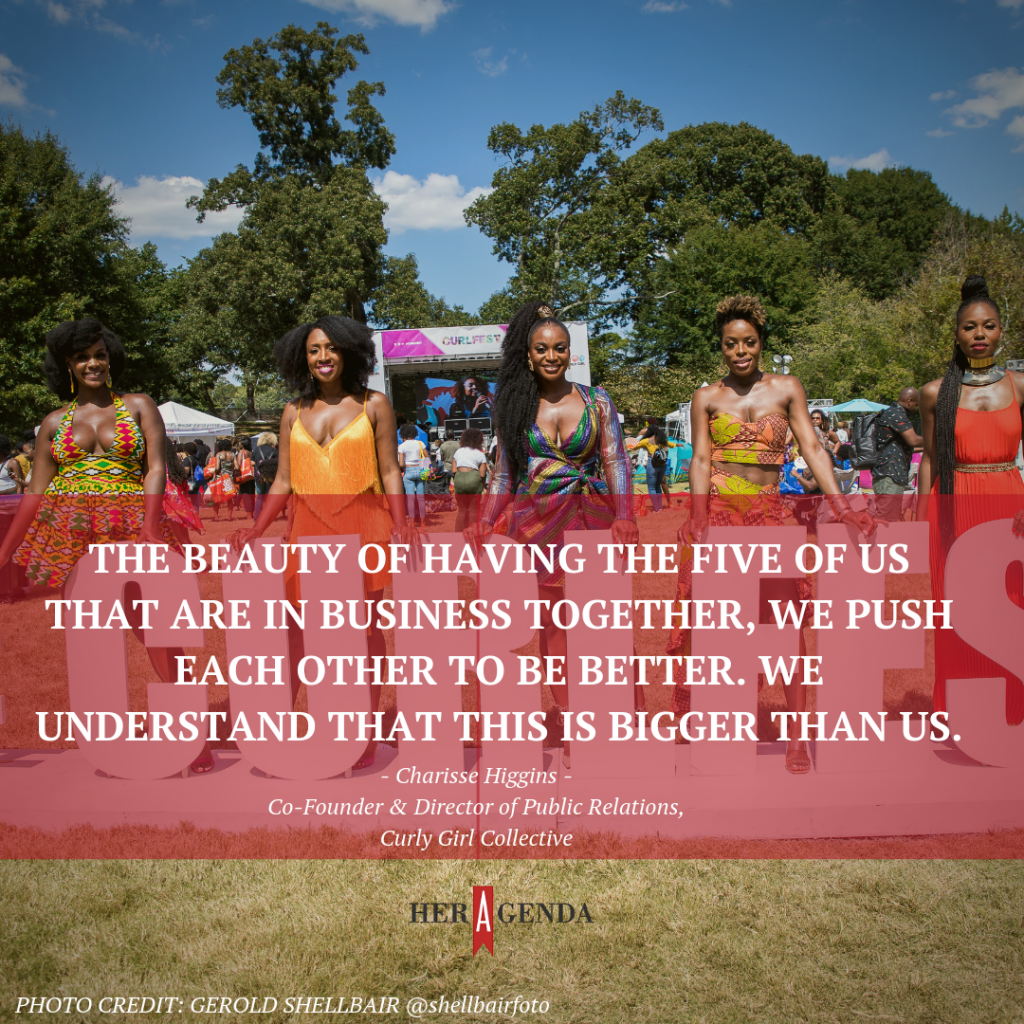 Her Agenda: And as far as Curlfest is concerned, what part of the journey as an entrepreneur was important to launching something as big as that?
Charisse Higgins: I think with most entrepreneurs, sometimes it takes us longer to actually launch an initiative because we feel like we're not ready yet and not being ready meaning its not perfect. If you have an idea, absolutely do the work and get it to a place where you can present it to the world or you can share it with the world, but it doesn't need to be perfect. In fact, the best thing you can do is start. If you have a blog idea, or if you have an event planning company that you wish to launch or if you have a product, the best thing you can do is put it out there and network and find a team and come together to be able to strengthen the company in whatever way that you can. Put it out there so you can fail quickly, you learn as you go.
Article continues below advertisement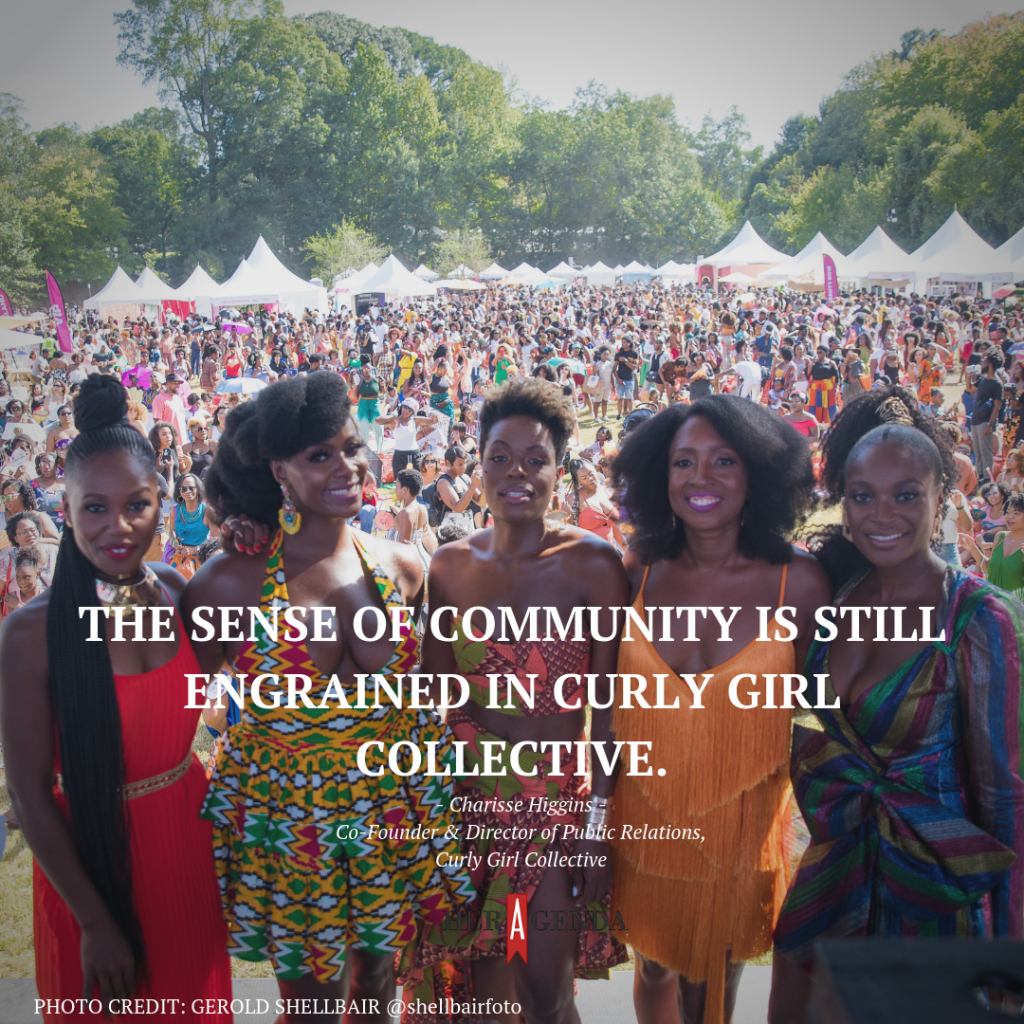 Her Agenda: How has your partnership with Black businesses as well as beauty influencers helped with the overall growth of this festival?
Charisse Higgins: It's in the very thread of CURLFEST, we invest in small businesses. [We have] small businesses that have been with us from the very first Curly Girl Collective event back in 2011 who still applied to be a vendor for 2019. There are businesses like Eden, who was the first sponsor of CURLFEST back in 2014, who is now who they are today, or Shea Moisture, who has been with us for years, who is one of the biggest natural beauty businesses that other businesses look to. The most important aspect to me is our community and support and the empowerment of young girls, empowerment of women in feeling not only represented but knowing that they matter. CURLFEST is a place that nurtures and also [serves as] a launchpad for Black women trying to make a business in various aspects.
Article continues below advertisement
Her Agenda: Now that CURLFEST is expanding in different cities, are there more pressures you see down the road to outdo yourself? Considering Atlanta was the first city outside of New York to experience this magic?
Charisse Higgins: I guess you can say pressure. But I think the beauty of having the five of us that are in business together, we push each other to be better. We understand that this is bigger than us. This is bigger than we would have ever dreamt it to be when we were on the email thread to today where we are now launching Curlfest in these cities. We recognize that women all over the world are finding so much value in being seen and so much value with a space like CURLFEST. There are challenges, but we keep moving because it's something that we're passionate about. Now we're passing a law, as a collective, as a community, when legislation like the Crown Act is being passed in California and New York, we are having discussions at CURLFEST with people who have real estate in this conversation or hold a lot of weight in this conversation. It's challenging but it's worth it.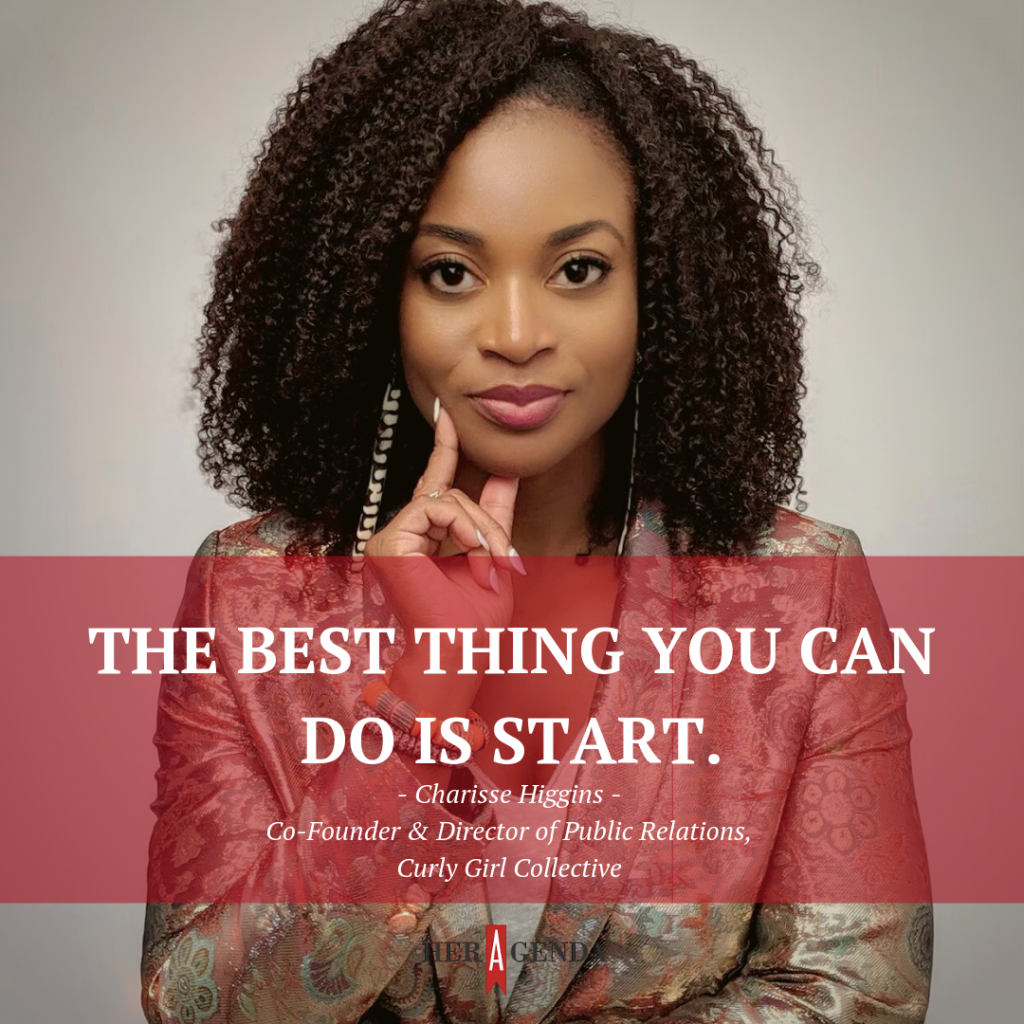 Article continues below advertisement
Her Agenda: Where do you see the Curly Girl Collective in the next few years? What's the long term goal for you guys now?
Charisse Higgins: The sky's the limit, I know that's so cliché but there are so many things that we want to do. We are thinking about launching an NGO with the main mission of empowering young girls. We've talked about our expansion and doing CURLFEST in different cities. We get emails daily with requests to bring CURLFEST to a city. We're still figuring out what this expansion looks like beyond Atlanta, we've [considered] international cities as well. There is so much more that we want to do but its definitely going to be centered around our mission of empowering young girls and women of color around the world.
[Editor's note: This interview has been edited for length and clarity.]