Dr. Thomishia Booker noticed the lack of Black boys represented in children's books and took matters into her own hands.
She launched Hey Carter! Books in October 2016, while pregnant with a baby boy, and published her first book, "My Brown Skin," that same year. The thought of motherhood scared her because she knew the world her son was entering did not send enough positive messages to Black children. She decided to create those messages herself.
Her brand and books, inspired by her son, Carter, focuses on building self-identity in young Black boys. Her second book "Brown Boy Joy" was recently featured on the Netflix original series "Bookmarks: Celebrating Black Voices" for using a social justice education framework that focused on concepts of identity, respect, justice, and action. As a result of this project, the book is endorsed by the Black Caucus American Library Association and Association for Library Service to Children.
Booker is a licensed therapist and works full-time as a healthcare administrator. She is also a part of the Black Literary Collective, a group of Black authors in the Bay Area working to decolonize educational spaces.
Her Agenda: You launched Hey Carter! Books because you were disappointed with the lack of representation of Black boys in children's books. You were nine months pregnant when you did so. Tell me about that journey.
Dr. Thomishia Booker: When I was pregnant, it was just a difficult time. I was trying to navigate what it meant to be a new mom, and I was just really so scared at that time. I wasn't ready. I had all these "what-ifs" going through my mind. I had always been so career-focused. I didn't want things to change. I didn't want to be lost in being a mom.
Article continues below advertisement
So I decided to turn to writing to express myself. I started a blog. I was just talking a lot about motherhood and what I was going through, and hopefully that it would be able to help someone else to talk a lot about things that sometimes moms don't hear about. And when I found that I was having a son, I just felt the heaviness of what it meant to bring a Black son into the world, and I wanted to use a narrative for Black children, specifically Black boys. And that's when I began writing my first children's book, with all of that in mind. I made sure that my son always saw himself in books. There weren't a lot of books with Black boys on the cover, and I wanted that for my son.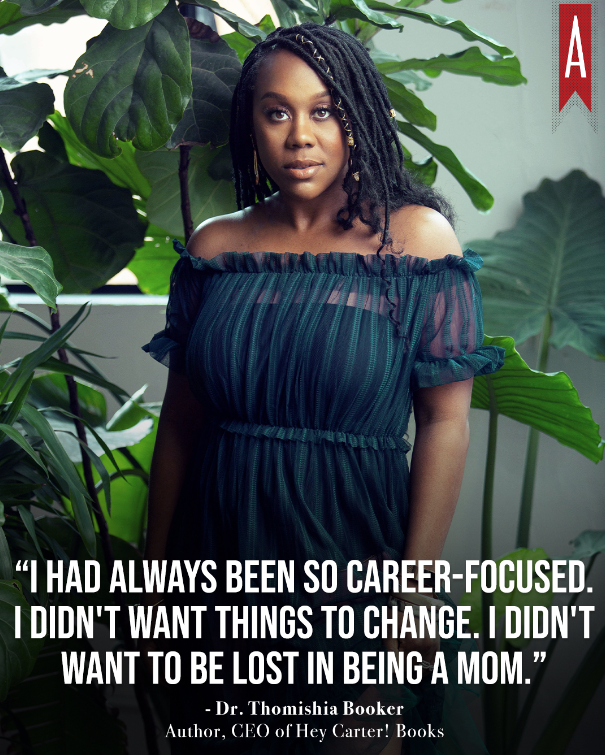 Article continues below advertisement
Her Agenda: You mentioned how scary it can be not only to be a first-time mother but a Black mother to Black children. Especially in a world that is not the safest for them. Tell me how you navigated motherhood with the knowledge that you might have to raise your children differently than how white folks raise theirs.
Dr. Thomishia Booker: In the beginning, [we made sure] that our home was filled with the messages that we wanted for our son. And that started with books. We were building a library for him and wanted to make sure that the library had a lot of books for Black children. We wanted to raise him in a home where he knew where he came from and who he was. Growing up, I didn't receive a lot of positive messages about being Black and I knew that I wanted that different for him. It was going to be a process of just navigating each step with him and knowing that we have to prepare him for the world that he's entering in.
Article continues below advertisement
I know there [was some representation in the past], but it wasn't like those very strong, direct messages like, "This is who you are. This is your story. Your story matters." And that's really what my brand is showing: Elevating Black joy. I always say it's showing happy Black boys living their happy Black lives. Showing them just being everyday children. A lot of times Black children are stripped from their innocence and forced to grow up too quickly. I want my son to have a childhood where he can find out who he is. He can explore boundaries, test boundaries. Our kids don't even get those things.
Her Agenda: This sort of goes into that conversation about decolonizing the classroom. Right now, there are so many people against teaching about racism and racial justice to their kids. How important do you think it is for young Black boys to see this kind of representation and learn about the reality of being Black in this country?
Article continues below advertisement
Dr. Thomishia Booker: Representation is not just about seeing yourself or being seen. It also creates a sense of safety and comfort. When you walk into a classroom and you can't find yourself or your story being represented, you don't feel like the classroom space is for you. You don't feel like you're meant to be there. You don't feel like it's a safe space. And that gets in the way of learning and how kids can take in information. They need to be able to combine their experiences from home with the new information that they're learning in school to be able to have that information cemented in their minds. The information needs to be accurate and [it needs to] reflect all the stories. When you see only negative messages of yourself, you start to internalize them. Books have a way of showing kids what the world thinks about them, and when that's incorrect, or that's negative, it's sending a message to the child. They start to question [who they are], and then other kids see that and then they start to treat their peers with that same level of disrespect.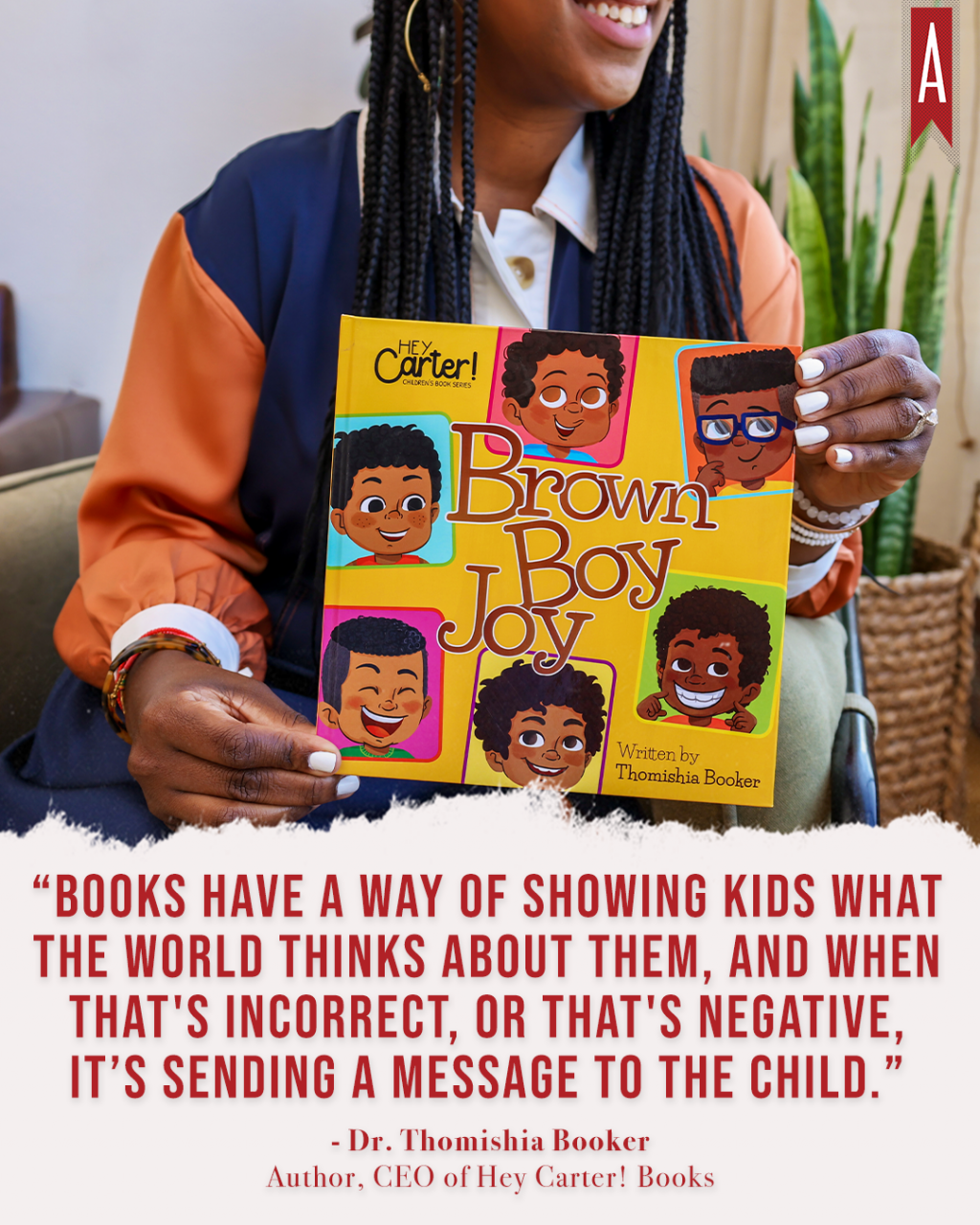 Article continues below advertisement
Her Agenda: Instead of signing with a traditional publishing house, you created your own publishing company. What led you to make this decision?
Dr. Thomishia Booker: I wanted agency over my own stories and autonomy over my creative work. A lot of traditionally published books consist of animals as the main character, and I wanted Black boys front and center. I wanted to have control over that process. Also, for me, it just made sense in terms of my financial goals and what I wanted to accomplish. As a self-published author, I knew that I wanted longevity in my company and my stories. I published my first book in 2017. Four years later, I'm still talking about those stories. And that's because I took the self-published route. I have control of where my books are talked about, how they're shared, and how I market them.
Article continues below advertisement
Her Agenda: You were the only self-published author to negotiate and strike a deal with Netflix for their original series "Bookmarks: Celebrating Black Voices." You negotiated the contract all by yourself. How did you do it?
Dr. Thomishia Booker: Netflix specifically reached out to me because my book, "Brown Boy Joy," really fit what they were trying to accomplish for the show. And so, I was able to negotiate my own deal. I didn't have a team at that time. It's something I'm very proud of. Knowing your worth is so important, especially as a self-published author. I'm grateful that my business was structured appropriately. My business was at a point where I was able to have that conversation. I think in earlier parts of my journey to building this brand and building this business, I might not have been able to have that conversation. It just comes with practice and experience.
Her Agenda: How did you build your expertise over time? What were the most valuable lessons you learned?
Article continues below advertisement
Dr. Thomishia Booker: When I started all of this, it was a passion project. It was something that I needed at the time. It was healing for my soul, both as a new mom and also healing from my past traumas. A lot of my books are letters to my inner child. It took me a long time to be able to say that out loud. It wasn't until I shifted from it being a passion project to a business, that I was able to see some of that growth. I had to take some steps back and just restructure my business, get a marketing plan and get some strategy out there. [I had] to get comfortable telling my story, get comfortable talking about why I'm here, my "why."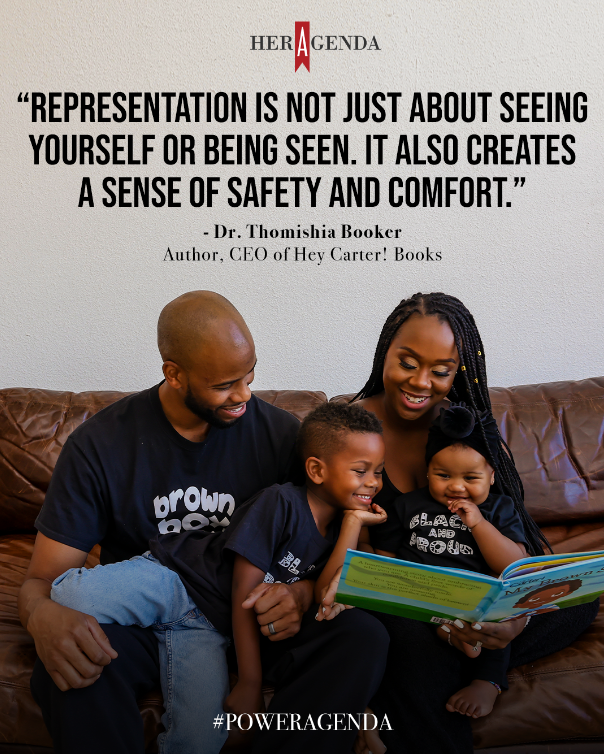 Article continues below advertisement
Her Agenda: Did you ever face imposter syndrome or self-doubt in your career? If so, how did you overcome it?
Dr. Thomishia Booker: Absolutely. I think that's just a life-long journey of constantly having to validate yourself. For myself, [it's about] having that positive inner self-talk that reminds me that this is where I'm meant to be and I am in the right space. [It's about] not being validated as a child and having to process that. It comes from doing that inner work. It comes from being able to speak to that inner child, letting my inner child know the things that I needed to hear. It comes with having a good self-care routine so I can make sure that I'm not pouring from an empty cup, just loving on myself. Sometimes, it's just this process of, like, doing it brave, doing it scared. You're putting [your work] out there. If someone doesn't see it, great, they won't be able to have any negative feedback. But when they see it, and they love it, it's going to be nothing but support. And that's why I do this work.
Article continues below advertisement
Her Agenda: What is the biggest piece of advice for authors who are looking to self-publish?
Dr. Thomishia Booker: I learned so many lessons the hard way, and by the hard way, I mean the expensive way. Publishing is not a business that you should get into without any support or some type of mentor. There are so many micro-decisions you have to make about the process. Have a plan. Know that it's not just publishing a book, it's building a book business. You have to consider all the aspects of that: Inventory management, buying books overseas, price points, marketing plans. All of those things are important. I know a lot of authors think, 'I just want to publish my first book, I'm so excited!' All of that's great, and all that excitement's wonderful. Definitely keep that energy going because you're going to need it. Just know it's going to be a long-term journey.
Article continues below advertisement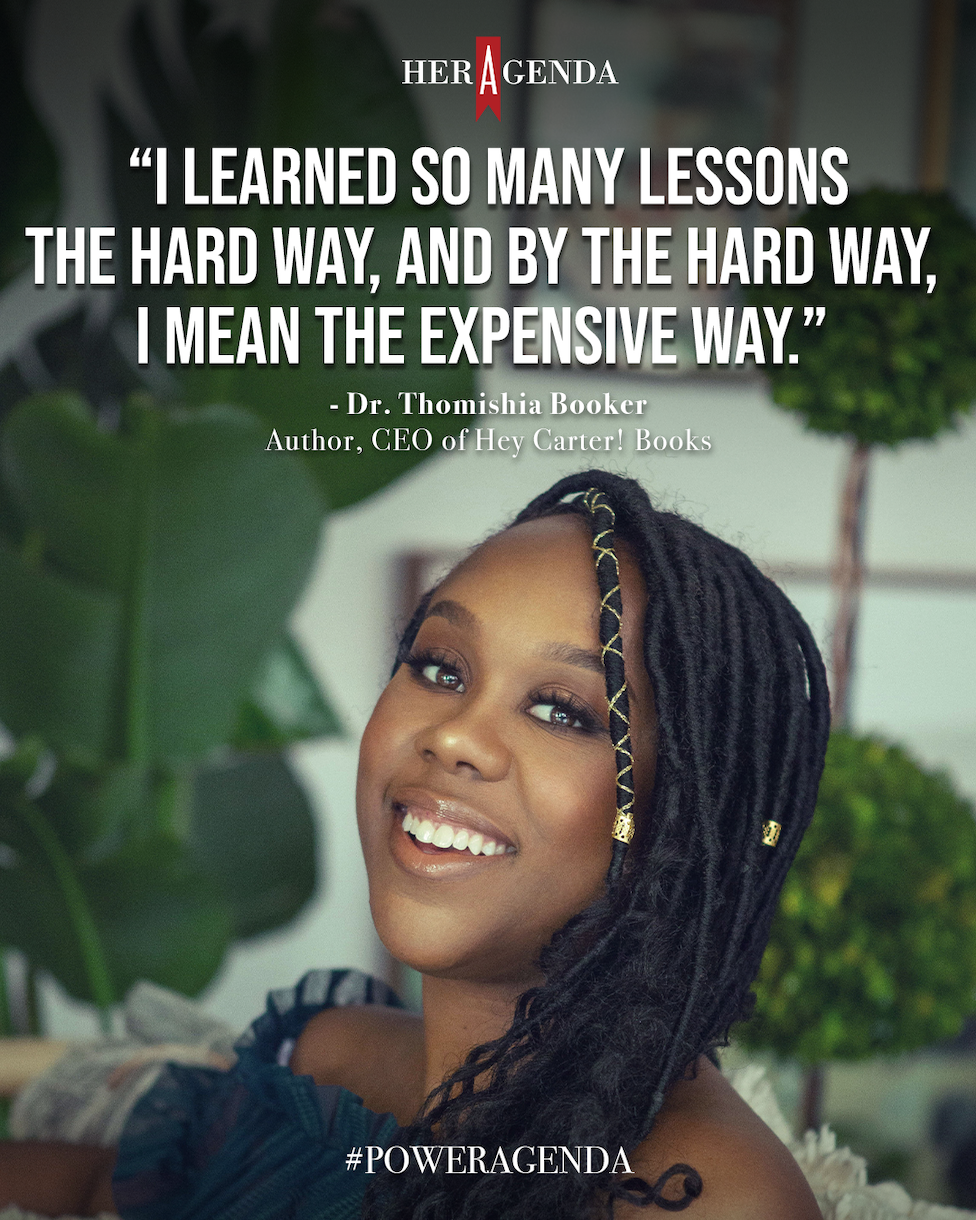 Her Agenda: What has been the most valuable part of your journey?
Dr. Thomishia Booker: It is the feedback I get from kids. I [do my work] for children. When parents tell me that their child has been able to find themselves on the pages, or the book has helped their child to work through issues about their skin color or their hair or just feeling prideful about who they are, that means the most to me.
Her Agenda: My next question is one that Jill Scott asked after she did a reading of "Brown Boy Joy" on "Bookmarks." What makes you happy, and what brings you joy?
Article continues below advertisement
Dr. Thomishia Booker: So many things. What makes me happy, in terms of being a self-published author, is knowing that my books are helping people. I know that they've healed me in a lot of ways, just knowing that my books are changing narratives for kids because as a child, I needed it. I'm just so glad that they're here for our kids. Having a book filled with awesome brown kids is, wow, you know? That makes me happy. What brings me joy on a personal level is doing things that I enjoy, like gardening, riding my roller skates, spending time with my family, eating good food, and dancing. [These are] things that just bring me back to my center.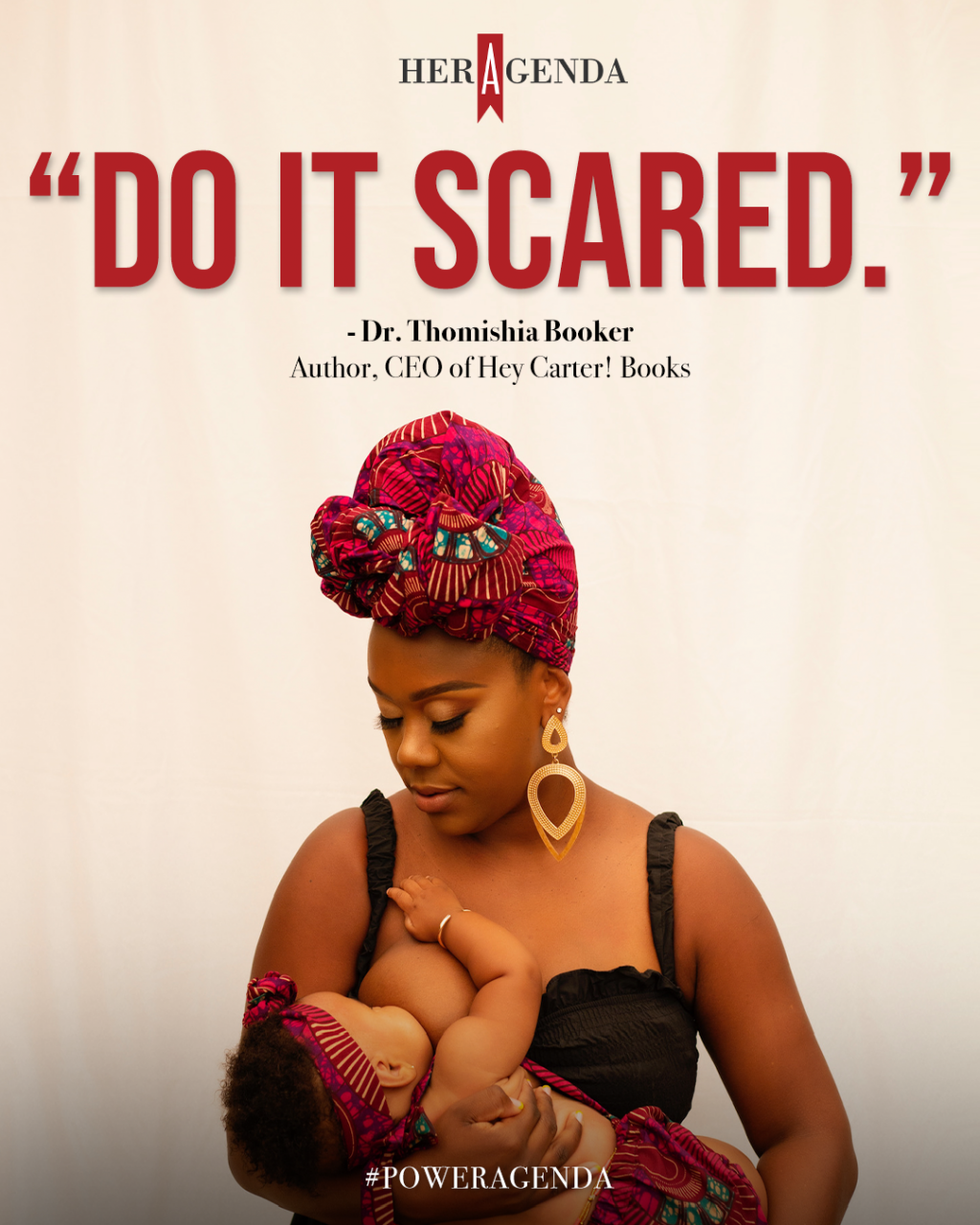 Her Agenda: What is your motto?
Dr. Thomishia Booker: Do it scared. I'm at a place in my career where I am challenging and pushing myself. Had I had this motto at the beginning of my journey, it definitely would have helped. We get this idea that we're supposed to move through life without all of these feelings. That we're supposed to be holding to this happiness and this praise, and that's not realistic. [This motto] is a reminder to feel comfortable with feelings that are not so comfortable. You're going to show up, you're going to feel scared and you're going to do it. You're going to feel scared, and you're going to be alright.
[Editor's note: This interview has been edited for length and clarity.]