When the world tells you to shrink, expand.
-
After years of trying to earn a seat at the table to finding herself at the head of the table as Condé Nast's second Black Editor-In-Chief (EIC) and the youngest EIC of Teen Vogue, Elaine Welteroth is now building her own table.
Since leaving her position as the Editor-in-Chief of Teen Vogue, Welteroth is taking on new opportunities and paving her own way in the media industry. Currently, she's one of the three judges on Project Runway and is the author of the memoir, More Than Enough.
Often the only Black woman in the room (and the youngest), Welteroth unpacks lessons on race and identity through her own journey and drops gems on how her experiences have influenced her success.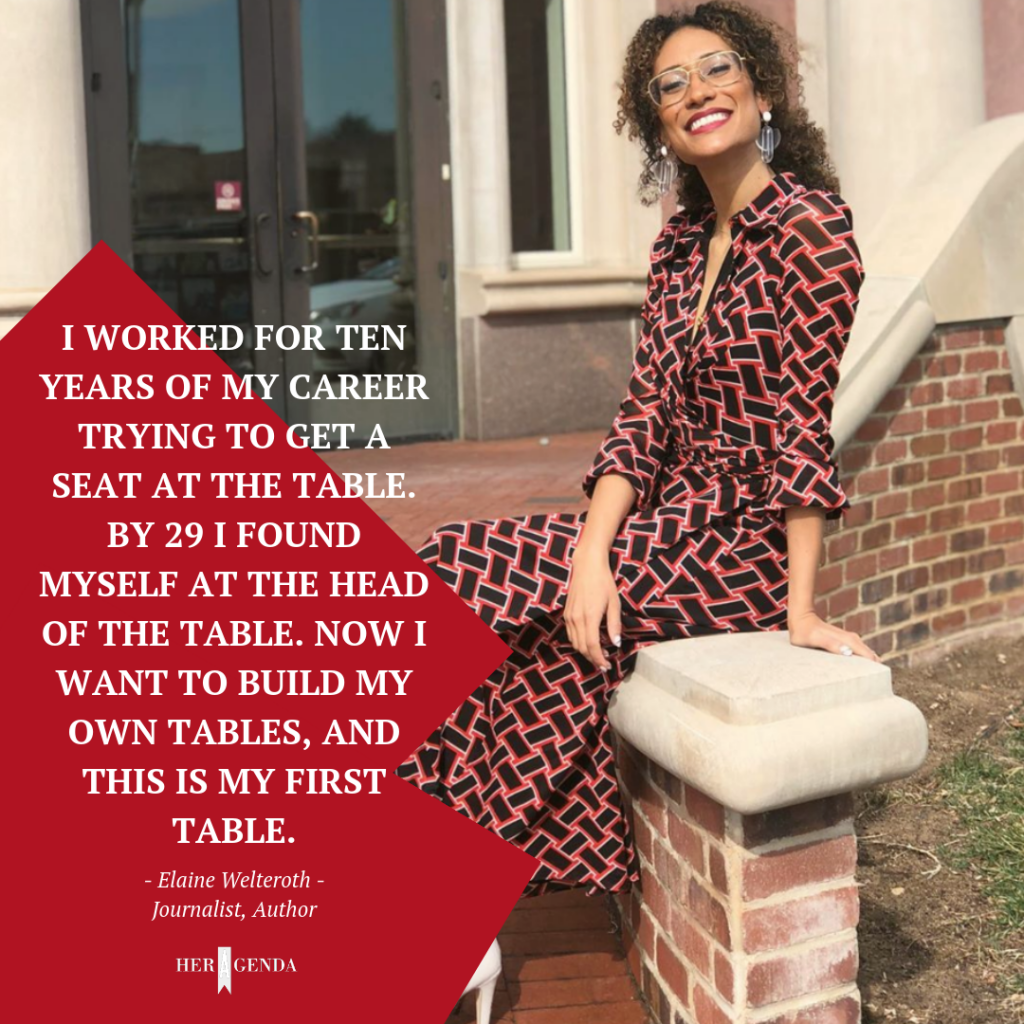 Article continues below advertisement
Her Agenda: Looking at your life, how has your upbringing influenced where you are now?
Elaine Welteroth: I grew up in a household with parents who were very free-spirited and open-minded in terms of how they raised us. That kind of upbringing gave me the space to really figure out who I am and what my passions were. At the time I always wanted more guidance, more direction, but I now really appreciate the way I was raised.
Being raised in a predominantly white neighborhood as one of the few brown bodies in any given space made me feel what it is to be 'other' really early in my life. The very first memory in my life was being in a preschool classroom surrounded by white classmates and having to do this assignment where we flipped through magazines and were told to make a collage of our family with magazines that were put in front of us. I flipped through them and couldn't find myself or my family in those pages. I write about this in my book, it's called White Paper Family, and I talk about how I reacted to that first feeling of being 'other' and it was total denial.
I decided to make a collage with a white family like everybody else. I just wanted to blend in and be like every other kid. I didn't want to be different. I didn't want to be other. I wanted to feel like I belonged like all my friends. So I made this collage with all White people and I came home and showed my mom, who is a Black woman, and she wasn't having any of that. She made me and my brother sit down at the dining room table and redo the assignment. She pulled out Ebony and Essence magazines and made us confront who we are. She made me put this new rendering of my family with a Black mother, two brown kids, and a white dad on my wall so that every morning and every night that's what I saw to reinforce my identity as a Black woman and the pride that I should feel, as well as the ownership.
My mom really enforced the beauty in Afrocentricity, and down the line when I started my career, all of these formative experiences in my childhood really impacted the kind of editor I would one day become.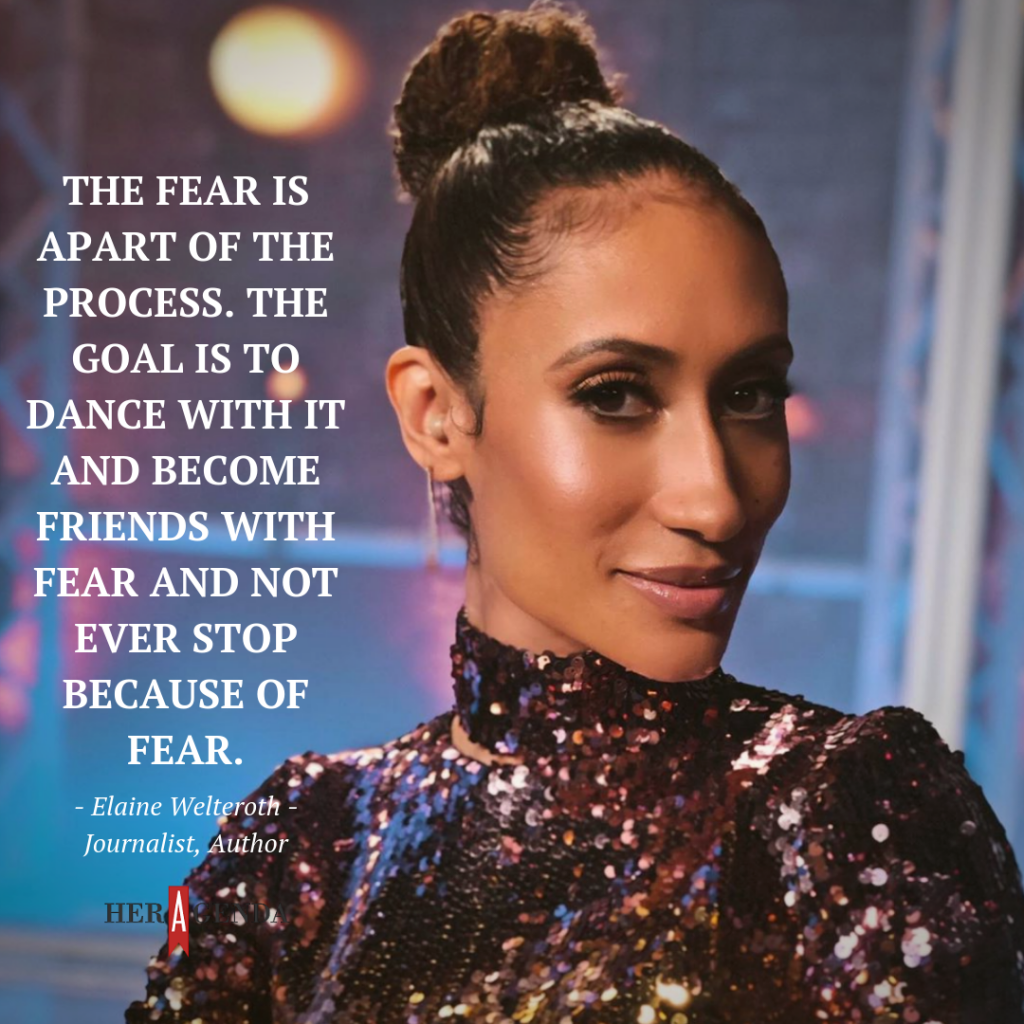 Article continues below advertisement
Her Agenda: How did your education influence where you are now?
Elaine Welteroth: I talk in the book how I ended up at the college that I went to, which was not my dream school. I think it was a very formative experience. Going off the road and going away from your dreams early on, being distracted by love, and being pulled away from what I thought was my path early on sometimes felt like a mistake, but looking back I'm grateful for that detour.
This experience did two things; it introduced me to the reality that I am in the driver seat of my own life and I should never hand over the wheel to anyone else. Next, it helped me recognize that you can always make the best out of any situation.
I am in the driver seat of my own life and I should never hand over the wheel to anyone else.
-
Article continues below advertisement
Ultimately, I got to where I was trying to go, and possibly even faster, because of the pressure on my back of wanting to right this wrong of going to the wrong school for the wrong reasons. It left me with a chip on my shoulder to go ten times harder and move ten times faster. I graduated early and with internships under my belt that helped me figure out quickly what I really wanted out of my career, and [it gave me] real focus that I don't know if I would've had if I had gone to the school of my dreams. Sometimes the detours are apart of the dream.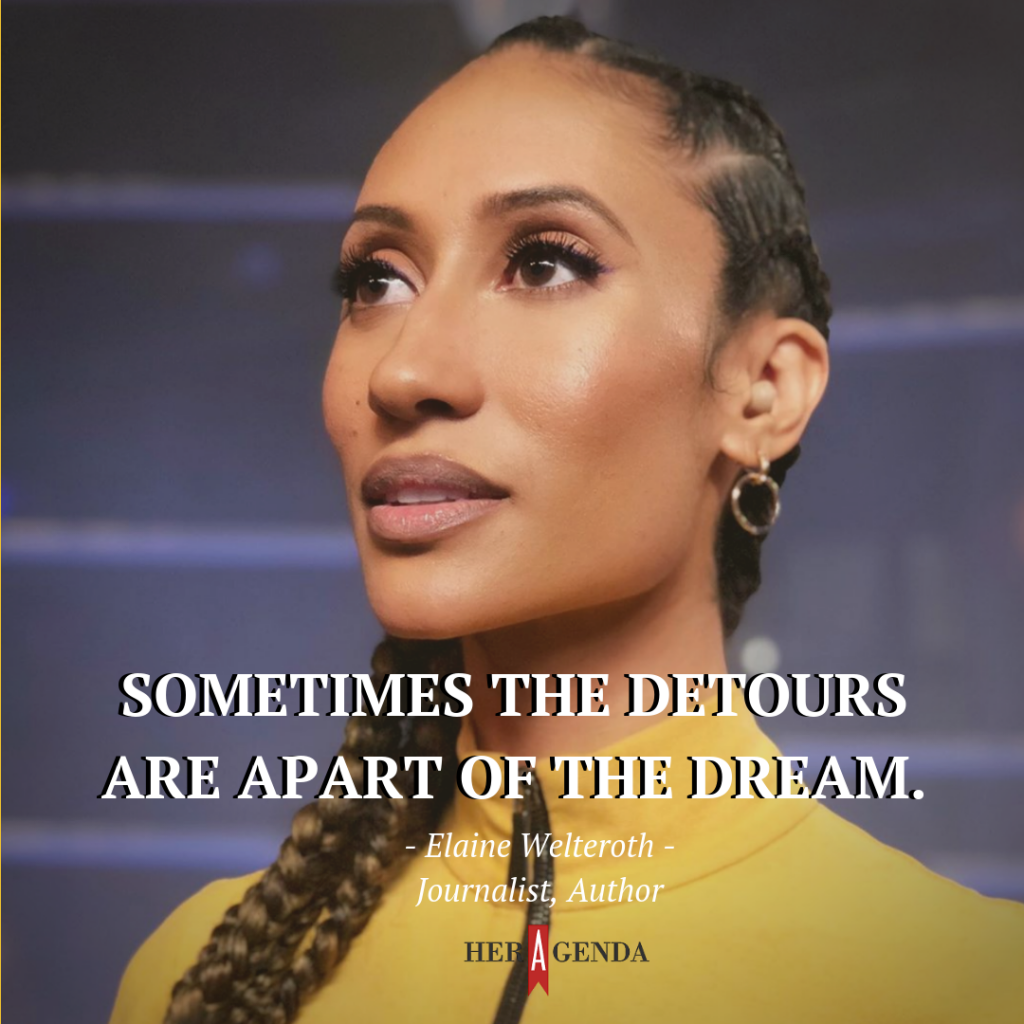 Article continues below advertisement
Her Agenda: Your new book inspires us to live with purpose and confidence, despite one's past and the stigmas that can hold one back. What personal experience inspired you to write this book?
Elaine Welteroth: There are certain things you do in life because you have to. This book had to happen, it wasn't a choice, and it was writing itself.
I felt like I worked for ten years of my career trying to get a seat at the table. By 29 I found myself at the head of the table. Now I want to build my own tables, and this is my first table. My book is my offering to my community and I'm so excited to invite my people to my table to break bread, to have conversations that we are not having enough, to share tools, share lessons, and that's what this is all about. To me, there is an urgency to that, and we are watching each other's success stories play out on the internet but we are not getting the full story. We are not sharing the universal wisdom that we are picking up along the way. I hope that this book cracks open conversations that women aren't having enough with each other. I hope it inspires other women to write and tell their own stories.
There are certain things you do in life because you have to. This book had to happen, it wasn't a choice, and it was writing itself.
-
Article continues below advertisement
Her Agenda: For many women, confusion, frustration, and heartache of not feeling fulfilled tend to creep up in our mid-20s. How can others identify and embrace those moments that enable us to live in our purpose?
Elaine Welteroth: Those moments of uncertainty are necessary for us to confront the truth. If life were easy, we would never be challenged to grow. Everyone goes through those times of uncertainty where the answers are not clear, but it's fighting through those moments that build character and self-belief. It helps us hear that voice to discern our voice from fear, and it's almost like a necessary part of the process. I wish it weren't, but it is, so we might as well embrace it.
Growing up, I felt like I had figured out my career path. I graduated from college, I went through the dark part of figuring out what to do with my life, and I thought I was done.
But the reality is it's an evolution.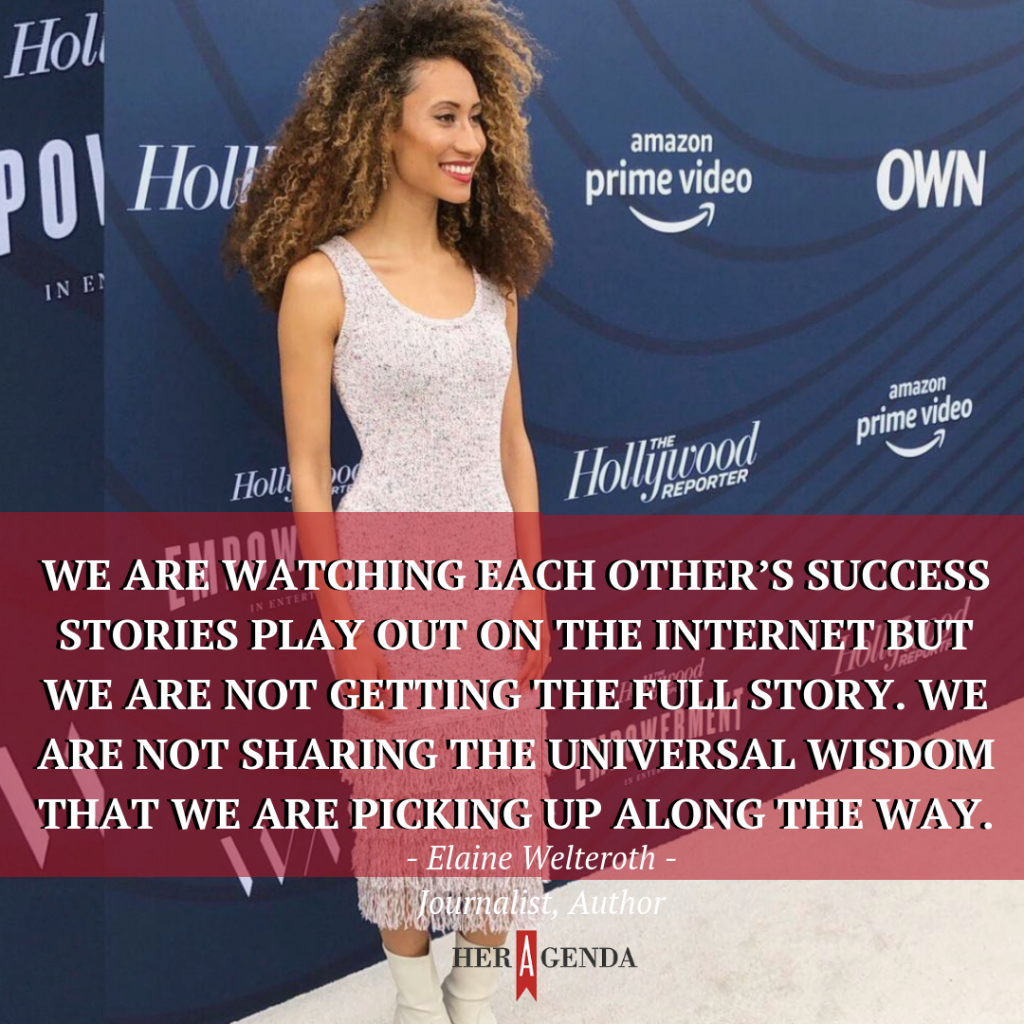 Article continues below advertisement
Your life is a series of dreams realized. You will dream, you will accomplish, and then you will dream again. You don't have to be defined by one career path, or one title. You are allowed to change directions. Remember you don't have control over your timelines of when and how things will happen for you. You just have to stay obedient and listen to that voice that's guiding you. The fear is apart of the process. The goal is to dance with it and become friends with fear and not ever stop because of fear.
Her Agenda: For many of our readers, they are often in positions where they are the youngest in the room, and/or the only person of color in their department. How have you handled being the youngest and the only person of color in a position of authority?
Elaine Welteroth: This is really what so much of my book is about. It's impossible to give adequate color to that answer in an interview, an Instagram caption, or in a tweet. That's why I wrote this book. I wanted the space to be able to tell my truths in an honest way, and in a way in which people could see themselves in it.
When I talk about microaggressions in the office, it's through simple everyday stories where other people who know what it feels like to be the only person in the room can relate and see themselves. My intention is to crack open and break down some of these larger issues that are harder to tackle like racism and representation through simple, everyday anecdotes that anyone can relate to.
Article continues below advertisement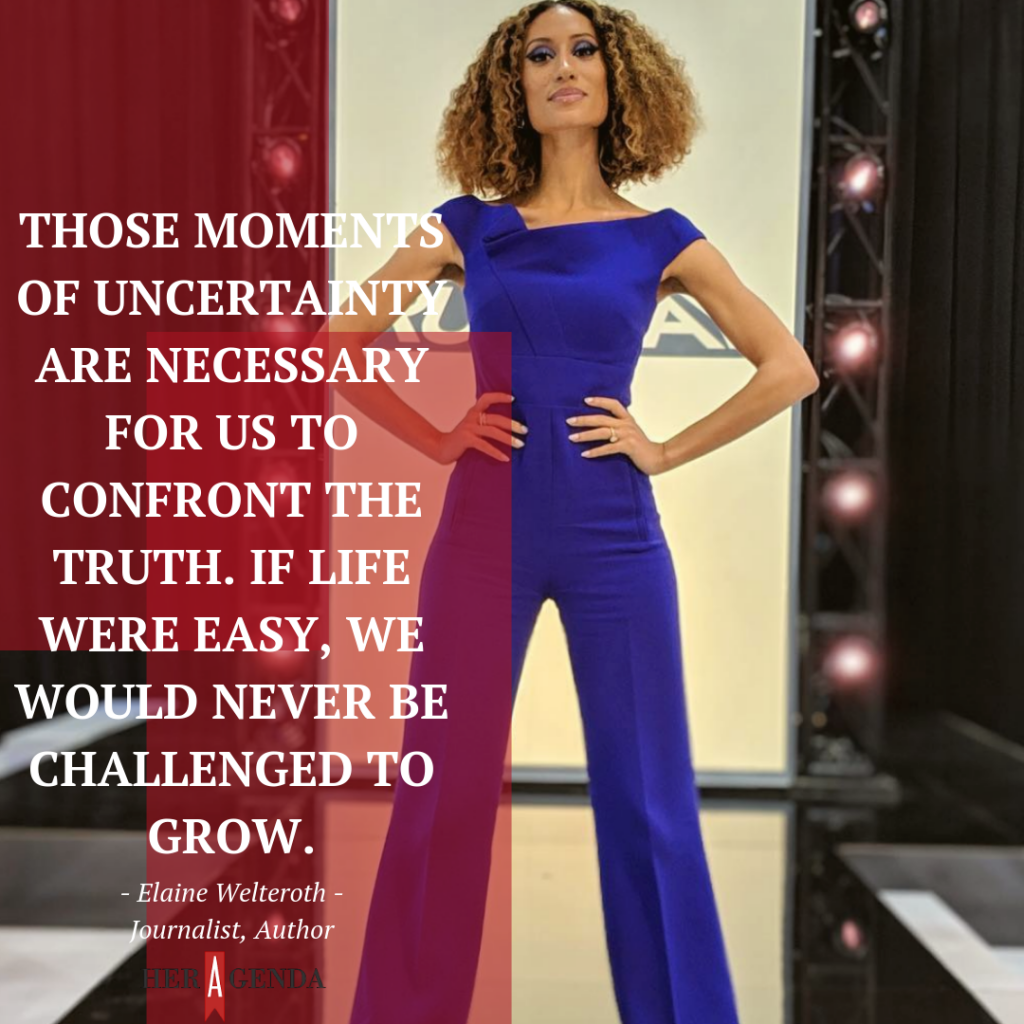 We've been living in an age where we have all of these hashtags and we know that #representationmatters, but I don't think everyone knows why it matters. That story of me at three is why representation matters to me. In my book, that's how I approached talking about what it's like being the only person in the room, what it's like being a young leader trying to navigate corporate America without role models that looked like me, and then finding role models who I could see myself in and could learn from. There are a number of women in my book that have been a guiding light for me in my career and hopefully, this book becomes a guiding light for other women.
Article continues below advertisement
Her Agenda: What kind of advice would you give to women on living in their purpose, when they are trying to start over in a new career but are worried about their finances?
Elaine Welteroth: My larger piece of advice is to never stay anywhere or with anyone that requires you to shrink. The important thing is to not get comfortable there. The minute that we feel it's not healthy or no longer serving us is the moment we have to reconnect to what does.
Think about what does serve you, what makes you feel expansive, and how can you spend more of your time doing those things. It's your obligation to carve out space in your life to plug back into what grows you, what serves you, what expands you. It's certainly not easy to do that when you have the demands of a family and have to do work that's unfulfilling just to stay afloat, but that's the reality. However, we can all do something every day that makes us feel alive. The more you do it, the more you'll feel it, and then the path will become clearer on how you can carve out a life for yourself doing more of that.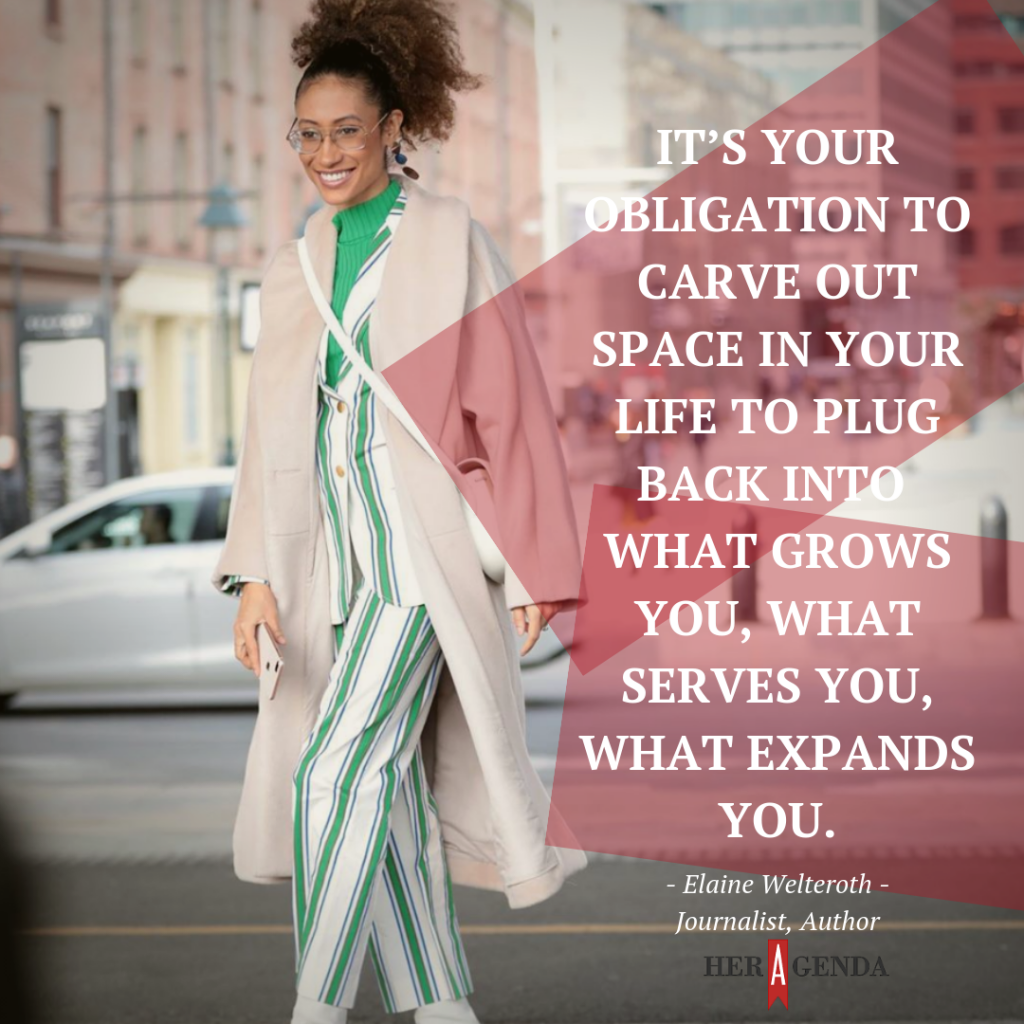 Article continues below advertisement
The way you can do this is by planning, being really intentional. Have a vision, carve out your game plan, and stick to it. It sounds simple to say it than to live it, but it's something that I've done throughout my career. I came from a very small town in Northern California where people were very blue collar. People married their high school sweetheart and stayed local. It was rare that someone would leave and pursue a big career in magazines in New York City. I didn't have a roadmap or blueprint, I didn't have someone telling me 'this is how you do it.' I had to figure out a lot on my own.
It was sheer determination and being relentless in the pursuit of my dreams that kept moving forward. I would tell anyone to remain relentless in pursuit of the dream and never underestimate the power of having a plan.
Her Agenda: What is a quote or phrase that keeps you inspired?
Elaine Welteroth: When the world tells you to shrink, expand.
Article continues below advertisement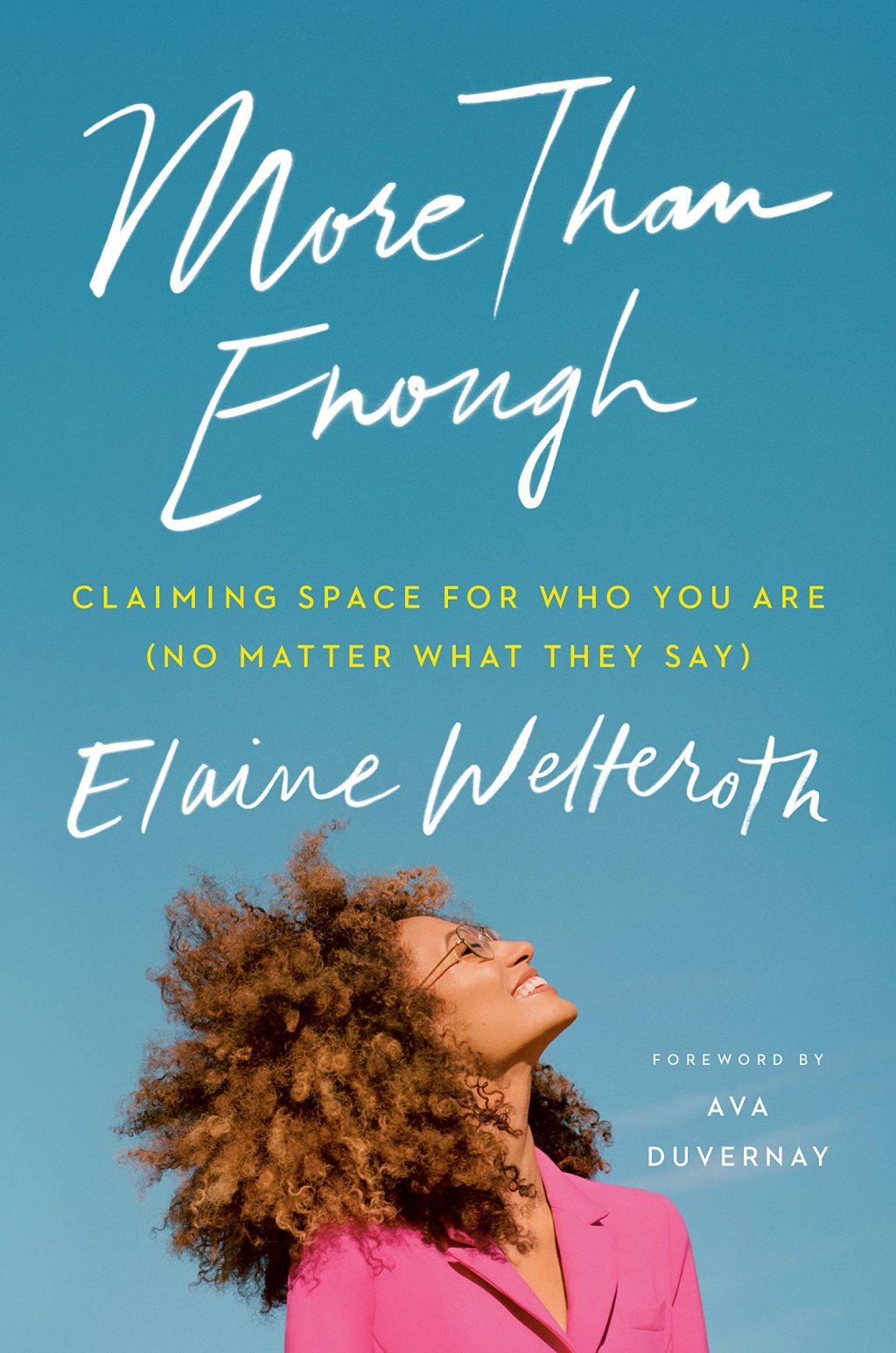 [Editor's note: This interview has been edited for length and clarity.]