Every aspect of Elsa Collins' work is centered on social justice and service to others. She co-founded This Is About Humanity, an organization raising awareness and funds for separated and reunited families at the Mexican/U.S. border. She also founded The Ideateur, a social impact and civics consultancy working towards genuine justice in the United States.
In 2020, she also co-founded She Se Puede, a digital community platform created to foster a community for the Latina community and empower Latina women to confidently use their voice to speak out for justice and other important issues impacting their community.
Raised on both sides of the border in Tijuana, Mexico, and San Diego, Collins is deeply connected to her Latina roots and the issues that affect Mexicans and immigrants in the United States. She received her B.A. and Master's Degree from Stanford University and her J.D. from Columbia Law School.
Her Agenda: What is She Se Puede and what should our readers understand about what you do as a group and in your personal role with them?
Elsa Collins: She Se Puede is a new digital lifestyle platform for Latinas. Really, it's what we consider to be our home for all Latinas. We launched on August 31 and in three months we have created this amazing community [for Latinas who are] looking to be empowered, not just at home, but out in this world. We focus on wellness and parenting and lifestyle, but also topics around civic engagement and social issues.
Article continues below advertisement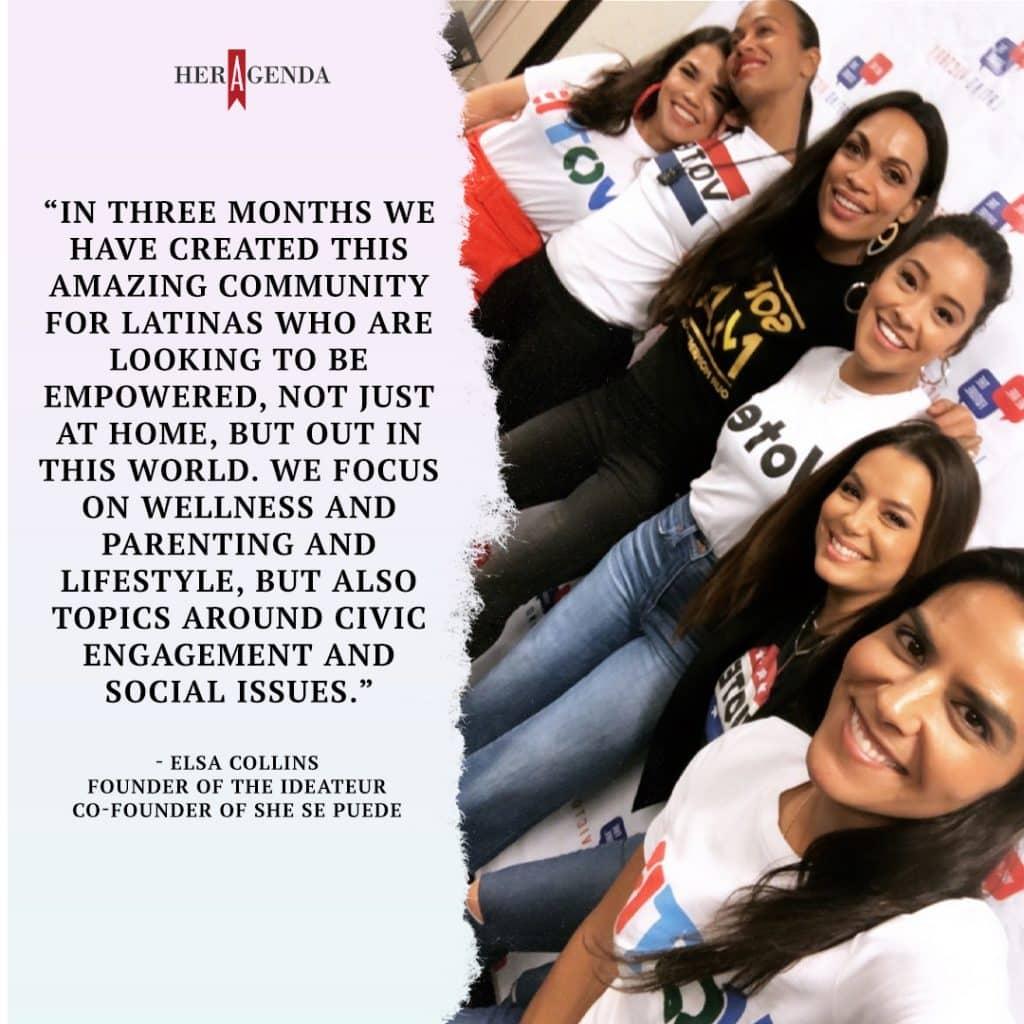 It's been an amazing journey, to see something that was an idea that came together between 10 Latinas that spanned all different arenas – entertainment, organizing social justice work, social impact – to come together and create something that I hope my daughters eventually can be a part of. My role specifically is as one of the co-founders and it's been a really great journey and excited to see where it goes.
Her Agenda: How did She Se Puede come together? There are some fairly well-known names in the organization like America Ferrera, Carmen Perez, and some others. How did this particular group of women come together?
Article continues below advertisement
Elsa Collins: Some of us didn't really know each other until She Se Puede. The nugget of the idea had arisen at a retreat that America Ferrara's organization, Harness, put together. Harness works to bring activists and artists together. You mentioned Carmen Perez, who is an activist and Jess Morales Rocketto does a lot of work in that space as well. So, a couple of us were at this retreat, and the conversation came up, "How do we create a space for Latinas by Latinas that really talks about the issues and the things that are near and dear to our hearts, and that resonate with us?"
Now we're a [online] platform. We have something called the She Se Puede Power Squad, 1000 Latinas, who applied from across the country to figure out how to get more engaged and get more involved in their community and in their life. The goal is to develop and provide a space for these young Latinas to become the next leaders.
Her Agenda: Another organization that you're with is called This Is About Humanity. What can you tell us about that and what you do with that group?
Article continues below advertisement
Elsa Collins: This Is About Humanity is an organization that I co-founded with my sister, Yolanda, and my good friend, Zoe Winkler, who's from LA. And it really was in response to the family separation crisis, that was becoming known in the summer of 2018. I'm from the border originally, so I've lived on both sides of the border in Tijuana and San Diego.
It's an issue that's very close to me, and really just wanting to do what I could with what I had at my disposal to raise awareness, educate individuals, and also to have direct impact on and help these families. Two and a half years later, we have an amazing community. We've been able to raise money to help families on both sides of the border, [and offer] COVID help with PPE [and] toys [and] basic necessities, making foundational improvements to some of our partners' shelters in Tijuana.
On the stateside, helping families who had been reunited, get their footing and supporting them and their children as well, and working to help the organizations who are doing this really important work to try to reunite these families.
Article continues below advertisement
For me, it's really a personal labor of love and I've something I feel very passionate about, [being] close to the issue, and just wanting people to know that it hasn't gone away. It's never stopped. In one way or another, families are still being separated, even today, whether through policy, or other means. I feel like I need to continue to advocate for this, so that people don't forget.
Her Agenda: For people who want to do something, is there anything that we can do with This Is About Humanity or some other organization that you would recommend?
Elsa Collins: I think a lot of times people feel like they're far away from the issue. [You might think] 'I'm in Chicago; I'm not near the border.' Sometimes people look far to try to help when some of these same families are having the same issues all over this country. [The USA] detains families in almost every state. We have families who are establishing their lives in every location.
Article continues below advertisement
The first thing I recommend is to look at Immigration Advocates, which lists all of the immigration services across this country that are providing services to families who are seeking asylum. That's a really good way [to find somewhere] if you want to volunteer. If you speak Spanish and you want to translate or if you don't speak Spanish, but you want to help a family that's a really good first step. The other thing that people don't think is important, but I think is hugely important, is just having the conversation, writing an article, bringing it up with a friend.
Sometimes I tell people, you're the most important person in your network of people. Whether you're a parent and you're influencing your kids or whether you're just someone who has a group of friends. [Maybe] you're a writer. You're going to be the most influential person to the people around you. So, even being willing to talk about the subject, and about how you feel about it, I think is so important in terms of helping distill that messaging.
Her Agenda: So, what do you think has most empowered you personally to use your voice to speak out for yourself, for your loved ones, for other Latinas and women in general?
Article continues below advertisement
Elsa Collins: It took me a minute to really find my voice and to use it to the best of my ability. A lot of it was really triggered by having kids. I have kids who are of mixed race. They're half Black, half Mexican. And really understanding that I would need to be until they got older, the person who would be speaking on issues and caring about the things that were going to be impacting their lives.
That was the catalyst for me to become more outspoken and involved in social justice issues, not just personally, but as a career. And it's really been amazing to be able to not just advocate for their Brown lives, but also for their Black lives and that movement as well. To be an example, for what I hope my daughters can become in the future and my son, as well.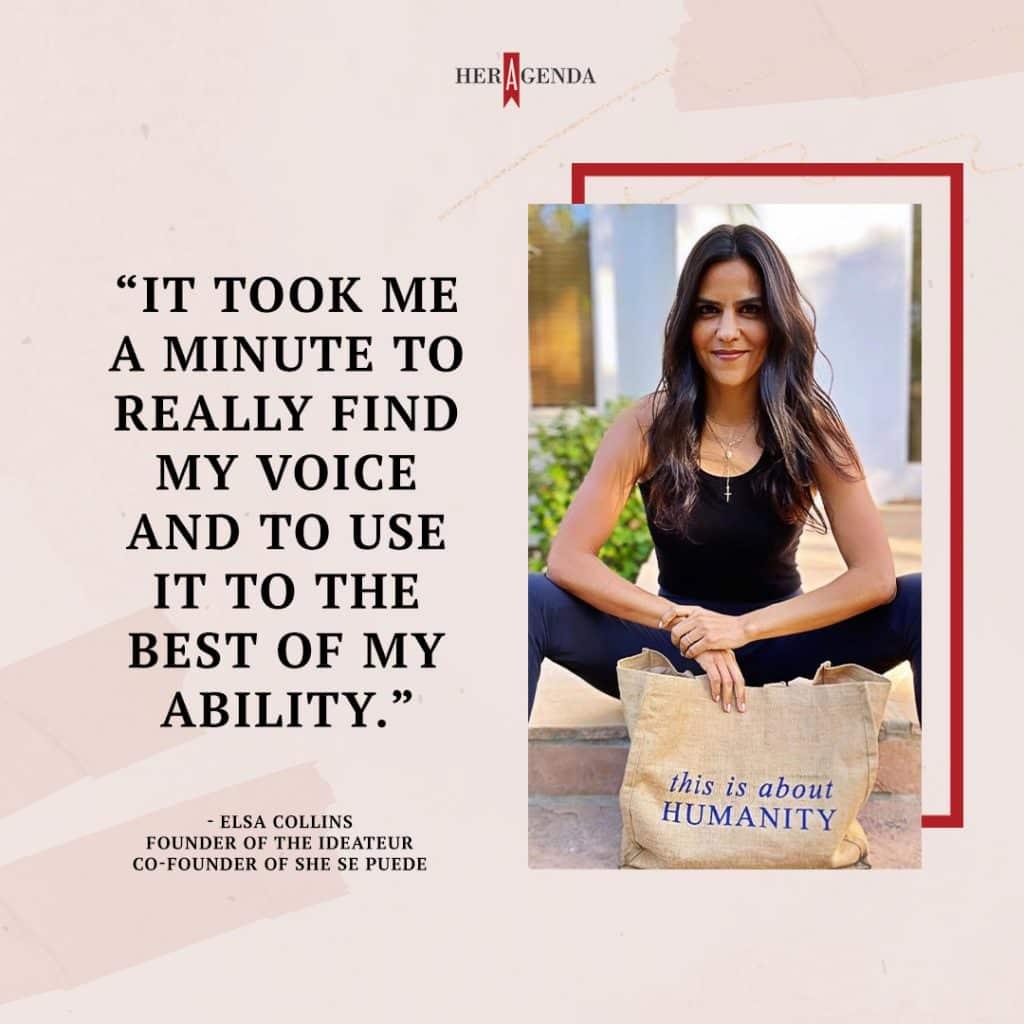 Article continues below advertisement
Her Agenda: How do you talk to people who are not horrible people but are racist or misinformed on the issues?
Elsa Collins: I think one of the most important things is to come at it from a personal place. A lot of times people sort of disassociate themselves from [the families being separated] or that community, and it's not something that they can internalize.
[Sometimes it's] the person who's cooking for you at your favorite restaurant, or your colleague, or someone who works at your local supermarket. [It could be] your kid's teacher. There are immigrants who are performing some of the most essential and important services, especially right now, during the pandemic: frontline workers, health workers, essential workers who are picking food and getting it to the supermarkets and then working there.
Article continues below advertisement
I think that if there's a personal connection and saying, 'do you know this person's story?' It makes them think, 'I wasn't actually talking about that person,' but you know, it is that person, it's every person. It's me, it's them.
I've found that a lot of times when people know that you care, it makes them more willing to listen or to even have a conversation about it.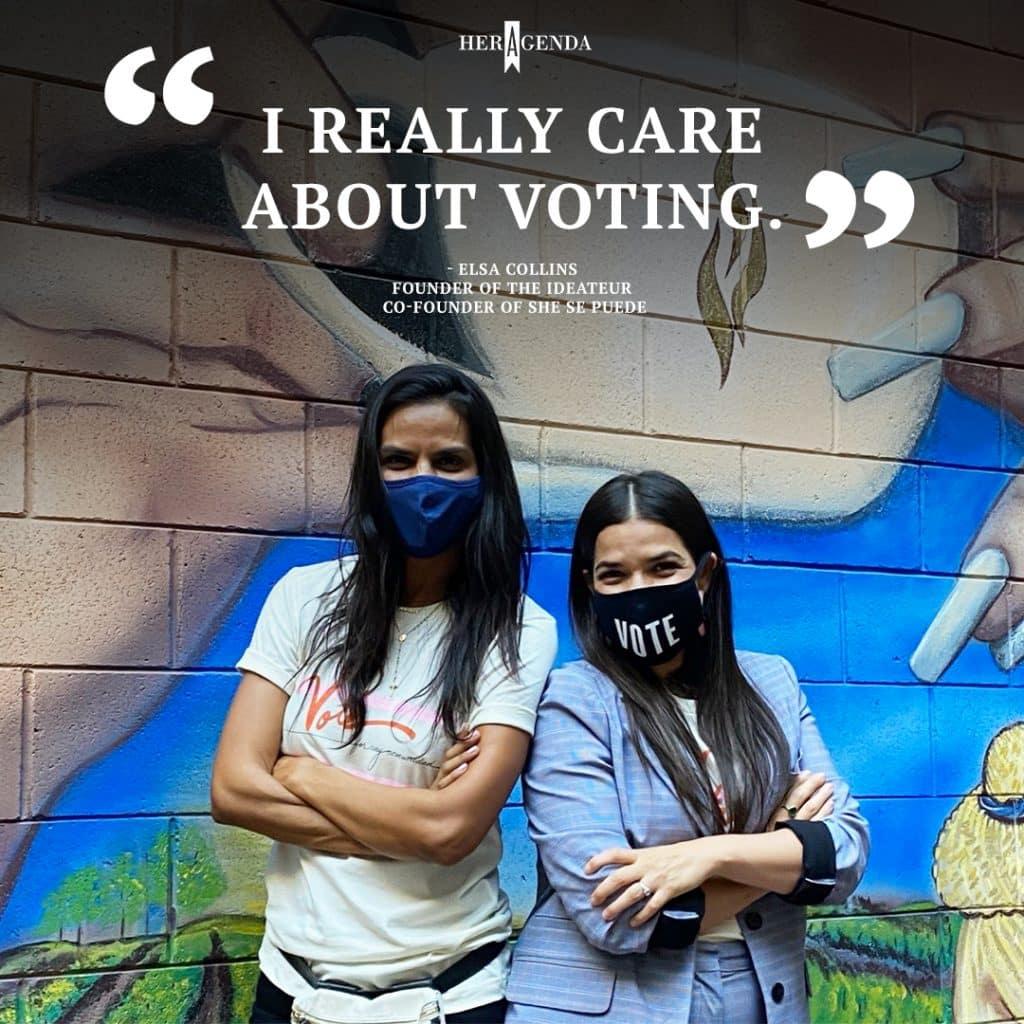 Article continues below advertisement
Her Agenda: Is there anything else you would like to share with our readers at Her Agenda?
Elsa Collins: I really care about voting. One of the other organizations that I am a founding member of is called I Am A Voter. I Am a Voter does a lot of civic engagement around elections and voting and getting people out to vote.
Everything's always connected. There's no issue that matters in my life that stands alone. If I care about families at the border, if I care about racial justice, and social equality, if I care about my kids, then I care about the people who are making the decisions that affect all of the things that I love the most in my life. Whether or not certain policies or candidates are advocating for those issues and doing it in a way that is supporting or protecting those that are closest to me in my life.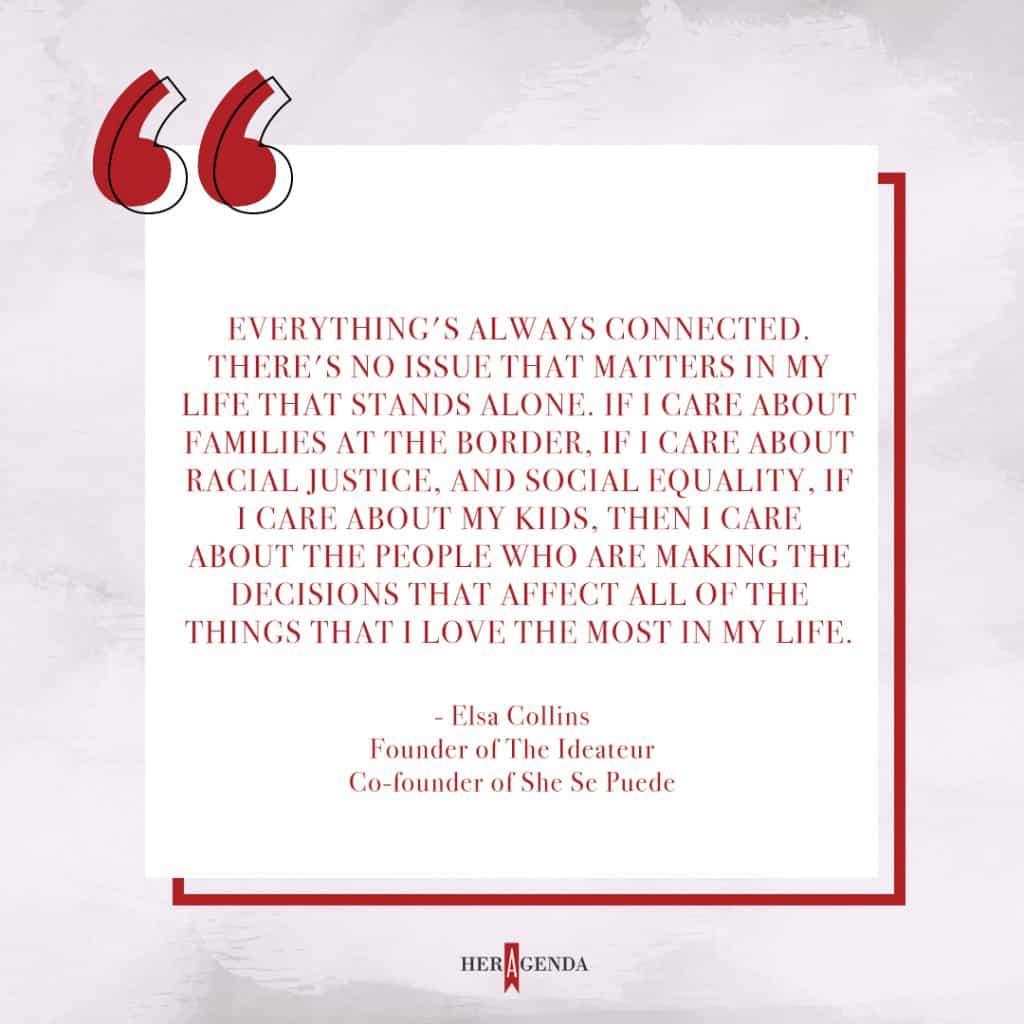 Article continues below advertisement
I've done a lot of work with I Am a Voter to get people out to vote, to really feel their power, and connect to that identity of being a voter. And working a lot to bring partners in. We did a big partnership [with the NBA] around voting and different teams got involved, which was really fun.
[This connection is] part of why She Se Puede focuses on its civic engagement. There are 32 million Latinas in this country and we're a force and we can be an even bigger force if we use our voices.
Every organization, every group, every issue that I'm looking at is looking through the lens of how it's interconnected and how I can use anything that I have at my disposal to really activate all of those things to be working in tandem to push forward and make progress.
[Editor's note: This interview has been edited for length and clarity.]