In 1973, the Supreme Court of the United States voted in favor of a woman's bodily autonomy; to receive an abortion. As the less than a half-century ruling of Roe V. Wade has been overturned, Alexis McGill Johnson's position as the leader of Planned Parenthood is more important than ever.
Sitting at the helm of both the role of president and CEO of Planned Parenthood Federation of America and president of the Planned Parenthood Action Fund, Alexis' dedication to a world of equity is unparalleled. And few know freedom fighting better than Alexis, whose work is dedicated to defending freedom. Beyond thinking, marching, and teaching about freedom as a political science and African-American studies professor at Yale and Wesleyan University, Alexis co-founded and co-directed the Perception Institute, a consortium focused on creating solutions that reduce bias and discrimination.
Heading into its 106th year in operations, Alexis is fulfilling the mission of Planned Parenthood founders – to uphold the fight for an equitable society in which people have an opportunity to live healthy lives regardless of pre-constructed barriers.
Her Agenda spoke with Alexis McGill Johnson on the reversal of Roe V. Wade, being the leader of Planned Parenthood, and how saying 'yes' is self-care.
Her Agenda: It's so inspiring that you went to both Yale and Princeton during the 90s. What was your experience like attending the Ivy Leagues as a Black woman during that time?
Article continues below advertisement
Alexis McGill Johnson: It was an incredible opportunity. It was an incredible privilege to sit with professors like Toni Morrison and Cornel West and learn from some of the most formative minds of our time that literally shaped Black identity for me. It was also a time [similar to] how college is for anybody – trying to find yourself, your identity, and where you belong. I lived in two worlds when I was at Princeton, which was my undergrad. Part of that world was [being a] caretaker at what we used to call the 'Third World Center.' [It was] the house that students [of color] in the 60s and 70s fought [for] to get their own space on campus. I lived there, was part of that cultural programming, and [brought] in leaders to talk to us. At the same time, I [ate] all of my meals at a predominately white eating club, 'The Ivy Club,' which was one of the last social clubs on campus to integrate women. I was the first Black woman to join. I found that I lived a life deeply grounded in who I was but also very much a bridge. That was gratifying in learning and also in many ways exhausting. I think those are the kinds of challenges that many people, particularly those of us who [attend] predominately white institutions, [experience] a lot.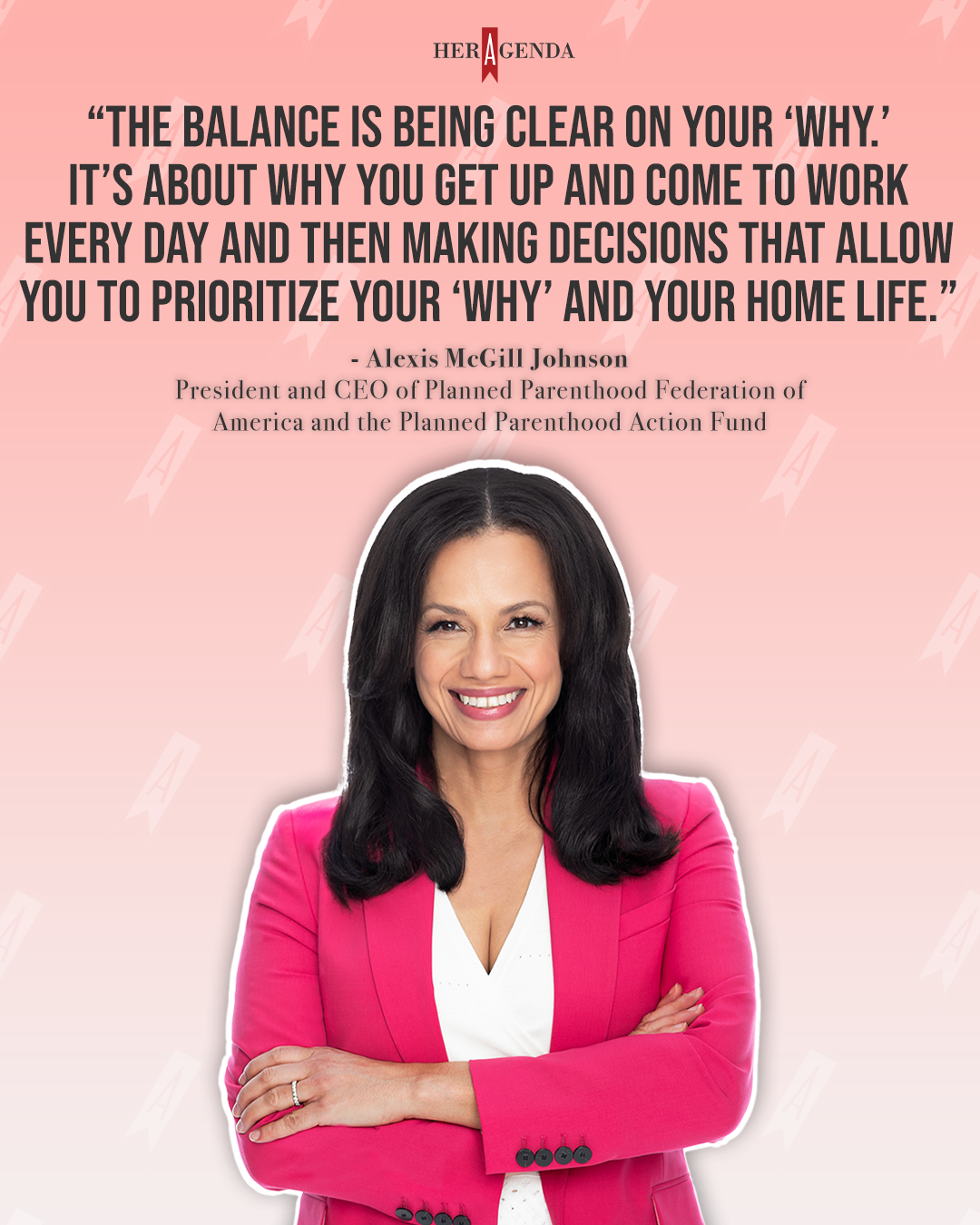 Article continues below advertisement
Her Agenda: You are both the President & CEO of Planned Parenthood Federation of America and Planned Parenthood Action Fund. How do you balance these roles?
Alexis McGill Johnson: I'm the President & CEO of Planned Parenthood Federation of America, which is the organization that supports the healthcare provision of our affiliates around the country in all 50 states. I'm also the President & CEO of Planned Parenthood Action Fund, which is the mobilization of the work that fights to defend access to care. It's a very big job! And, particularly [one] in a moment where we just lost the federal protection to abortion in this country. It's also an incredibly gratifying job knowing that every day we are working up to be a critical part of the public health infrastructure. [We also] provide access to care for so many people [that would otherwise] be out of reach. The balance is being clear on your 'why.' [It's about] why you get up and come to work every day and then making decisions that allow you to prioritize your 'why' [and] your home life.
Article continues below advertisement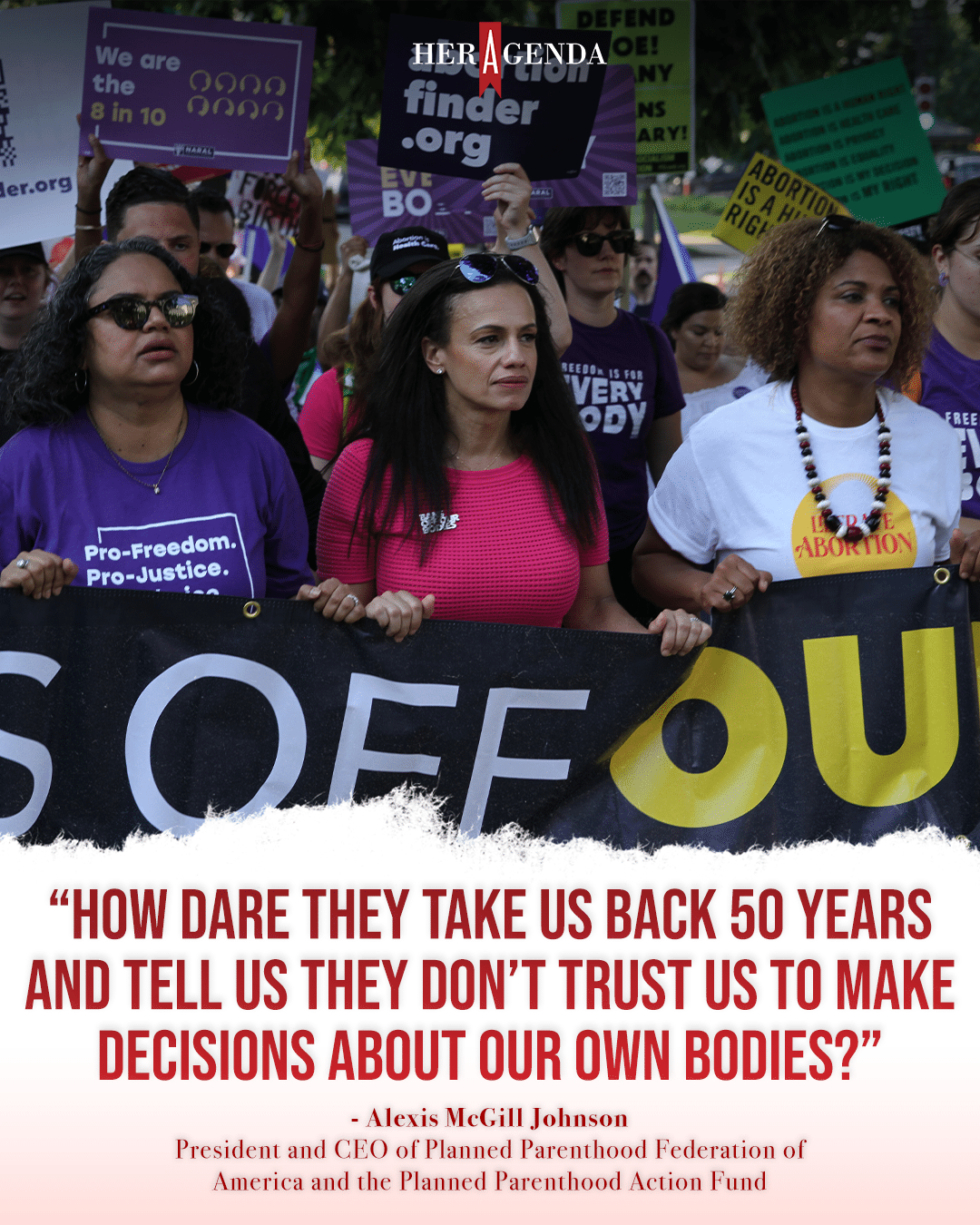 Her Agenda: What was your reaction to the reversal of Roe V. Wade?
Alexis McGill Johnson: Devastation. The reality is [that] there are states where accessing the right that we held to abortion [prior] to Roe V Wade being overturned was already challenging. But, to live in a world where there wasn't a strong federal protection, to think about the world in which my daughters are going to grow up with less rights than I've had for the past 49 years, is just devastating and demoralizing. There were tears. There's fear and concern for the patients who are going to wake up and be experiencing chaos, confusion, and cruelty. There's also rage. How dare they take us back 50 years and tell us they don't trust us to make decisions about our own bodies?
Article continues below advertisement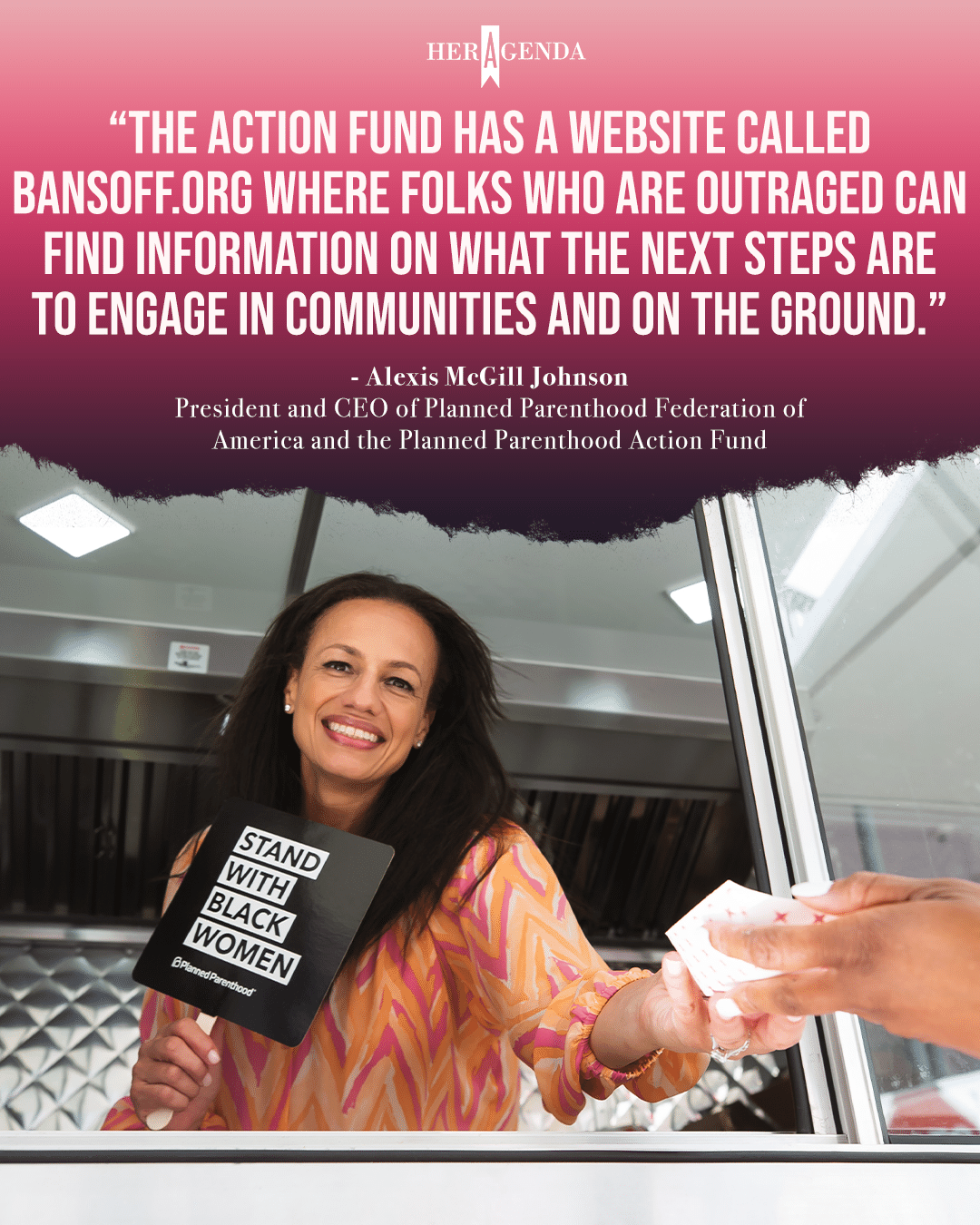 Her Agenda: What do you think are the best steps that the average woman can take to protect themselves after the reversal of Roe V. Wade?
Alexis McGill Johnson: It's very important to understand the laws of your state where you live. They are changing rapidly. In the last three weeks, 12 states have moved to end abortion access or restricted [it] in some way. It's important to know what's happening on the local level and what lawmakers are making decisions about what you can get. I think that it's also really important for people to recognize that there are pathways to fight back. The action fund has a website called BansOff.org where folks who are outraged can find information on what the next steps are to engage in communities and on the ground.
Article continues below advertisement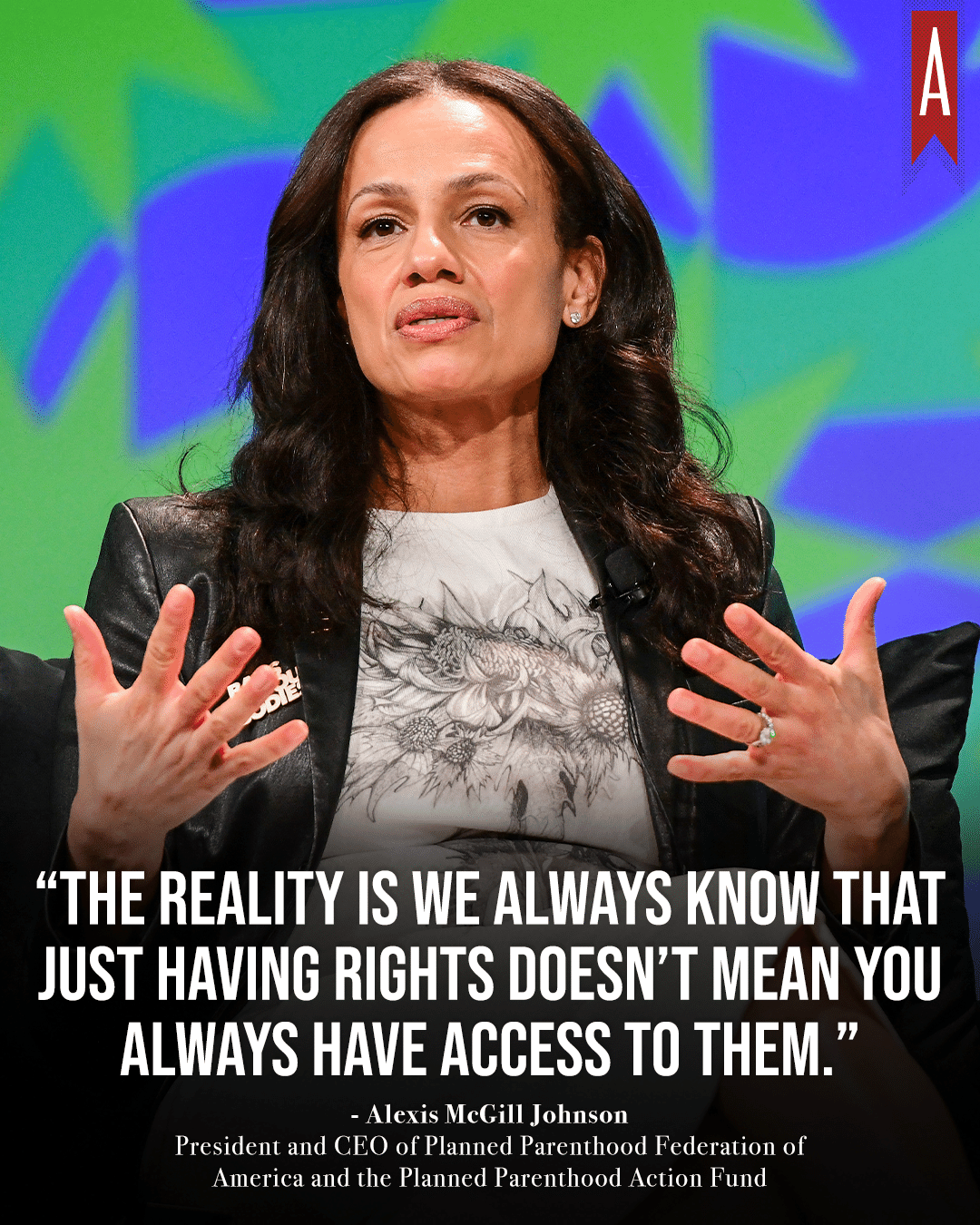 Her Agenda: I read that you co-created the curriculum for Starbucks' racial bias training in May 2018. Were you at all surprised that you had to create this curriculum in 2018 or that a corporation as big as Starbucks needed awareness of racial bias?
Article continues below advertisement
Alexis McGill Johnson: No, not at all. The reality is we always know that just having rights doesn't mean you always have access to them. Much the same way we talk about Roe V Wade, we are still fighting many civil rights battles. Even if we believe in fairness and that all races are equal, our brains implicitly make associations that codify the inequality in our communities. It's no surprise that corporations do the same things and the people at powerful corporations do the same thing. When there was that incident [in which] two men had the audacity to sit at a Starbucks table without ordering and ended up being escorted out by police, arrested, and spending overnight in jail, a company like Starbucks realized it had a bias problem. [They] needed resources in order to think through how to educate baristas and their employees to address it. To tie it back to what's happening with the rights of women and others in this country, when the Supreme Court told us that we are no longer free and allowed states to make decisions to codify our inequality, we need to identify ways to educate and fight back.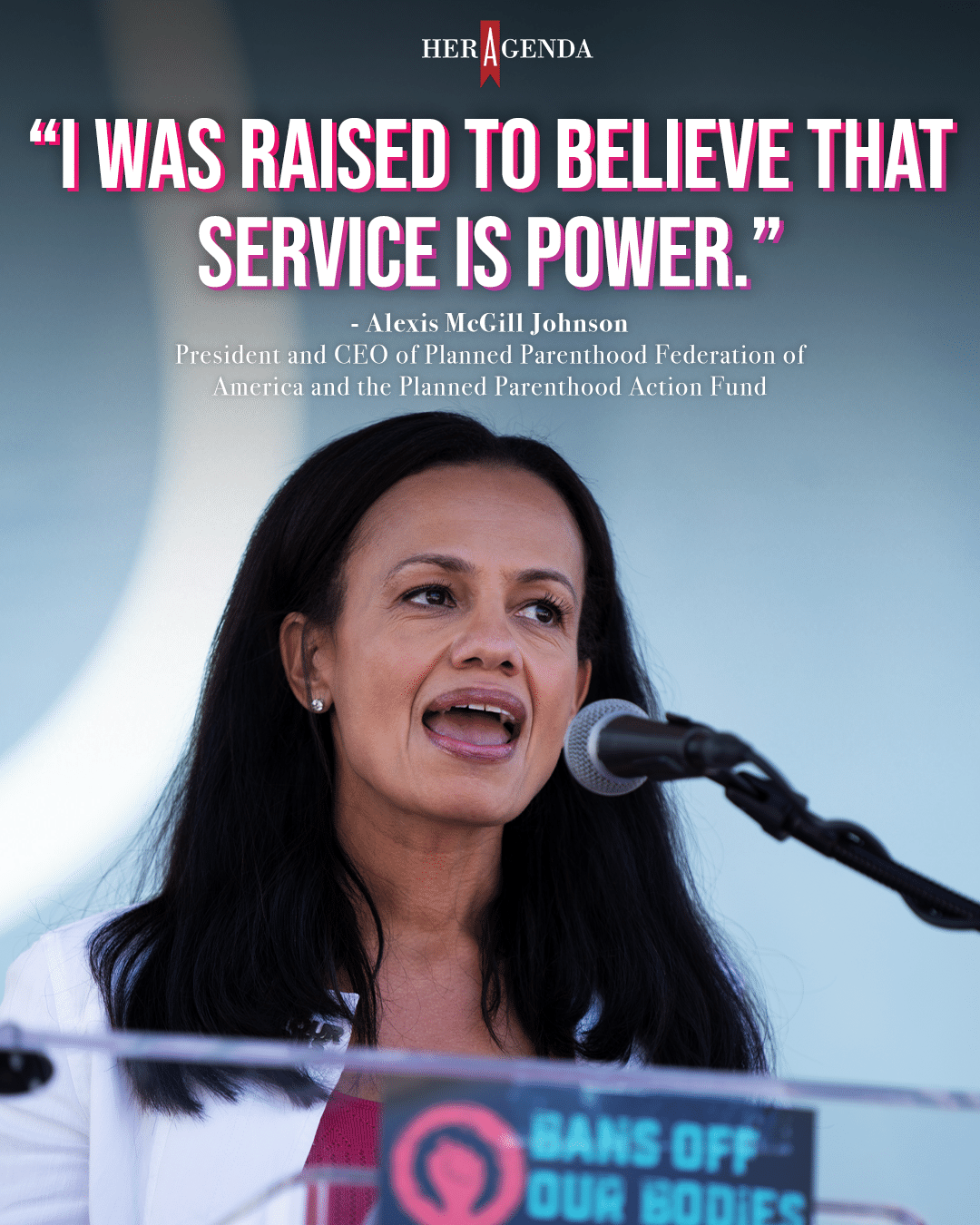 Article continues below advertisement
Her Agenda: Tell us your biggest privilege as the leader of Planned Parenthood?
Alexis McGill Johnson: The biggest privilege is the honor to serve such an incredible group of providers in sexual reproductive healthcare. I was raised to believe that service is power. You use your power humbly as a servant [in order] to grow power and autonomy for as many people as possible. When I serve, what I receive are the stories of the people that Planned Parenthood has served over the years. I hear the times when we showed up and we were there for them [during] the most intimate times of their lives. I hear from the folks who are on the frontlines every day. Being able to represent all of the work that happens across our federation is such an incredible privilege.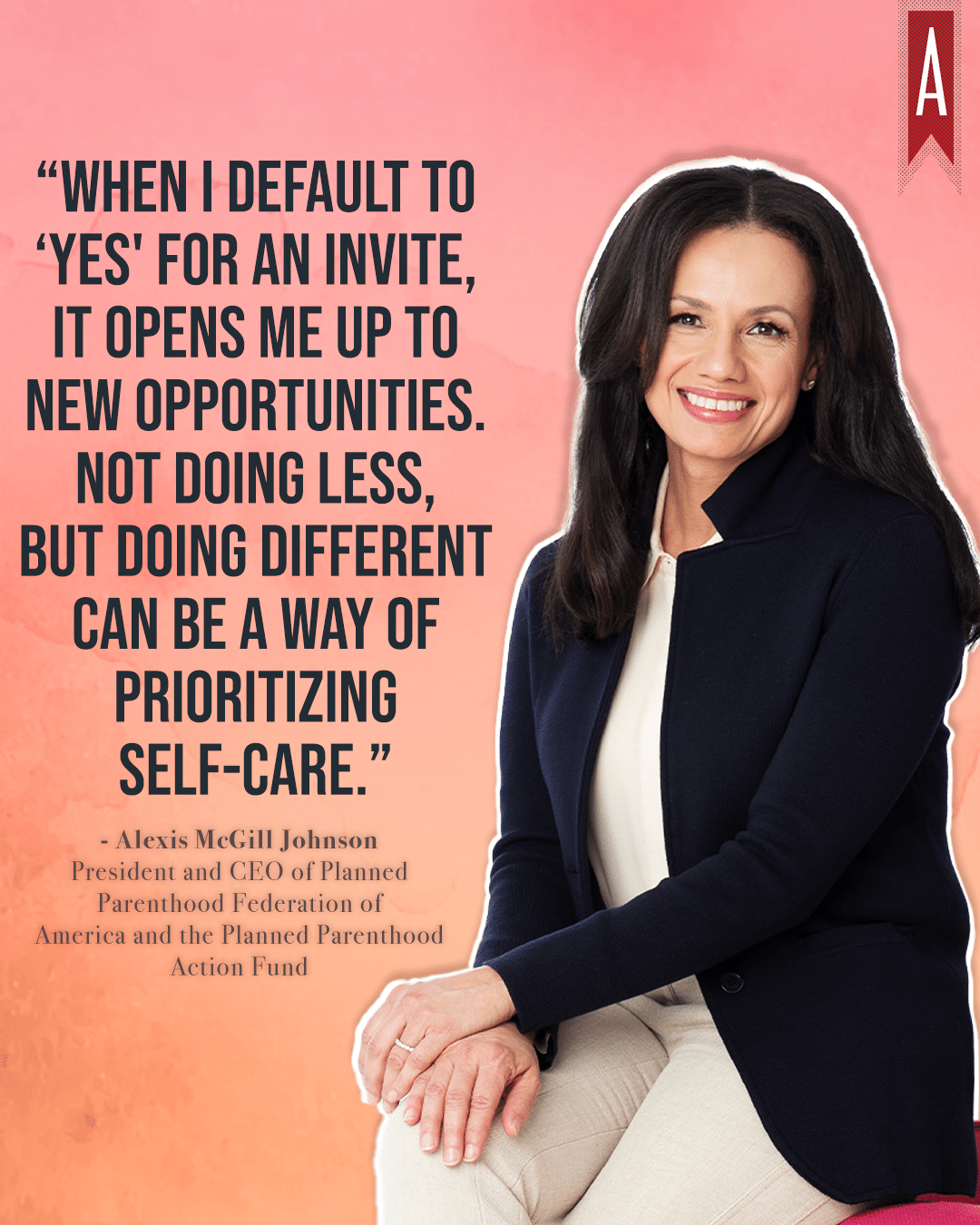 Article continues below advertisement
Her Agenda: I can imagine all of the stress that you're under daily. How do you prioritize yourself and self-care?
Alexis McGill Johnson: I wish I was better at self-care. There is a lot of work to be done and I know it's really important as a leader to model self-care so that all of the folks, who are working hard and tirelessly to protect and fight for our rights, also take the time that they need. I really try to carve out space for myself in the morning to run because that's my time to turn my brain off for a second and get my body in motion. I try to prioritize time for my friends and family. I actually like to say 'yes' a lot even when I probably shouldn't. When I default to 'yes' for an invite, it opens me up to new opportunities. Not doing less, but doing different can be a way of prioritizing self-care.
[Editor's note: This interview has been edited for length and clarity.]