Here Are All Your Favorite Black TV Shows Coming Back With New Seasons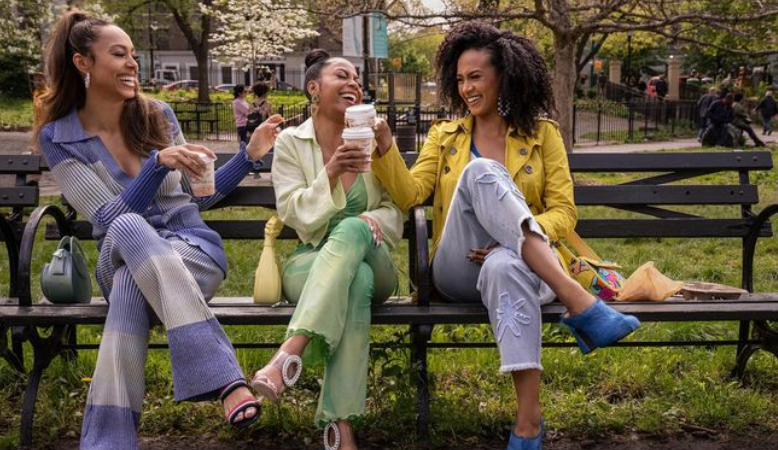 In the past few years, we've seen some great TV shows highlighting the richness of Black culture, love, and life. We've all gotten hooked on the drama, but who likes to get deeply invested into a show only to find out that your beloved characters are no more due to that dreaded entertainment industry norm: cancellation?
For all my fellow TV lovers, this can mean utter devastation and despair. (I mean, it's really disappointing, especially when you've gotten your routine together and planned your Meatless Monday or Taco Tuesday around finding out whether somebody finally marries that toxic tragic love they've been chasing or if another somebody's most cherished friendship is over.)
It's good to see that many of the top Black shows that we've grown to love have either come back with new seasons or will soon pick up where they left off. Grab your popcorn and wine, and set those reminders to check out these favorites:
Article continues below advertisement
Peacock: Bel-Air
The Banks return on February 23 in the second season with Will (Jabari Banks) reportedly having some new personal drama to navigate. He's getting closer to Carlton (Olly Sholotan), who is still battling with their differences. Hilary (Coco Jones) is bossing up as an influencer and continuing her relationship with Jazz (Jordan L. Jones). Aunt Viv (Cassandra Freeman) and Uncle Phil (Adrian Holmes) are also set to navigate new personal and professional realities while trying to hold the family down.
Netflix: The Upshaws
Part 3 of the third season premiered earlier this year (I know, seems confusing), and it continues with an unemployed Regina (Kim Fields) and the super-hilarious frienemies Bennie (Mike Epps) and Lucretia (Wanda Sykes) banding together to usher in a new phase for their family. This show always reminds me of the joy I found watching classics like Martin, Roc, Family Matters and My Wife and Kids, reflecting the same relatable comedic dysfunction that comes with family ties and friendships.
Article continues below advertisement
Starz: BMF
Loosely based on the lives of Michigan hustlers Demetrius "Big Meech" Fleenory (Demetrius Flenory, Jr.) and Terry "Tee" Flenory (Da'Vinci), this show makes up for the yearning in my gangster saga-loving heart left by the absence of 50 Cent's Power Book series. The new season premiered last month, and the nostalgia, along with the brothers' Midwestern '80s swagger and their bloody street beef with the infamous Layton (Lamar Silas) are all back in full force.
Article continues below advertisement
Starz: Power Book II: Ghost
Speaking of street beef, Tariq (Michael Rainey, Jr.) will be back on March 17 getting deeper into a life of crime. His bond with his partner Brayden (Gianni Paolo) continues just like the relationship his father Ghost (Omari Hardwick) had with Tommy (Joseph Sikora), and of course mother-figure Monet (Mary J. Blige) is still in the picture, as Tasha (Natori Naughton) remains in witness protection. It'll be fun to see how Tariq elevates the game and levels up beyond the shadow of his dad and intriguing to find out whether he'll meet the same fate.
Starz: Run The World
Am I the only one who always claims the character that matches most with me whenever there's a new show featuring a group of besties? (I mean, I'm sure we all did with Living Single, Girlfriends and Sex & The City.) And while I love Harlem (which, by the way, premiered season 2 on February 3 and releases two new episodes every week), this show offers a different vibe, kind of like the times when I prefer a good eggs benedict over chicken and waffles for brunch.
Article continues below advertisement
Coming back May 26, the women are rebounding after Whitney's (Amber Stevens West) messy breakup right before her wedding, Renee's (Bresha Webb) complicated new life separated and unemployed, Ella (Andrea Bordeaux) reevaluating her career and love choices, and Sondi's (Corbin Reid) new life as a bonus mom. There are reports that there will only be three friends featured in the new season, which is a total bummer, but I'm excited to tune in none-the-less.
Article continues below advertisement
Showtime: The Chi
This show took a lovey-dovey, mildly boring (albeit refreshing) turn in season 5, focusing mostly on the dynamic of romantic and platonic relationships between the characters. However, the last episode of season 5 left a little sinister mystery that I'm excited to see play out in season 6. Will Douda's (Curtiss Cook) treacherous, manipulative ways ruin all the positive progress that has been made in the lives of Jake (Michael Epps), Kevin (Alex R. Hibbert), Papa (Shamon Brown, Jr.), Emmett (Jacob Latimore), Tracy (Tai Davis), Rashaad (Jason Weaver), Victor (Luke James) and Rosalyn (Kandi Burruss)? (Whew, yeah, that was a lot!)
Will Dom (LaLa Anthony), Rob (Iman Shumpert) and Tiffany (Hannaha Hall) continue to live in harmony with Emmett and his new (but old, then new again) love Keisha (Birgundi Baker)? Will the scandal of Victor's empowering revelation break the bond he has with his love Fatima (L'lerret Jazelle)? Will we continue to see the evolution of marriage between Jada (Yolanda Ross) and her baby-daddy-turned-husband Darnell (Rolando Boyce) and Nina (Tyla Abercrumbie) and her wife Dre (Miriam A Hyman)?
Season 6 is set for this year but a final date has not yet been released, so keep checking your listings for the day that it does, and in the meanwhile you can reacquaint yourself with season 5.
Article continues below advertisement
Netflix: Lupin
I love a good film or TV show with subtitles, and this French-language drama about a charming thief is addictive. Another plus: The main character, Assan, is the tall, dark, and handsome Omar Sy. In season 2, the "gentleman burglar" finally redeemed his father's legacy by getting revenge on the man responsible for ruining him, and he rebuilt a relationship with his estranged family. According to reports, in season 3, he's looking for a fresh start.
It'll be interesting to see if he'll stop with the trickery and lies and go straight or continue the wild ride of conning and lifting with his own son. It's confirmed that the show has been renewed but the date for the first episode has yet to be announced. This is another series you can binge to catch up (or simply enjoy for the umpteenth time like I have) until the new season's date is made public.
Article continues below advertisement
FX: Snowfall
The Saint family has seen major progress and loss trying to balance new wealth and expansions, both of empires and of families. They're also in the midst of a horrible family feud that even Steve Harvey couldn't mediate. The last time we saw Franklin (Damson Idris) enraged, no friends or family were safe, and in the aftermath, his own mom had to go into hiding. The sixth and final season is set to air Feb 22, and all I want to know is who will rise out of the dust of total destruction: Franklin, scorned former CIA agent-turned-psycho Teddy (Carter Hudson), or the Bonnie-and-Clyde bosses Aunt Louie (Angela Lewis) and Uncle Jerome (Amin Joseph)?
Article continues below advertisement
MGM+: Godfather of Harlem
Starring Hollywood icon Forest Whitaker as underworld legend Bumpy Johnson, this show's characters blur the line between activism, politics, and crime, featuring characters that played a major role in '50s and '60s Harlem. It centers on Johnson's life trying to stay on top of the street game while supporting his family and Malcolm X (Nigel Thatch). He's treacherously walking the line between good and evil.
Very loosely based on real-life issues, events and people, season 3 of this show, which started last month, picks up with Bumpy battling with his conscious and greed and Malcolm coming into a renewed sense of self and danger. The Italian mob continue to threaten to take over "control" of Harlem, and racism, drug use, and poverty continue to ravage the communities as a whole. New episodes air weekly, and beyond the fact that Bumpy's home in the series, Lenox Terrace, is the real-life place where I grew up visiting for summers as a child, I just love a good fantasy depiction of history involving key Black figures, whether polarizing or not.